NN3D & the Q factor, road trip!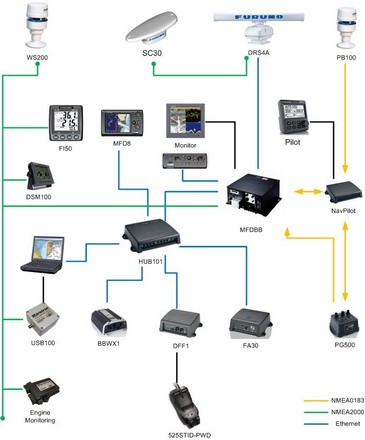 Yeeeeha…today I'm driving down to Cape Cod so that on Thursday I can ride on Furuno's test boat equipped with the geekalicious NN3D network of gear shown above, and bigger here. Hosting the demo will be Brice Pryszo, founder of MaxSea, and his son Iker, who now works at Furuno USA headquarters. I'll be Spot sharing, taking pictures, pushing buttons, and asking questions. And I'm open to suggestions about just what to ask and look for.

And that's not all. On Friday I'll be joining the knowlegable Airmar marketing dept.—Jennifer Matsis and Mark Reedenauer—in Portsmouth, NH, for a ride on their test boat. Which is bristling with transducers—one each: P79, P66, B164, M260, B260, & SS264W—and screens from all the usual suspects to view their goodness on. In an NMEA seminar last fall, Jennifer taught us all a little about "Q", a measure of sonar sensitivity (Q = fr/delta f, where fr is the resonance frequency and delta f is the bandwidth at the –3 dB point, if you must know), and I'm expecting to see what good Q looks like in action. Among other things, like the PB200 Weather Station, and maybe some fishing. Again, your suggestions about what to look for are welcome. By the way, Airmar's "technical presentation"—graphic examples of Q, install tips, and more; 10MB worth—can be downloaded from their marine brochure page.