NV-Charts app, plus MyNOAACharts & PDFs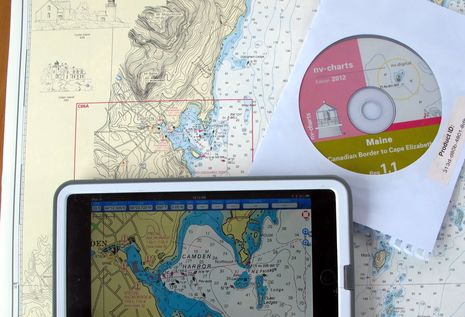 NOAA's Office of Coast Survey has been making news. We were just discussing changes to the Magenta Line on ICW charts when a reader (thanks, Collin) caught the announcement that OCS will stop printing traditional paper charts next April, which even got on NPR national radio. Charts lithographically printed on heavy paper are a beautiful technology and it hurts a bit to see them go, but I'm not sure it makes much practical difference. Personally, I haven't purchased one in a long time (nor do I ever throw them away) and I guess the mandatory carriage commercial vessels will do fine with print-on-demand charts and/or slowly proliferating ECDIS systems. At any rate, it seems like a good time to discuss how nicely the NV-Charts paper/digital package has evolved and also, the new ways that NOAA is distributing its cartography…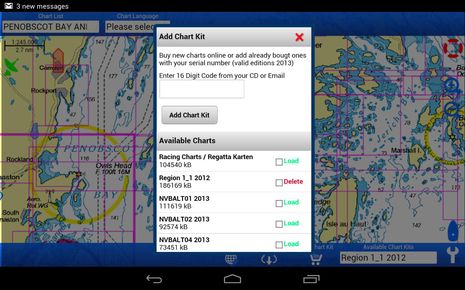 I've written before about NV's chart booklet and CD combos (and also about the raster chart cards NV makes for Navico plotters), but this season I've been testing the NV Charts app they're giving to all current chart pack customers and also selling standalone. It's available for Android, iOS, and Windows 8, and I'm pleased to report that once I registered myself and input the code for the Region 1 chart CD (seen in the top photo), the NV app on all three platforms let me easily download the charts. So, for about $70, I've got a regional set of nicely enhanced paper charts with their digital equivalent running on the boat's PC (via the CD and Coastal Explorer 2011), an iPad mini, a Nexus 7, and an Asus Windows 8 laptop. Wow!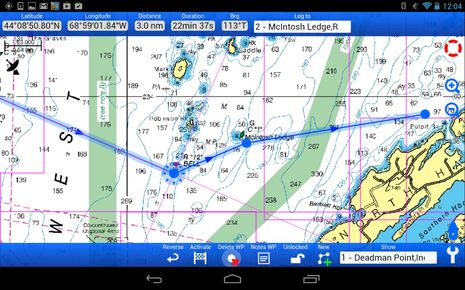 The NV app looks and works about the same on all three touchscreen platforms, and it's not just a chart viewer. Its route building features are fairly extensive, and it even tries to automatically name waypoints appropriately, as can be seen near the McIntosh Ledge nav aid above (this nuance apparently not available yet in the Win 8 edition). You can also annotate waypoints with notes and create log entries, though I haven't yet seen a way to export or share any of this data.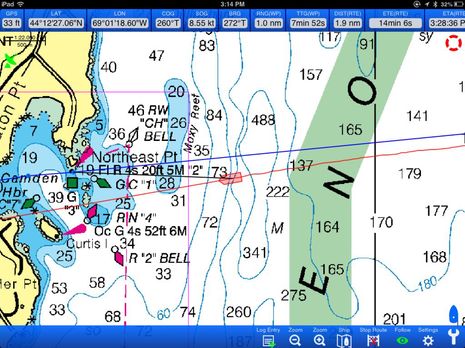 When underway, the NV Charts app delivers pretty much all the GPS and waypoint info you'd typically want. At certain zoom levels the charts look a little pixelated and I have seen all three versions of the app crash at some point, but still…if your main goal is to have some decent paper charts on board, this is a very nice bonus, and no doubt, the app will get better over time. The familiar and popular MapTech ChartKits are also a good alternative to the charts NOAA won't be printing anymore, but the company must be concerned with the NV competition (compare the larger coverage area ChartKits with NV bundles).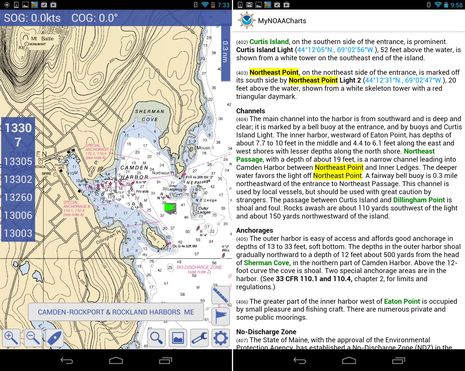 Meanwhile, NOAA has two new ways to give away the raster chart files that will no longer see a lithographic press. One is MyNOAACharts, a free Android app that also lets you download and search U.S. Coast Pilots. It's still purportedly in Beta and may not be available soon, but it's running quite reliably on my Nexus 7 (which makes sense, as it seems to be a version of MX Mariner). And just this week NOAA began a three-month trial offering of chart PDFs. The sample I downloaded and snipped below indicates how up-to-date and sharp looking they are.
   But I did make a point of searching out Northeast Pt. for the screenshots because the latest edition of chart 13307 means that all scales now show the point as an island, despite my efforts to keep it as it was (as seen in the opening photo). Plus, you can see that the misplaced channel buoys I whined about in 2010 still aren't fixed yet (and the mistakes have now been replicated on most every electronic chart). I love you, NOAA, I really do, and I'm fine with all your changes in chart distribution, but I do wish that the data update process was somehow more flexible and faster.