Old instruments #1, Datamarine doubled
This week I'm hoping to find out more about private versus public Search and Rescue call centers (thanks for the interesting comments so far). But I'm also on another mission, and am hoping for your help. I have a Sail assignment on upgrading instruments. Say your old boat (10 years plus) has broken or tired speed, depth, and/or wind gear, possibly manufactured by a company you don't hear much about these days, like Signet, Kenyon, Nautico, Datamarine, or International Marine (are there more)? Can you get the old stuff fixed? Is it worth doing? Are there relatively easy upgrades, perhaps using the same instrument and transducer holes, or the same mast wiring? If replacing instruments, how far would you go…some networked variety…color…NMEA 2000? What instruments do you find nearly essential to sailing?

Repairing and replacing old sailboat instruments is a relatively small niche,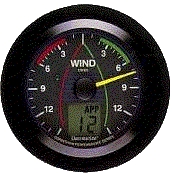 so I'm surprised to find that there seem to be two Cape Cod companies specializing in Datamarine gear. One is called Datamarine Instruments, which I thought was kaput, but is apparently still manufacturing those classic Corinthian gauges (right) seen in so many older boats. Then there's DMI Marine which not only has parts for many Datamarine instruments but also makes new "Phoenix" speed and depth instruments (seen at top) that fit Datamarine hull and bulkhead holes. They use NMEA 0183 Smart sensors, which seems wise, and there's a Phoenix wind instrument coming. Anyone had experience with any of these companies, or any sort of instrument upgrade?