Planar LX, first impressions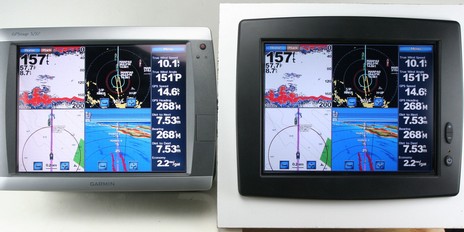 Well, I'm impressed, and you may be too when you check out the bigger image. Repeating the image on that Garmin 5212 (via VGA cable) is a Planar LX1201PTI, one of the marine touchscreen family recently discussed. Both are turned up to max brightness and I did my best to balance the three photo lights arrayed around them. I think the Garmin 5000 Series has become the bench mark of bright touchscreen displays, and to my eye the LX is just a dite less bright, but has slightly more saturated and contrasty colors. The waterproof and reasonably priced LX also seems well made and is designed with multiple mounting options besides the surface mount I rigged (by snapping off the plastic bezel). Nice.
Of course the LX's touch interface didn't work in that set up because the Garmin doesn't have a USB port to support it. But my laptop does, and that's what you can see in the slightly weird photo below, bigger here. Again both screens are at max brightness but the difference is so great that when I set the camera exposure for the LX, the laptop sort of vanished. I strongly suspect that in bright sunlight, the laptop will truly disappear but the LX will still be readable. But I will try it. I'm also looking forward to trying Planar's own touchscreen drivers, which include finger tap customization and other screen management functions (the only control of the LX itself is brightness). I did try a generic IR touchscreen driver and the Cruising mode of Coastal Explorer 2.0 (beta, the real deal due soon, really!) worked fairly well with it. I'm still wondering which charting programs are truly finger friendly.