Raymarine HD Radar, crisp but not yet Super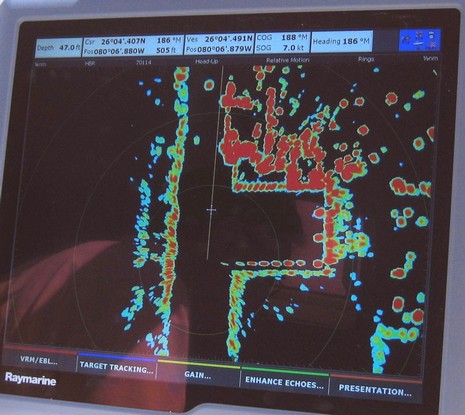 So let's see if I can show you why I called Raymarine's new high def radar demo "stunning" last week. First take a peek at the 1:10,000 chart for the section of Ft. Lauderdale canal shown above at 1/2 mile radar range, understanding that we were in head-up mode going almost due South, putting what I'm told is a submarine pen to starboard. Now look at the bigger screen photo here, plus the wide angle photo below, taken a moment earlier through a starboard pilothouse window. Feeling the def? Note the complete lack of clutter around the boat, yet how close and sharply defined the round steel dolphins and low shore are. And would you be surprised that further ahead are a couple of tied-up freighters with small boats outboard and cranes on shore?

This crisp performance is coming from a 4 kW 48" plain HD scanner, the least of Ray's new line. What Super HD in the same size can do—let alone 6' 12 kW SHD models—I have no idea. But we were shown how neatly this unit can be used in dual range mode, with all settings on each range completely independent. Furuno's new Ultra High Definition scanners offer the same dual range feature. But which is most def, Ultra or Super? I don't know, but we do seem to be looking a new digitally-enhanced radar performance level, even if the rumored solid state technology hasn't come to market yet. I'm hoping that Raymarine, Furuno, and whoever else has competitive HD radars shows them off on the water at the Miami Boat Show.