Raymarine SPX autopilots, a big refresh, N2K included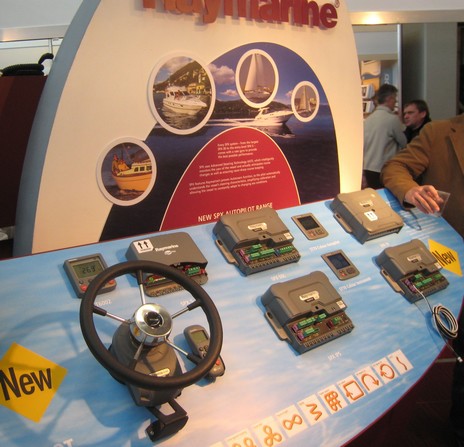 So they'd run out of press kits, and there's nothing on the Web about them (yet), but there they are—a half dozen or so new Raymarine autopilot models that will be known as the SPX range, and look like replacements for the current range. New features? "Every SPX system comes with rate gyro" included; "Quicker install—no rudder reference required"; "over 10 dedicated fishing patterns" (note some at bottom of photo); and "Access to SeaTalkNG (aka, NMEA 2000) information via the ST70 color autopilot head." So, given this week's Garmin announcements and the new Simrad systems, I think we just went from zero to three brands of N2K-talking autopilots!

The new Garmin GHP 10–-which, by the way, is based on the innovative Gladiator TR-1–-won't be shipping until "third quarter 2008", and I know Garmin is working on its "keep it simple" control head interface. Which may be an issue. I note, for instance, that the ST70 AP head has 1 and 10 degree dodge buttons. How is Garmin going to get that functionality with so few buttons?