Sandrine, world's largest NMEA 2000 network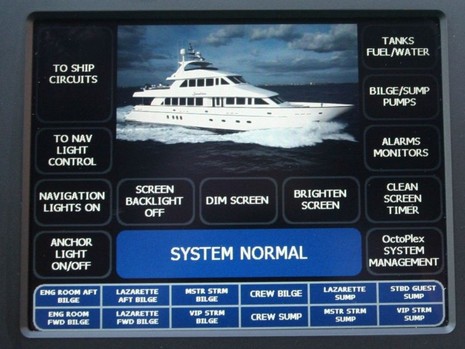 A day aboard the 120' tri-deck Sandrine will definitely rank high on my Summer '08 highlight list. Wow!  While I'd actually attended her debut in Miami, and was already familiar with the OctoPlex distributed power system she showcases, it takes a while to comprehend how powerful the system is. The stats help: that touch screen (embedded Windows PC) above is connected via redundant NMEA 2000 networks to 7 other touch screens, 18 electronic DC circuit breaker panels (w/18 breakers each), 13 electro-mechanical AC breaker panels (w/ 13 breakers each), and 8 System Interface Units (SIUs). Each SIU has 34 discrete inputs connected to simple ground or voltage level sensors and switches, such as the yacht's 175 light switches.
One result is that any of those light switches can on/off/dim any single-breaker-controlled light group or multiple groups (which can overlap), and the touch screens can do even more. Meanwhile the system knows how much current is passing through the breakers, so when you, say, hit the "Nav Light Control" button above, you can not only control them but know whether they're working or not (or can be alarmed about ones going out). I once joshed about using computers to turn on lights, but when you see it all working, you're apt to say "hell yeah" (especially as the system is so bullet proof). And, as slightly suggested by other buttons on the main screen above, I've just gotten started on what Octoplex can monitor and control. In fact, I wrote a PMY column on the system and while it never got online, you can download the PDF here.
While there's almost no end to what Octoplex can do (they've already worked with one manufacturer to control its water makers, for instance), mind you that if you have Octoplex you've also got an NMEA 2000 backbone running all around your yacht. The system limits its "B" bus to itself, but the "A" is wide open. In fact, on Sandrine Bus A is about 175' long and has 72 nodes, which is 22 more than NMEA specifies as possible. In addition to Octoplex are all sorts of Maretron sensors plus two USB100 interfaces to computers running N2KView, which will eventually integrate Octoplex switching and alarm functions. This largest NMEA 2000 network on earth hasn't always worked smoothly, I'm told, but it's also a test platform, and the issues were resolved.
What, you might ask, is going on here? The answer, really, is the gentleman seen below. That's Rick Sorenson, owner of Sandrine and also president of Carling Technology which in turn own's Moritz Aerospace, developer of Octoplex, and half of Maretron. Sorrensen is hands-on seriously into yachts, electricity, and N2K! I missed photographing him working on the Wayfarer dock power pedestals that Sandrine stressed out, but here, and bigger here, he's demoing the software that an installer can use to program Octoplex screens, SIUs, etc. He made a convincing case that Octoplex is the big boat distributed power system to beat (and new MorPlex will hopefully be the mid-size boat system), but, man, this is a complicated subject. If anyone out there has experience with competitors like E-Plex, DNA Group, Paneltronics, or whoever, let's hear about it.