SeaKey v2, a field report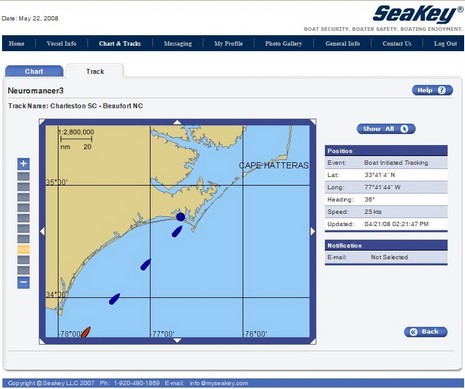 Preston Calvert is one of several valuable contributors to the HD radar discussion, which is how I got e-mailing with him last night. Which is how I confirmed that he is indeed the same Preston whose Riviera 45 was tested in PMY recently, except his Neuromancer3 is better looking, and a lot more geeked out, than the boat they used in the main photo shoot. It also turns out that Preston is a new user of SeaKey v2, and he kindly gave me "guest" access to his account there. I'm pretty impressed with the service he's getting, but will turn it over to Preston:
I like SeaKey a lot. This boat is my first experience with it. I gave the "guest" privileges on the boat's SeaKey web site to several friends and family members who enjoyed tracking our trip up the coast, day-by-day. The main limitation on updating the web site is being within cell phone coverage range, as that is how it updates the network and boat web site. This means that the boat unit stores the updates if you are out of cell phone range, and then sends a burst of update messages when you get back in range. The final result is nice, however.

I wish SeaKey allowed more onboard system monitoring and web+cell phone reporting, more like a Krill system. Perhaps as it evolves this will be added. It is already a valuable system. I have the "geofence" turned on that will let me know if my boat moves more than 1/4 mile from its slip. That gives me a lot of peace of mind.
Note that SeaKey also has Orbcomm sat communications for emergencies out of cell range. I maintain that off-boat monitoring is going to break out sooner or later. NMEA 2000, boat Ethernets, and various wireless comms are all evolving such that the service will be better, easier, and cheaper. Plus most of us worry about our boats more than we care to admit. The first time it sends you an e-mail or text message assuring you that everything is fine, you'll likely get a sense of relief you weren't completely expecting, and won't go without.