Simrad AT10, handy but limited?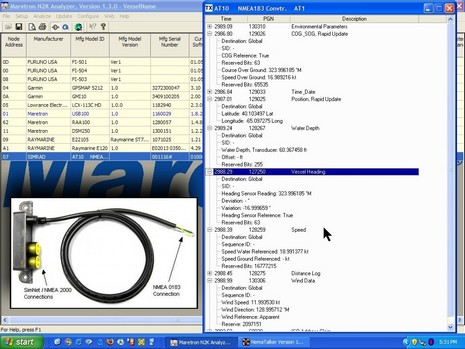 Simrad's AT10, mentioned a while back, is a small and inexpensive utility device that translates certain NMEA 0183 messages into NMEA 2000, and vice versa. If you go to Simrad's manual download site and use the keyword "AT10", you'll find a list of 0183 sentences it purportedly understands (but you may have to add a "pdf" extension to open the file). I was hoping to use an AT10 along with good old Nema Talker to simulate basic data on my test network. And as you can see in the N2K Analyzer screen above, bigger here, it works.
Everything on the network gets the depth, heading, water speed/temp, and wind speed/direction PGNs, as you can see here. But only the Raymarine E thinks it has GPS attached. You can see on the screen shot that PGN 12905 "Position, Rapid Update" is being sent, but my guess is that the Garmin 5212 and Lowrance LCX aren't happy unless they see some of the other GPS PGNs (there are several). Now maybe this is a Nema Talker problem, though I checked all its output strings, or maybe there's another explanation, but right now I wouldn't count on an AT10 to get 0183 GPS into N2K.
I also tried the AT10 the other way, populating the backbone with sensors, and opening Coastal Explorer to the serial cable I'd wired to the translator. There was a somewhat similar problem; CE gets a position from that RMC sentence shown below, but it doesn't recognize the AT10 output as a GPS and won't show satellite status. The data refresh rates are also painfully slow with all those sentences active (though it was fine in the other direction). By comparison, the Maretron USB Gateway understands a lot more PGNs and is much faster (and pricier). While I don't think the AT10 is up to feeding a lot of data to a PC, I can sure see how it would be handy for more limited tasks. As always, though, don't presume success until you've seen it!