Simrad NSS8 & Raymarine e7, with radar in the rain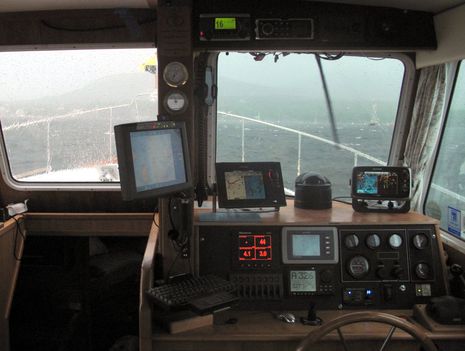 The cool thing about this picture is that the potent storm cell generating all that wind and rain was just about to pass to the east and I'd managed to avoid almost all of it thanks to radar. After taking this shot I just ran up into Camden's outer harbor and rigged fenders and docklines while Gizmo drifted sideways downwind; by the time I reached my float the evening sky had cleared and I tied up in calm conditions without foul weather gear…
Some might think that being out on the Bay was a little foolish in these conditions, especially by myself, but I'd already been underway with a WoodenBoat School navigation class the day before and was feeling good about Gizmo's running gear. In fact, I'd learned that the boat has more speed at the top end without the weight of the generator and cabling I'd removed, and by the time I took the screenshot below I'd already used some that speed to get south of the storm cell's track. (You can see this 6/22-23 trip on my inReach share map, though note that Chrome messes up the track connecting lines.)…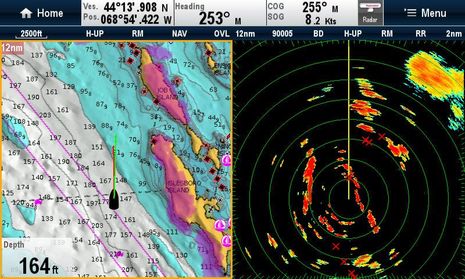 At any rate, I was quite impressed with how well the 18-inch Raymarine HD radome imaged that rain at 14 miles and how well the imagery could be seen and managed on the relatively small e7 display. I'd actually been able to see the squall line over 24 miles away, even with the Camden Hills in between, and that was a big strategic help. I've seen good rain tracking performance from this HD radar before — see the bottom of this 2009 radar comparison — but I was pleasantly surprised to see that its current retail price seems lower than it once was.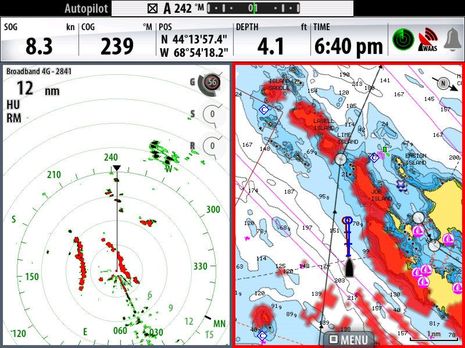 The combination of Simrad NSS8 and 4G Broadband radar also did the job, though not quite as well and with more effort involved. I was able to make out the same squalls at 24 miles plus but it took extra Gain and they still didn't have the clear shape that the Ray HD got, as you can see above at 14 miles (though there may have been more I could do in terms of tweaking as I'm just getting familiar with 4G). In both cases the zoomed in chart overlay is using the same same long range imagery and thus is a little chunky, but both radomes are capable of dual range (though, as I saw last fall, the NSS can not take advantage of 4G's amazing abilities in this area)…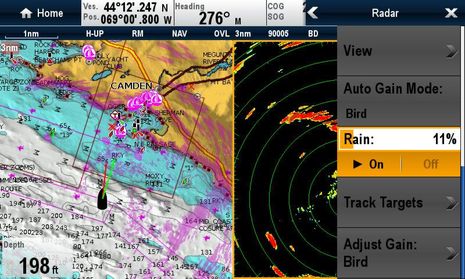 As I almost left the whole rain cell to starboard, I tried the other aspect of radar in the rain, which is to filter it out so you can see what's underneath. I prefer the on screen Rain, Sea, and Gain controls that Simrad uses with its rotary knob because they don't obscure the results like that e7 menu does, but in fact they both worked fine. And I do like the presets Raymarine offers like the high-gain, low-filter (and fully customizable) "Bird" mode I was using to image those distant squalls. But then again the NSS plays a little nicer with the NSE above than the e7 does with the E Wide, though the later combo works better than you might think from the warnings in the e7 manual. More to come about their networking.
Overall, though, either one of these radar/MFD combinations would have been useful to have aboard in this situation. I failed to grab a screenshot of the NSS when I had the Rain clutter control up enough to knock it out better, but the shot below does show how I arrived home just about as last and most southerly rain cell was leaving and how I could have detoured a bit more left to miss it altogether. Good times and more coming!