Standing a 24 hour watch, am I nuts?
As the title suggests, I'm not confident that I should have taken Gizmo on a 24-hour solo jaunt from Norfolk to Atlantic City in what looked like dicey weather conditions. Some readers may think I endangered myself and others, and they may well have a point. Actually, I'd like to get that discussion out of the way here because I plan several other entries where we'll hopefully discuss all the real world gear testing that went on.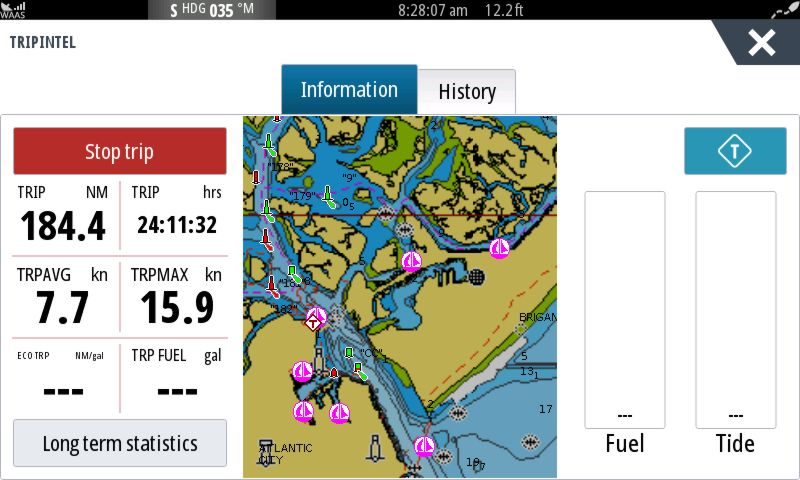 Why solo? I'm not antisocial, but cruising alone does mean oodles of freedom to do as I please, be it spending all day at anchor working on Panbo and boat projects, or riding my ebike to a marine museum and/or seafood joint. Besides, my favorite mate is busy with her own (admirable) passions and prefers short trips followed by long hikes anyway. And some of my oldest, dearest boat buddies, like Joe McCarty, aren't with us anymore.
Generally, though, my solo boating is day trips in settled conditions, and I try to go slow while avoiding got-to-be-somewhere-soon commitments. However, the open ocean was feeling quite attractive after lots of time in the mid-Atlantic Bays and ICW, plus I'm intrigued with the Delmarva coast, purportedly some of the wildest anywhere. So I studied possible layovers in Great Machipongo, Chincoteague, and Ocean City while what looked like a nice weather window was shaping up.
Now nice weather for Gizmo power passaging is mainly about flat seas, and as I then watched the forecasts deteriorate, I also saw a chance to make some serious miles before seriously hunkering down with ample time to make my one semi-commitment (50th college reunion).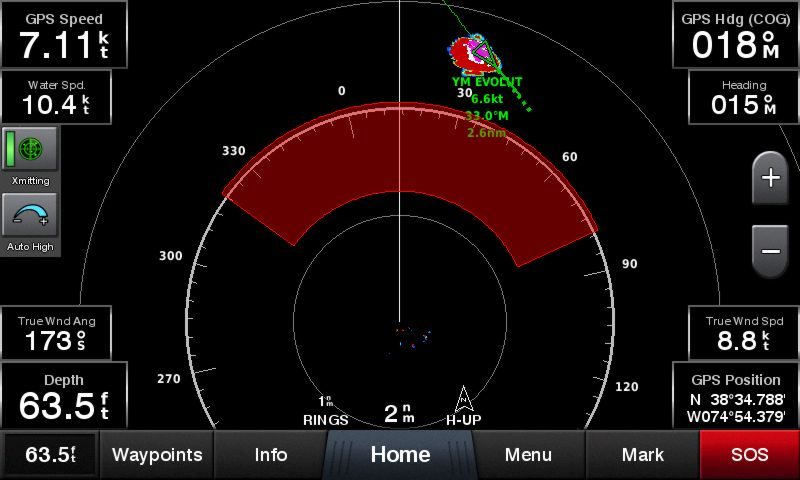 I also knew that the navigation would be quite easy, that I'd cross the hopefully quiet Delaware Bay traffic lanes in the wee hours, and that I had some excellent collision avoidance tools anyway. In fact, the only avoidance required involved the slow-moving container ship YM Evolution, seen tracking nicely above via both Garmin Fantom 24 radar and Vesper AIS.
Actually, I was aware of the ship well before my radars and AIS were, because I was still online out there and thus able to see it tracked on Marine Traffic. The Internet connection was thanks to some excellent cell boosting by the Surecall Fusion2Go I'm testing. And the fact that Gizmo was also being tracked on MT — despite a Class B signal that seemed especially weak in the very wet atmospheric conditions — is due to a terrific new AIS sharing feature just added to the FloatHub monitoring system (that I look forward to detailing along with the Surecall booster).
Incidentally, I do not advocate using Marine Traffic or any cloud-based AIS sites for collision avoidance. But as a secondary source of situational awareness, heck yes, and note by the jog in Gizmo's track map at top how early I changed course to pass astern of YM Evolution.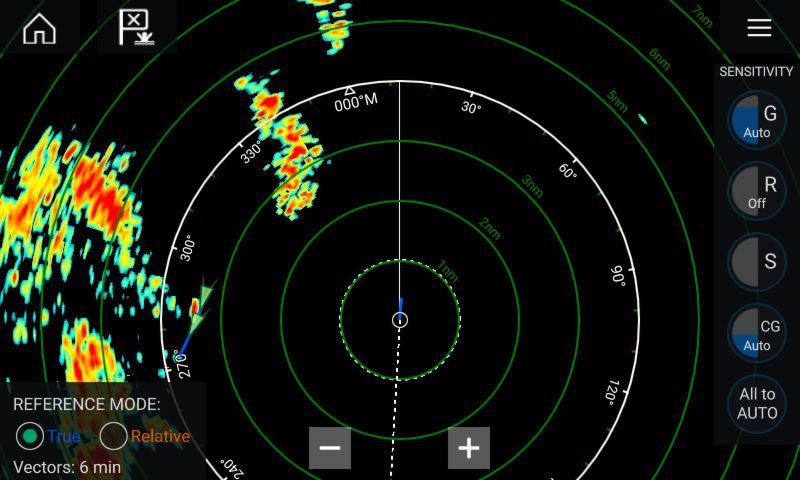 Meanwhile, I've been accumulating experience (and screenshots) regarding solid-state radar in rain for quite a while now, but the performance is hard to quantify and it's also hard for this old guy to get underway in the appropriate conditions. So I almost felt lucky when the forecast "chance of thunderstorms" became a procession of intense and fast-moving rain cells, though thankfully light on wind or lightning.
That's the test Raymarine Axiom 7 above, showing the test Quantum Q24 at work without any Rain filtering. It imaged the cells well, and could even calculate accurate-seeming MARPA info on them. The same was true of the test Garmin Fantom 24, which also applied Doppler relative motion highlighting to let me know when a cell was coming my way. I even dodged some rain by changing Gizmo's speed one way or the other, though that didn't really matter at the lower helm.
And applying the Rain filter to both solid-state radars could make the rain cell blotches go away, but does that also reduce solid targets, like those AIS targets about 3.5 miles out to port? Therein lies the "hard to quantify" part of this testing. Overall, though, I think solid-state radar works pretty well either way you use it in rain — despite some rumors otherwise — but more to come.
Again thanks to being online, I also had large area NEXRAD cell tracking, as seen above on the Weather Channel's Storm Radar app, which I've become very fond of. It can be set up to show high-resolution precipitation radar history and then switch into a more generalized future radar prediction in that time bar, which you can animate or step thru.
You can also add other overlays, like NOAA warning areas. That blue one I'd already passed through was for thick evening fog, which was true except for the "evening" part. It's actually hard to determine visibility on a dark night with no solid objects nearby, but closing within a hundred yards of a lit navaid that only looks like a vague pulsing glow tells the tale.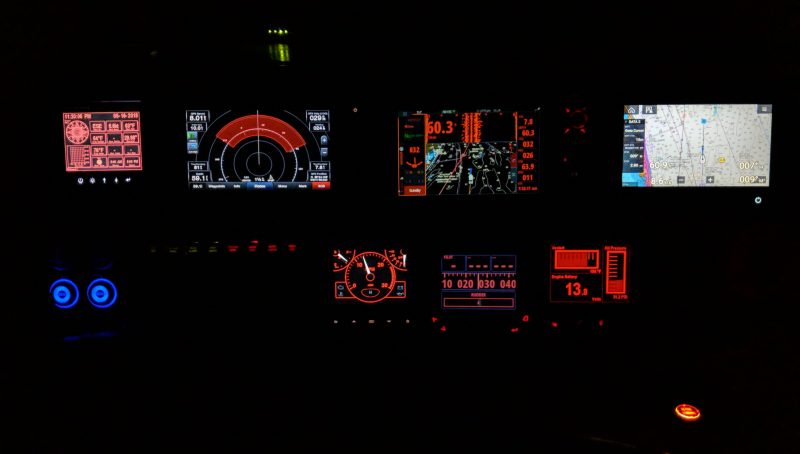 So I was flying by instruments for much of last Wednesday night, but only at about 8 knots — even slower when I was away from the helm — and what a great array of instruments. Plus there's was lots to keep my mind busy (besides a deep collection of podcasts), and in retrospect I think the biggest danger was succumbing to sleep.
So was that a foolhardy thing to do, or semi-reasonable for an experienced boater now ten years into this particular, and wonderful, boat? I'm truly interested in opinions pro and con, but let's also remember that when our forebearers did not have internal combustion engines, they spend all sorts of time drifting around offshore or anchored well outside harbors they'd rather have been in. With engines, radar, etc. can A to B boating.