Super routers, Istaboa & Tenacious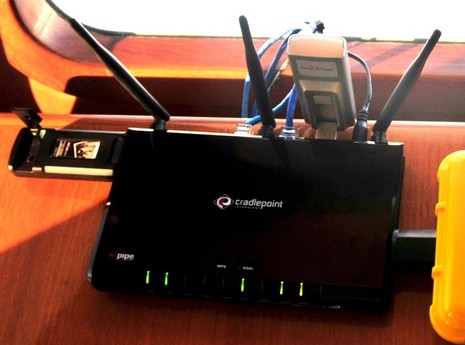 Tip of the beanie to Bob Taylor, who wrote from his Nordhavn 57 Istaboa to enthuse about the Cradlepoint MBR1000 router above, which can handle—even prioritize or load balance—multiple cellular, WiFi, DSL, etc. WAN (Internet) connections coming in via card, USB or Ethernet, and then deliver them to the LAN (PCs, iPod Touchs, etc. around the boat) via WiFi or Ethernet. In the photo Bob's got an AT&T HSUPA USB Aircard, a Verizon EVDO USB Modem , and a Port Networks MWB-200 WiFi rig (which he heard about here) all connected to it and getting along fine, as he describes in his blog.
Bob also pointed me to an EVDOinfo.com review, and I found positive Amazon reviews. Today I learned that Jeff Siegel has also been testing Cradlepoint afloat, particularly in regard to "tethering", i.e. cell-phone-to-router instead of cell-modem-to-router. Jeff makes a case for tethering here, and discusses MBR1000 details here.
Meanwhile, Nik DeMaria—the pro whose SY Tenacious issues we discussed last summer—recently wrote from Newport about that multi-WAN challenge:
We activated the KVH V7 system and have integrated the PepLink Balance 30 Multi-WAN router. It has a very nice user interface to allow the captain to manually switch between 3 outside ISP networks. I verified switching between the two active connections while online. The system is also able to do auto-switching based on health checks and other criteria. That may get implemented later after some time in use. We currently have the Sat. V7 and the Syrens WiFi with the 3rd port available for future expansion (Cellular modem..?) or to plug in a cabled Ethernet connection that is sometimes available dockside.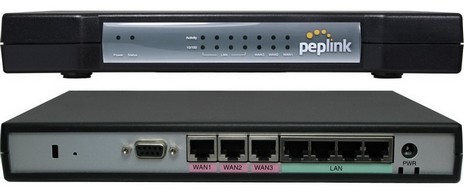 PS. Nik added that "The V7 is activated for a 256 kbps up & 512 kbps down, unlimited connection + 2 VOIP lines. I verified the data rates and was impressed with its consistency and stability. The users on the boat in fact preferred the slower, but stable V7 to the faster but rather unstable WiFi hotspot that was available." And he later heard that while it worked well out to Bermuda, it seemed to hit a Sat coverage hole there. I've heard a few mixed reports like this on V7 mini-VSAT, but it is a relatively new technology.