Teleflex Marine Optimus 360, N2K & CANbus cool!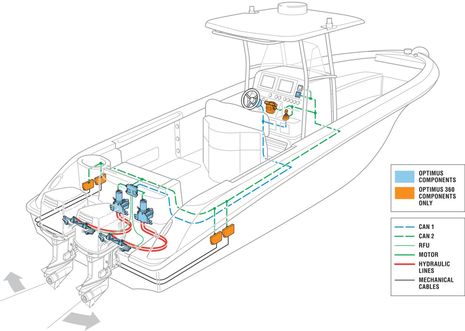 Aside from the StructureScan HD demo just discussed, I also got to try out the remarkable Teleflex Marine Optimus 360 system in Miami. Yes, it does bring joystick go-any-which-way control to twin outboards — YouTube videos here — but there are several impressive subtleties too. One is the underlying Electronic Power Steering (EPS) system that's diagrammed in blue above and can be had without the "360" throttle, shift, and joystick if desired…
The key components to Optimus EPS are "Smart" hydraulic steering cylinders and an electronic steering wheel hub that talks to the pump system via CANbus. The steering was not only smooth as silk but the Teleflex Marine engineers showed us how it can be set it up in all sorts of ways I've never seen before. Both the number of turns to hard over and the wheel's stiffness can be set precisely, and can be different for different speeds, for instance. The wheel can even be locked up in certain situations (like joystick use) thanks to electronic clutch plates in that hub. EPS would be nice on a single outboard boat, but of course what you really notice is how EPS lets 360 control twins independently…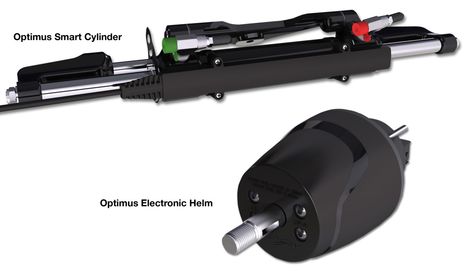 It is strange to see two outboards turning and shifting on their own but, like I said, it worked quite well. With no training I could easily walk that boat sideways, adding twist and forward/back motion with considerable precision. I've also seen enough of these joystick systems — like MerCruiser Axius Premier — to be concerned about how busy they are and what long term effects that might have on gear boxes and such. Optimus 360 seemed particularly good in that respect, though no boat propulsion system goes sideways efficiently, and the engineers are proud about that…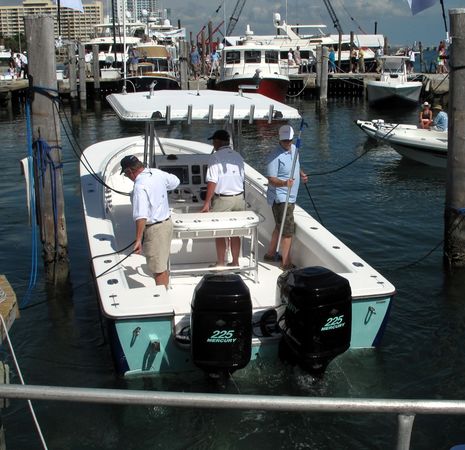 They were also proud about how cleanly the full Optimus 360 system had installed in a used boat. You can see the primary 360 module at lower left below along with the two hydraulic pumps and twin sets of shift and throttle actuators. Note that the only mechanical cables are the backups for the latter, and they would be very short if these components were installed aft as in the top diagram…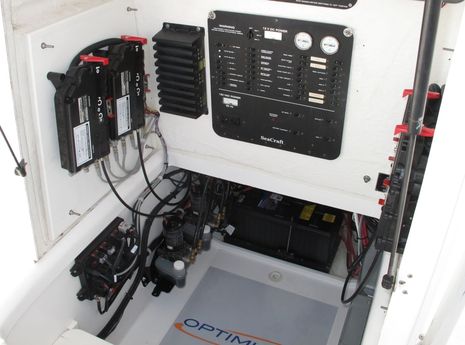 I don't remember all the failsafe technology built into 360 but I remember thinking that it was ample, and let's not forget that Teleflex is a big company with lots of experience with critical engine control systems. On the other hand, I learned during this demo that Teleflex Marine was spun off to HIG Capital last year and according to the engineers that situation has unleashed their innovative juices.
And speaking of innovation I couldn't help but notice how well NMEA 2000 works to help make a radically new technology like this possible. I'm not sure where the CANbus networks in Optimus 360 end and the N2K interface begins but since N2K is just a layer on top of CANbus it wasn't hard to do. Isn't that why Garmin has already introduced a GHP20 Steer by Wire autopilot that works with 360? Raymarine has also announced the SPX40 CANbus AP and I heard that Simrad and others are on the way.
Optimus 360 seems reasonably priced, especially if you factor in the reduced price of mechanical engines, and prospective buyers will have a wide choice of compatible autopilots. All those APs will also share heading info, go-to points, etc. with other systems easily thanks to the N2K Standard. Isn't that a nice competitive situation for consumers? I wish the folks that find so much wrong with NMEA 2000, as in the recent thread, would pay more attention to its CANbus roots, both in terms of the actual data protocol and how its managed.