The Geonav writers event, part 1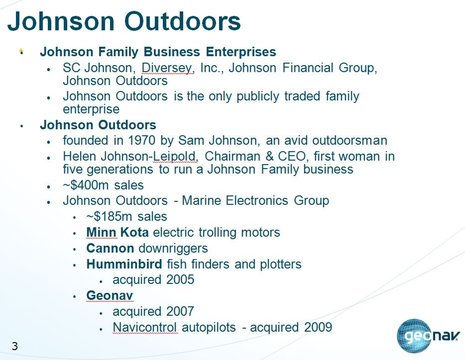 I've been waiting on some screen shots before writing about the "Geonav writers event" I attended in early December but, frankly, the gear demonstration was rather preliminary anyway, as the two most technically advanced products — the GIS multifunction and MID instrument displays highlighted here in September — were not shown. While I'll soon have more about what I did see in action, I've realized that what I did learn a lot about in Florida was the family of companies Geonav has joined. While it was clear that the brand would undergo serious changes when it was bought by Johnson Outdoors in late 2007, I didn't really understand what that Johnson name meant until I received the presentation from which I clipped the slide above…

The consumer products giant SC Johnson — as in Ziploc, Fantastik, and Windex, just to name a few brands possibly already on your boat — has excellent reasons to call itself a family company. It's not only being run by a fifth generation Johnson, but it's also still privately owned. And the same is apparently true for the industrial products company Diversey and Johnson Finance. One might think that Johnson Outdoors was the exception to the Johnson style because it's publicly traded, but the stock is very "closely held" (as you can deduce from the very low trading volume), yet another 5th generation Johnson at the helm, and the fact that the family tried to take it private again a few years ago. Wow! I'm no expert, but I can't think of another family that's managed to grow and hang on to so much business over such a long period. Poking around those corporate sites, it's also hard to miss all the awards for treating employees and the environment well, and the long family interest in adventure (and fine architecture).
So doesn't this all suggest that Geonav is now being run by folks who play with their own marbles, think in the long term, and have an amazing record at both? I know that my impatience with what seems like a relatively slow roll out of the new product lines was certainly mollified. Who can argue that the Johnson clan doesn't generally do what it sets out to do? And the Geonav goals were made quite explicit. The target audience is experienced owners of 24 to 60 foot power and sail boats; the competition is Raymarine, Garmin, Furuno, and Navico; and the plan is to be number two or three in a few years…if not outright winner!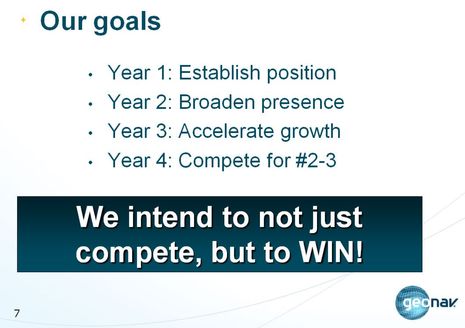 Not only is that a tall order, but in some ways Geonav is a startup. While the original company may have developed and distributed marine electronics in Europe for 25 years —
some interesting stuff, too
— those products, the management team, and the manufacturing facilities are history now. What Johnson Outdoors apparently wanted was a brand name with some international cachet and a distribution network that could also work with the other members of its electronic group — Humminbird, Cannon, and Min Kota. Business and product development are now in the hands of Bruce Angus (
spotted previewing Geonav
in Miami last year) and others with deep experience in the saltwater side of marine electronics, while the manufacturing and support has been integrated into the JO electronics group. (Which has been doing some good work, even if yachties aren't paying attention, as
illustrated here
and
especially here
.)
Of course there was much talk in Florida about the distinctive product advantages that are are key to Geonav's success (and
which are pretty well laid out at the Geonav site
). I'll soon discuss the hands-on taste we got of some Geonav distinctions, but I think it's going to take a while to get a full grasp of the new contender. What seems obvious now is that the Johnson family — both literal and corporate — know a lot about patience and perseverance.