USB charging on a 12v boat, fie on Apple?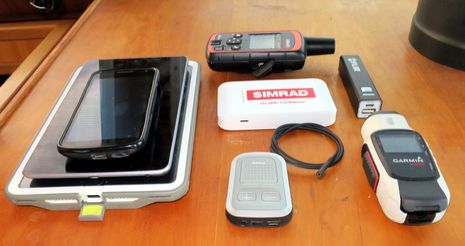 It was easy to gather a slew of devices currently on board Gizmo that hunger for a USB power supply at least occasionally. Heck, when the Verizon Android Galaxy phone is providing an LTE WiFi hotspot and also streaming Bluetooth audio to the Fusion IP700 stereo as it is now — I'm online while listening to a Maine radio station — it needs to be charged almost constantly. The hard-working phone is also why I keep those two USB charged/charging batteries topped up for shore trips (and, yes, they do make great press event swag, thank you Simrad and FLIR). The Phonak hearing aid accessory needs nightly charging and while the DeLorme InReach Explorer in the background can go for days doing satellite tracking and a few messages, I prefer to keep it plugged in so my Share Map stays complete. In short, I need multiple 12v USB power sources to keep this crew happy and thus, this entry will cover several types I've tested. There are a lot of cables involved too, but it's nice that all the gadgets pictured use a standard USB mini or micro size power/data plug, with one very significant exception…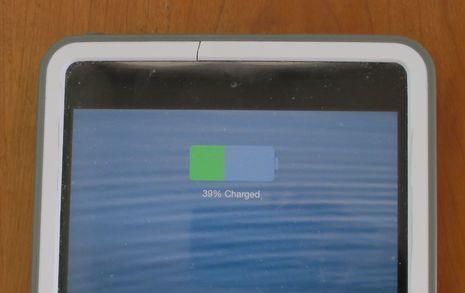 Of course, it's the Apple iPad mini that uses a proprietary Lightning connector instead of a standard USB plug. The tablet does have excellent battery life and I understand that it needs more than a standard USB 5 volt 1 amp charger (or .5 amp laptop USB port) to renew the battery efficiently, but iPad charging issues go well beyond that. My experience is that even if you use a charger rated at the 2.1 amps purportedly needed by most iPads — newer models have gone to 2.4 amps — you won't know for sure that you'll see the charging screen above when you plug the Lightning cable in. There are endless online discussions about this and it may be that Apple uses a unique way of detecting a higher amperage charger that you'll only find for sure in Apple Certified chargers, none of which is ideal for a boat (in my opinion).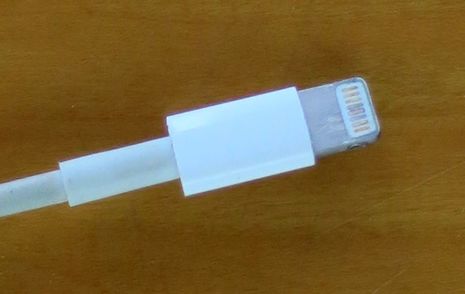 Before describing my search for a good marine iPad charger, let me grumble a warning about the Lightning cable itself. The official Apple one above failed during my trip from Maine to Baltimore, which caused some anxiety as I didn't have a spare and I use the iPad mini a lot. Fortunately, I was able to get this connector to pass a charge again by gently sanding the contacts with fine emory paper lubricated with a little oil. But I've had Apple-made cables fail before, and cheap knock-off cables have done worse. The back-up Lightning cable I should have brought from home and highly recommend is Amazon's own Apple Certified design. It seems sturdier than Apple's and reasonably priced, especially given that Apple apparently gets a few dollars fee for every one.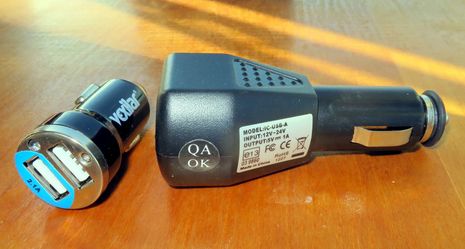 By far the most common way to charge USB devices in a car or boat is with adapters like the ones above. They fit what are now called "12v accessory outlets" though oldsters like myself know that the "outlet" was originally designed for cigarette lighters. That's a limited and very short-term use and as that Wikipedia entry rightly notes, the design has "poor contact stability" even though my boat came with four such power receptacles installed. Of course, I tried them, and adapters like the one at left with the 2.1A output sometimes charged my iPad. Sometimes, not always. Then one day I realized that the adapter had gotten quite hot, apparently because it was trying to draw those 2 amps through a poor contact. It was not the first time I've had such trouble, which is why I wonder if such "outlets" should be used untended on a boat.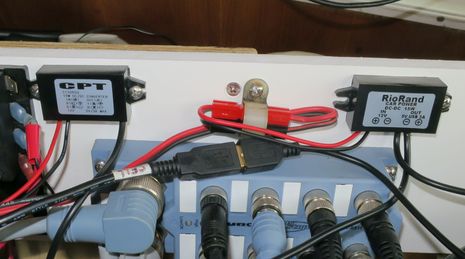 First I tried the type of 12v USB power source designed to install behind a dash, which work neatly with accessories like the Tallon Ultimate iPad Mount or just a regular USB cable snaked to your favorite charging station. I couldn't find a known brand model, but both the CPT (no longer available) and the RioRand (available here at Amazon) charge every USB device on Gizmo just fine…except the iPad. Even though both chargers claim 3A output, sometimes the iPad says it's charging, sometimes not.
I realize that iPads often charge slowly even when they aren't acknowledging it, but I was frustrated nonetheless and was often using the Apple AC charger with Gizmo's inverter just to be sure. And when I recently shopped for the type of USB charger that can replace an existing cigarette lighter receptacle, my expectations for iPad compatability were low. So far, though, the Blue Sea Dual USB Charger Socket is working very well and the similar XYZ Boat Supplies model pretty well. Specifically, my iPad mini has always shown charge status when plugged into either Blue Sea outlet, but it failed once when plugged into the XYZ's high power outlet (and its blue LED even went out). I'm not surprised that the Blue Sea product seems more reliable, but I don't know how either charger will work with new iPads that would like 2.4 amp charging. Anyone?
Finally, don't these annoying incontestabilities, worn cables, and so forth make one yearn for a universal inductive charging standard? I don't know if that will ever happen, especially for Apple devices, but at IBEX I saw how inductive charging is coming neatly to boats and will write about it soon.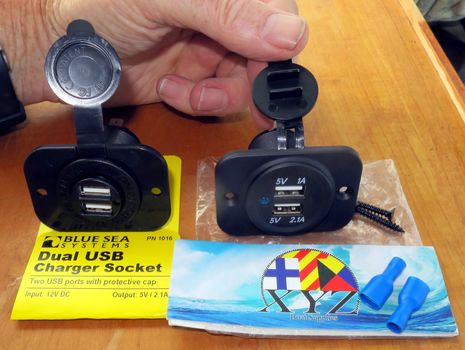 PS, 11/3: Carling Technologies will soon offer a V-Charger that will fit in the Contura switch mount that's already found on many boats. It will offer 2.4 amps on each output and will be waterproof when not in use: