Fusion-Link N2K & Garmin, happy together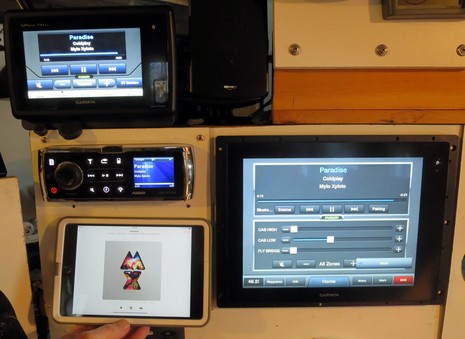 The ability of Fusion marine stereo systems to integrate with multifunction displays over NMEA 2000 (or Ethernet) is a wonderful example of what MFDs and standard network protocols can do for us. One day last summer a Garmin software update suddenly made the GPSMap 7212 already installed on Gizmo's flybridge the best interface I had for the Fusion IP700 stereo installed below. And mind you, I already had a Fusion NRX remote control up there, and I also had the Fusion Remote apps running on iPad and smartphone via Gizmo's WiFi router. There was a notable glitch, which I'll describe, but that's long past and now Fusion-Link has arrived beautifully in the Garmin 7×1 and 8000 Series MFDs seen above.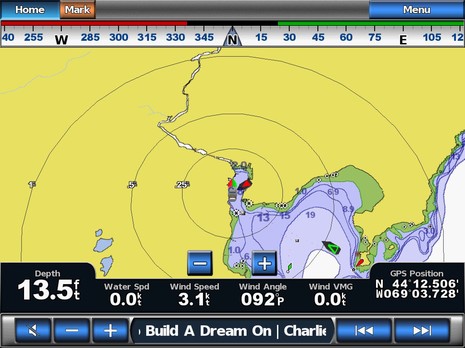 In normal use, the Fusion interface only occupies that media bar at the bottom of your MFD screen (if you want to see it at all). But a tap on the scrolling artist/song title window takes you to full screen controls for picking audio sources, browsing tunes on sources like an iPod or USB memory stick living in the waterproof IP700 or a Fusion dock, or even digging deep into the stereo's many settings…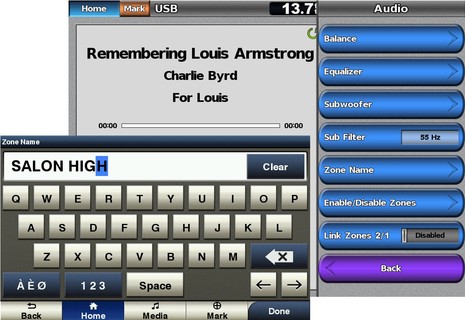 Here's an example of a deeper menu — note the huge and sometimes informative touch buttons — and also the user's ability to name speaker zones so it's easier for you or a guest to know what you're doing with the volume GPSMap 7212 controls. I demonstrated that naming feature when I first installed the IP700 in 2012, but in fact, I left "Fly Brjdge" mispelled for over a year because editing labels with the stereo's limited interface is so tedious. Redoing the names with a big Garmin touch keypad (on the 741SX in this collage) made me smile, especially since it was entirely free.
However, I've had to rename Gizmo's zones several times now because they get erased when you update the software in the stereo itself. I was happily cruising with the Garmin 7212 interface, and had even removed the NRX200 remote, when Fusion sent a new BT200 BlueTooth accessory to try (explained here with other 2013 changes). It required another IP700 update…which completely disabled the 7212, even when the Fusion stereo was turned off! I don't think that many normal users suffered this surprising glitch, because Garmin quickly issued another MFD update that fixed the problem (but also removed numerous interface features), and Fusion added a somewhat vague warning to their update page. I simply reverted to the earlier IP700 software and gave up BlueTooth streaming, so I could keep the full Garmin interface until full compatability was attained…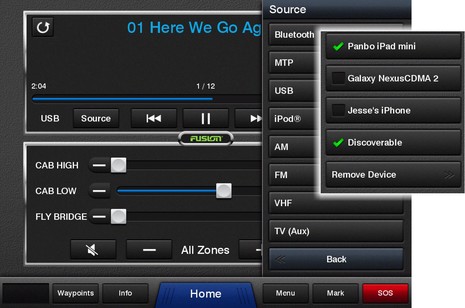 Well, now the test IP700 and Garmin gear are all running their latest software and dare I say that they're "singing together"? The top photo shows how all can manage audio streaming from my iPad via BlueTooth, even showing song info and letting me advance or mute tunes from anywhere. Tunes coming via BlueTooth from my Galaxy Nexus phone don't show names and artists (yet) and the MTP (Media Transfer Protocol) feature theoretically available via USB to the same phone does not work, but both issues are also true for the snazzy Ford Sync system in my car. Integrating so many pieces, especially with the fractured Android world involved, is hard.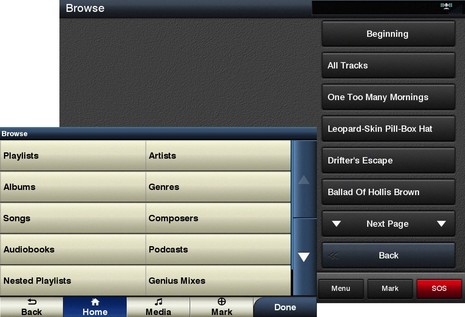 But Fusion and its marine electronics partners seem to get better and better at making this all work easily. These Garmin interfaces, for instance, are very fast, even when browsing a loaded 8 gig iPod (though it would be better if the 8212 used its bigger screen as efficiently as the 741 does. I was also pleased to see that the current Fusion software does a better job of playing and displaying tunes I've loaded onto USB sticks (possibly in a less-than-ideal way :-).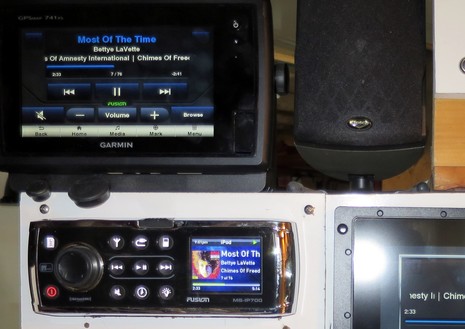 Fusion-Link can't pass cover art over NMEA 2000 to Garmin MFDs, but apparently, the Furuno TZT and all current Raymarine MFDs can do that using Ethernet. Lowrance HDS Gen 2 and Simrad NSS/NSO also support Fusion-Link over NMEA 2000 as well as their own SonicHub, which spearheaded audio integration (and is built by Fusion). And of course Garmin now also offers the Meteor 300 audio system (which may be Fusion's newest design and notably has Bluetooth streaming and control built in).
I'll close with a shot of the Fusion-Link iPad app that can control the stereos that have Ethernet ports (Fusion-Link android here), which worked fine for me on Gizmo last summer. Let's note, though, that no one has to run their boat stereo as many ways as I've tried, nor will most users try all the sources I have. So the Fusion system is generally a lot simpler than might be obvious from my entries, yet able to serve in many different boat environments. But what could they do better and who's going to compete with them?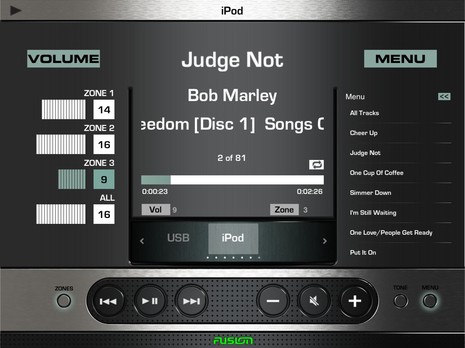 PS 5/22: Whereas Garmin recently acquired Fusion Electronics, it's especially nice to see that the integration of FusionLink with the Humminbird ION and ONIX series is going ahead. If you already have Fusion gear and are maybe using FusionLink with Raymarine, Navico, Furuno, or Humminbird displays, there are assurances in the press release: "Substantially, all the Fusion product line will remain available, as will support for the company's existing products. Fusion Entertainment will continue to support all Fusion-Link partners accordingly."