USCG Loran shut down comments, worth making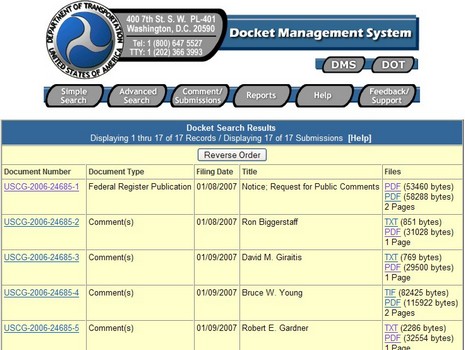 I still maintain that shutting down the Loran system is a red herring, but the USCG has asked for comments on the subject, and hands are wringing. Here, for instance, is a short piece called "Loran's Last Chance?" on AVweb. Follow the link where the author writes "The UK has a similar [Loran] system and is also pondering whether to keep it or not". Not really, you'll find; what the Brits are actually thinking about is building a new eLoran system!
Nonetheless, it seems prudent for any one who wants a redundant electronic positioning system—and you should!—to register their opinion. And the government has made it easy (though not so easy to give you full links). Here's the drill: go to http://dms.dot.gov and do a simple search for docket item 24685. You should get to the screen above, which gives you access to the Notice itself plus the comments coming in. Unfortunately the TXT versions don't word wrap, but the PDFs read fine. Try Robert Gardner's for some good dope, and I'm hoping my own comment, submitted early this morning, will go up soon. Comment Submissions, button at top above, is a really easy form, and very little ID is required. (Nice work, DOT!)
For more info on Loran, the Wikipedia entry is excellent, and it also got me to an amazing PhD dissertation on the subject just completed by Wouter Pelgrum. He's the guy who got dizzy on a Massachusetts clover leaf demonstrating how accurate even the somewhat improved current Loran system can be. Now, I'm going to do more testing on the Si-Tex eLoran, already looking good; you think about telling the USCG that we need this capability.