USS Whidbey Island, a labor day salute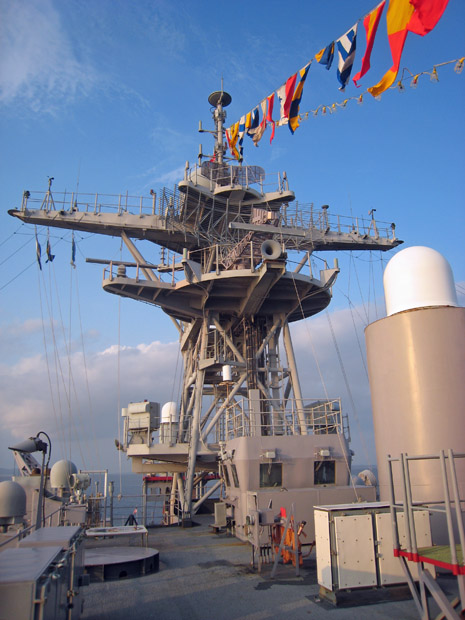 Now that, friends, is an antenna mast (bigger image here). By way of scale, the tubular frame radar array showing over the large horn is 24 feet wide. I also learned that while the crew of the USS Whidbey Island does get "slow" Internet access underway, it doesn't work on some headings, which suggests that whichever dome delivers recreational Internet may sometimes be in the shadow of that huge mast. This 609' LSD (dock landing ship) was here to celebrate Windjammer Weekend, and I lucked into a tour led by a cheerful Ensign in the "Electro" department. Details of interest:
A favored navigation tool is a laptop running some unfamiliar charting program, and the watch stander was using a Furuno NavNet GPS to track anchor dragging, but paper charts—painstakingly annotated with safety depth lines—were very much in evidence; at least one of the automated chain guns is associated with a thermal camera, but it needs repair after constant use looking for pirates off the Horn of Africa; the Combat (control room) really was as cool as they look in the movies, but the ensign said the low lighting makes folks sleepy. Most of all I noticed how hard the crew worked to show a whole lot of gawkers like me what it's like to be in the Navy, but they were wonderfully relaxed about it. They're back at sea tonight, returning to the Chesapeake, and who knows where next. I salute them.
PS: Referencing the "relaxed" ship comment, Captain Junge apparently consorted with pirates and went wild with a confetti cannon during the build-a-boat race.