Wow: Raymarine e9, e12, c9, c12, ClearPulse & VoyagePlanner, all new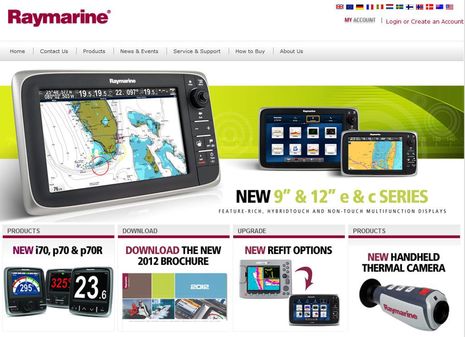 I'm surprised because I thought Raymarine was holding off a slew of new products for the Miami show in mid-February, but today we learned that Ray's UK site has put up details on the e9 and e12 big brothers of the e7 launched last summer, as well as new c9 and c12 MFDs that are similar to the e Series but without the touch control. Which is a lot, but not all…
You can also download Raymarine's 2012 Product Brochure and there you'll find details of its new CP450C CHIRP fishfinder module. CP stands for ClearPulse and among other things Ray is claiming a "TruZoom" feature for "a precise magnified view of fish targets, bottom structure and baitfish without any loss of resolution seen with traditional sonar."
And while I hear about a lot of new electronics ahead of public announcements — because the manufacturers hope to see them appear in magazines at the same time they're introduced — VoyagePlanner is all new to me. And interesting! Apparently it won't be out until spring, but it looks like a powerful planning program with "instant on-the-fly SeaTalkHS or WiFi sync of waypoints and routes" with your Raymarine MFDs. Sounds like another reason all the new e and c Series MFDs have built-in WiFi (and Bluetooth).
I may have missed other new Ray gear in the brochure or on the UK site, but trust that Panbots will find it. And I hope you'll share your thoughts on all the new gear already mentioned here. Ray's on a roll. So what details should I be looking for when I attend the US launch in Miami?
PS: Nice picture of the e12 being shown in Düsseldorf, thanks to Lars Kristian Larsen of batmagasinet.no. Note the autopilot button, and the champagne in the background: