XM & Sirius, what's up?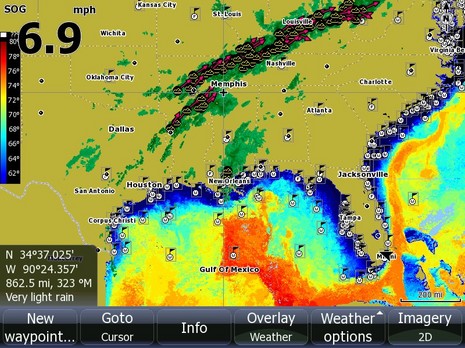 Either XM or Sirius Weather and Audio is now available on nearly all major MFD brands. Above is Sirius seen on the new Lowrance HDS during the Broadband Radar demos. The implementation looked very good (as did the whole HDS package, more on that soon), but in truth all the satellite weather implementations seem to be getting better. I spoke with both XM and Sirius representatives at the Boat Show and their message was that they really are working together now–they are just two divisions of the same company–and that they weren't too worried about the wild battle of the media moguls that had put their company high on the business news page…
Well, late last night a "white knight" saved Sirius XM from bankruptcy and a possible takeover, and it happens that the knight might be particularly white in terms of marine services. That is to say that John Malone is well known here in Maine as a guy who puts serious TLC into classics like Ragtime. Actually, no insiders thought that even bankruptcy would have effected Sirius and XM services. The satellites are up, millions of subscribers in place, and no one in their right mind wants to mess with
that. In fact, the twin brands are trying to make their services more irresistible.
For instance, some time in March XM's Fisherman and Sailor data packages, each $29.99, will become simply the Pilot service, same price but including all data currently available in both previous offerings. Nice! Also worth noting is that Baron Services, the weather experts behind XM Weather and also WxWorx, expanded their facilities last year, as indicated below and explained here. Baron also developed XM NavWeather, a sort of simplified live data analysis being offered to car drivers and inland boaters. Sirius too has a lower cost inland package, and the Sirius guy told me that the "competing" data packages would get as similar as possible given long term contracts with different data providers. His line: XM and Sirius are the same company offering good live weather on many marine MFD brands, and the only issue for consumers is how well those brands present the info.