A beautiful new helm, in Maine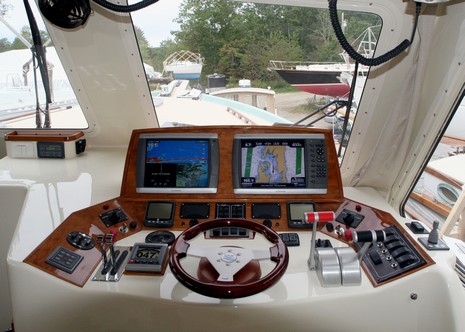 Two days in the deadline mill and I'm tuckered. But I thought you might enjoy this rather gorgeous helm, bigger image here. It's the custom Wesmac 50 I mentioned back in June, i.e. the boat on which I got a taste of my writing subject, Garmin's new autopilot. So let's forget about that for the time being and take a look at the ergonomics of this dazzling command and control center. My notes:
* The design totally violates my consider-the-future principal that electronics areas should be designed for change. But the carefully joined woodwork sure looks good, and everything is in easy reach. (Just pity the eventual owner who wants to change something.)
* Typical of most every helm I see, I still think there are too many doodads, despite all the design and function integration seen in the Garmin suite. Look close—there's plotting, fishfinding, radar, satellite weather and radio, and autopilot on those color screens, and there could be fuel management, wind, and more. But then there are those drab Cummins grey-scale engine gauges; miscellaneous wiper, search light, and whatnot switches; and a rudder (jet-drive) angle indicator. In the future, all will be one, maybe.
* The mullions between the windows are too wide, though the window size mostly makes up for it, and the standing/sitting view in front of or on the electrically controlled Stidd is pretty good. The most recent issue of Professional Boatbuilder, available online, has an excellent article on powerboat helm ergonomics.
* What is this handsome new boat doing hauled out in the middle of September. Well, stuff happens, and you can see that it's not the only one. In fact, if you look closely you can see cases of anti-freeze on several decks. A sad Maine state of affairs.
* Finally, below and bigger here is a wider shot of the helm actually in use. Included are John Neyland, Garmin's Manager of OEM/NMEA Systems, and Peter Johanson, proprietor of the yard that did all the fine work. A tip of my beanie to both, despite the fact that they posed like they were being booked for having too much fun on the job.