B&G H5000 tempts my racing heart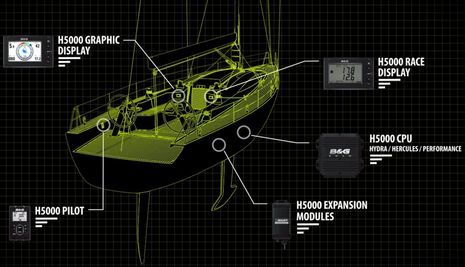 At the METS 2013 show in Amsterdam last month B&G unveiled their new H5000 range of sailing instruments and auto pilots. Unlike the Triton range which is meant for recreational and club racers the H5000 series is designed for high end cruisers and all levels of racers (from club to round-the-world), and replaces the H3000 series. B&G's racing reputation stems from the capability of their systems to make corrections to the raw sensor values and deduce derived values at high rates. Cruising systems do basic smoothing of raw sensor values (wind, boat speed) and some computations (remember the Panbo discussion on calculating true wind?) but nothing else. The H5000 range can do much, much more. For instance all systems compensate the wind speed for heel and trim angle, there are advanced MOB features and the autopilots have special gust and high-wind response modes.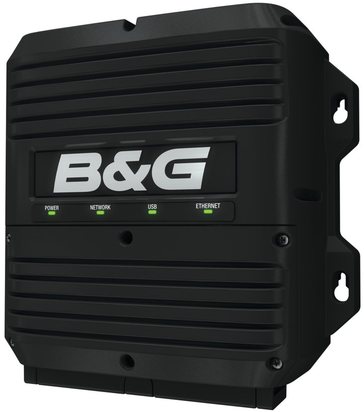 Processor
The way that this was implemented historically was a central processing box that the sensors were connected to and then the box computed the improved values. This has not changed, and the same performance levels are available as before. The three levels are:
Hydra (€ 1290 – $1499 – ROW $1649)
Hercules (€ 1890 – $2399 – ROW $2749)
Performance (€ 3690 – $4599 – ROW $5299)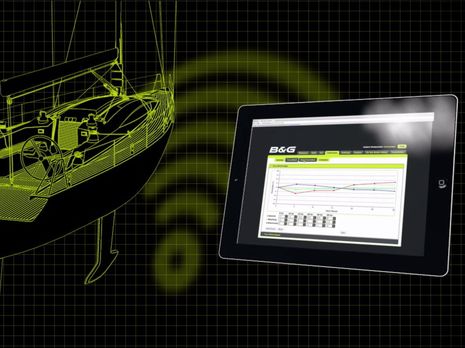 What's different is that the actual physical processor remains the same and apparently you can upgrade to a higher level via a software update. Previously the PCB would have to be swapped. The setup has been dramatically simplified by including a web server in the CPU box. You can use a computer or (if you have the GoFree WiFi or your own router) a tablet to perform functions such as set-up, calibration, commissioning but also backup/restore and diagnostics. You can expand the capabilities of the processor by adding expansion modules. The current list includes a 3D motion module, a barometer module, a network alarm module, a serial expansion module and an analogue value module.
The "basic" Hydra level has NMEA 2000, dual NMEA 0183 and Ethernet interfaces to integrate with your computers and other navigation equipment. It supports wind heel compensation, and has a special Performance Wind Filter that aims to optimise wind angle stability. It also has an advanced MOB function which keeps a dead reckoned position of the MOB based on tide or as as updated via AIS SART. It supports most expansion modules and many of B&G's existing sensors. In addition, the processor provides advanced MOB function with dedicated MOB button input and dead reckoning of relative MOB position, allowing for tide, based on the initial MOB position or as updated via AIS SART with compatible equipment.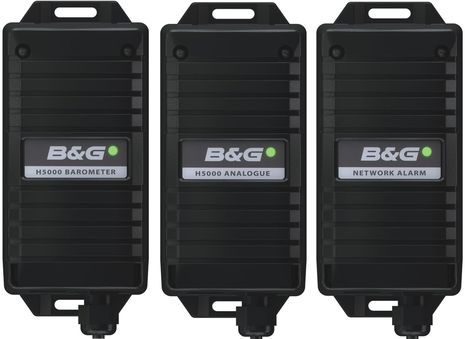 The next level, Hercules, is specifically designed for racing yachts, adding more accurate data and more race specific features. If you add a "3D Motion Expansion Module" you get a motion compensated wind value — ie. it compensates for rolling, pitching and yawing. It would be interesting to compare a Hercules system with this module to a system equipped with the Airmar PB200 — which Dan Corcoran reported as motion compensated as well. The H5000 also allows you to upload polar table data to the CPU that provides target boat speed, target wind angles and performance monitoring. It also allows heel/linearity correction of boat speed and increased sensitivity of boat speed data to real accelerations / decelerations by better filtering. Hercules also provides enhanced communication, Polar table configuration and Start Line information.
The highest level, Performance, is meant for complex yachts that have items such as dual wind sensors, dual rudders, dual or triple daggerboards (providing a calculated depth below the daggerboard). Further functionality delivered by Performance includes the tracking of ground wind speed and direction, Rate of Turn and enhanced polar performance targets.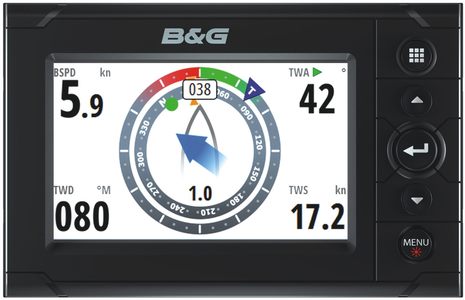 Four styles of display
The H5000 range includes two new displays and carries over two existing ranges. First and foremost there will be a H5000 Graphic display, at around €/$ 1000, that looks like a Triton on steroids — a big bold 5″ colour screen using the same UI style as we already know from Triton. I felt right at home with it, and it was easy to use. Like all B&G displays it uses a fully bonded LCD which means there is no air gap between the front glass and the LCD. This has the advantage that it is impossible for condensation to penetrate and show up on the LCD. Whereas Triton is able to show depth and wind history plots, this also includes special sailing pages, a start line page and the sail steer page that we've seen first on the Zeus MFD.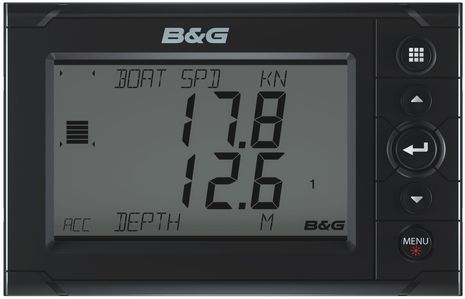 Next up is a new H5000 Race display, using a segmented black/white display that uses a little less power (but not much), is a little cheaper, but more importantly might just match your boat or racing style. It has a small bar graph on the left side of the display that can be used as a visual indicator.
What I also liked that these displays will just drop in for the older H3000 (or even H2000) displays as they have the same physical dimensions, so cutouts as well as the overall feel remain the same. The H5000 Race display will look familiar for H3000 owners but I guess that a lot of owners will prefer then new H5000 Graphic display, which boasts a very bright 5″ color display. With their fully bonded (no condensation) graphical displays the data that can be shown is much more useful. The H5000 graphic display copies the sail steer and start line pages that we know from the Zeus MFD and the windplot display seen on the Triton T41.
The H5000 system also supports the existing HVision 10/10, 20/20, 30/30 and 40/40 mast displays with prices from 500 to 4000 €/$, with more functionality than H3000 did as the new processors can send alternating values (Hydra) or even dynamic sets of data (Hercules, choosing automatically beween pre-start, upwind, reaching and downwind) and 10 Hz update (with Hercules.)
The analogue displays were updated to NMEA 2000 / Simnet a few years ago for use with H3000, and as they are classically styled they just carried over.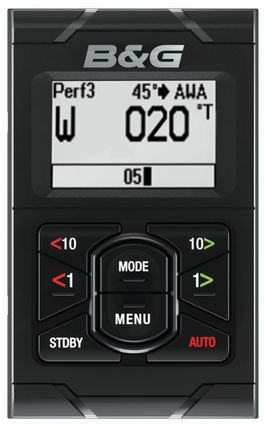 Autopilot
The H5000 autopilot shares the hardware with the recent Simrad AC70 computer but runs B&G software which offers dedicated sailing steering modes – gust response, recovery and high-wind response. I guess most sailors won't miss the removed fishing patterns… B&G claims excellent response for sailing boats, and a win in the latest Vendee Globe.
There is also a new controller that I liked as it is almost as small as the Triton controller but still includes a small B&W LCD display. I asked whether you could mix and match, and use the new controller with a Simrad autopilot computer, but my feedback is that this is not supported.
I'm sure some people out there wouldn't mind if Santa brought them a H5000 system… Alas that won't happen as the product availability is still one or two months out.