Big wave weekend off Southeast U.S.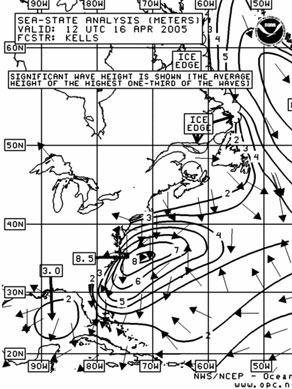 The evidence is piling up, so to speak. Last night I spoke with a friend anchored off Key West who said he and his very able 53' trawler were delayed there by heavy seas. Now I'm listening to a guy on CNN describing how his cruise ship honeymoon in the Bahamas got messed up (the on deck Jacuzzis got washed away, amongst other problems), and the damage done to another ship off Georgia is all over the news. "When the wave passed — some estimates have it higher than 60 feet — two windows on decks nine and 10 of the 15-story ship were blown out, 62 cabins sustained water damage and four people were treated for cuts and bruises aboard the ship."
I went over to NOAA's Ocean Prediction Center to see what happened (above), and discovered that the site now has a nice "looping" function for reviewing forecast and analysis graphics.