Debris takes out Garmin Panoptix FLS transducer, boat still floats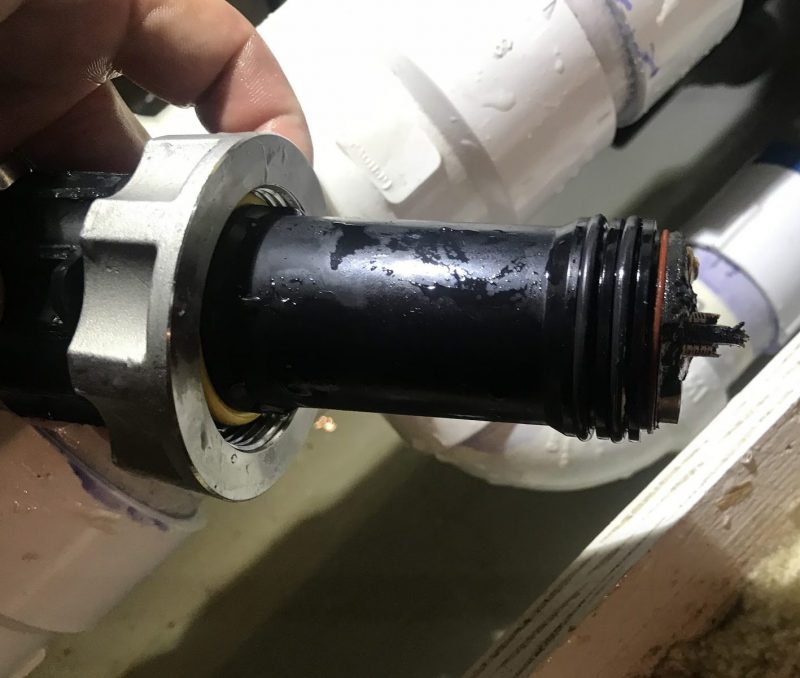 Before heading from Chicago down to the Mobile, AL, I had two new holes drilled in the bottom of Have Another Day to install  Garmin Panoptix PS-51 and Simrad Forward Scan forward-looking sonar transducers.   Our travels down the debris-filled rivers revealed a potential problem with anything protruding below the hull, but it also showed how robustly these transducers are built.
Our departure south was already behind schedule when I decided to install the FLS transducers.  So, I wasn't able to do the wiring and commissioning work the manual suggests.  Without proper commissioning, I wasn't confident in the information they provided so I wasn't using either one.  Because I wasn't using them I didn't notice anything change when the Garmin Panoptix apparently took a direct hit from debris.
Our trip down the rivers included lots of high water and flood currents, and with the flooding more debris than I've ever seen in the water.  We saw branches, tires, coolers, and full trees significantly longer than our nearly 60′ boat.  During our second day on the Mississippi, the debris became so thick that avoidance became picking the smallest debris to hit.   Most of our river cruising was done at about 8 knots speed through water (though our speed over ground was closer to 13-15 knots courtesy of the current) and some of the hits felt pretty significant though very few had the repetition I've usually heard with prop strikes.
Our arrival in Mobile marked the end of our river travel so I had a diver check the running gear.  We knew we'd hit more stuff than we would have liked so I was debating a haul-out and prop swap.  The diver came up with good news, the props had very minor leading edge imperfections but overall they looked good.  But, he did ask what I had forward on the hull because there was some kind of wiring and a micro-chip hanging down.  I quickly realized that it must be one of the FLS transducers.
Uncomfortable with having a damaged transducer hanging off the hull, I decided to swap it for a blank plug. Which took a little consulting from Ben E. because I didn't know exactly how this type of transducer came out. Incidentally, each time I've done a transducer swap while in the water, I'm amazed at just how much water comes flooding in during the moment there's nothing filling the hole. If hitting something pushed an FLS transducer out its casing, the leak would be serious.
With the plug in place, I was able to see how badly the transducer was damaged though it sheared off even with the waterline.  In light of the amount of damage, I was quite pleased not to have had any leaking from the damaged 'ducer.  Careful inspection revealed heavy use of potting material and the lack of leaks proved its effectiveness.
I'm still planning to complete the commissioning of the Simrad Forward Scan and hoping to replace the damaged Garmin PS-51, but this is one of the potential pitfalls of installing anything that hangs down lower than the hull and needs a view of what's forward.