Icom combo VHF/AIS, at least a concept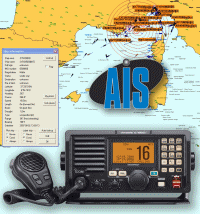 A month or so ago reader Derek Love (thanks!) wrote in about an interesting combination VHF transceiver and AIS receiver previewed by Icom UK at the London Boat Show. It got a little coverage plus there's an Icom UK web page about it, though that page seems oddly inaccessible from the main site. I've tried to find out more and what I hear is that the prototype is a small board that can be added to Icom M505 and M603 radios, but preferably during manufacturing, not as after-market mod, because of the waterproofing.

An additional antenna would not be needed and, while the radio itself would not show any AIS info, the same two-way NMEA 0183 cable already used to pass DSC data could be used (at a higher baud rate) to carry the target info to a plotter or computer. In other words, here would be an AIS receiver that takes up zero room and is really simple to install. Plus I'm told that AIS versions of the IC-M504 and IC-M604—the US versions of the UK models— could be sold at a modest premium to the regular sets, and that Icom USA is "seriously considering" the idea. Cool!
Mind you, though, that if these combos do become reality, they will only be a one-AIS-channel-at-a-time receivers. Those work pretty well with Class A AIS but may be confusing when used to plot Class B targets with their much slower transmit rates. Then again, who knows if we'll ever see Class B in the USA? The subject didn't even make the FCC's Feb. 26 agenda, contrary to the hopes of many, and now the focus is on the next monthly meeting, scheduled for March 19. I doubt anyone is holding their breath.