If you want to sail away, free FastSeas weather routing can help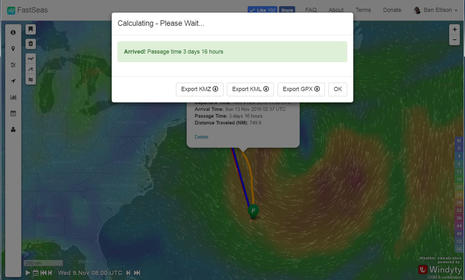 If you're looking for a real getaway this morning, or even just an online distraction, FastSeas.com can help. It's also a testament to how much goodness a smart boater/coder can create for his or her fellow mariners these days. And while FastSeas is primarily an online weather routing service for sailors embarking on ocean passages, it's easy and flexible enough that even a coastal power cruiser can benefit…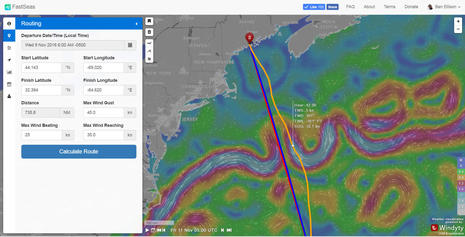 You could say that FastSeas.com is just a website, but in fact when you click that Calculate Route button a sophisticated program analyzes your boat's sailing abilities and your comfort preferences along with weather models to determine the best ocean path from the Start to Finish locations you set with your mouse or finger tip. While you do have to register with FaceBook, Google or Twitter, it is that easy to try FastSeas and there's no cost to get deep into it (though donations are encouraged and deserved).
And note on the screen above that FastSeas calculates ocean currents as well as winds, and how you can step through the planned route watching your calculated performance along with predicted wind, sea, and current conditions. So in my fanatasy of leaving for Bermuda later today, by Friday FastSeas has me catching a ride on the friendly side of a Gulf Stream meander with a light tail wind, which is a nice image to consider.
Of course, the more a routing program (or a human router) knows about your boat, the better the planning. FastSeas starts with some basic default polar data which you can edit to better describe how fast your vessel goes on different points of sail in different wind strengths, but it can also handle more sophisticated polars found or created elsewhere. I went to the suggested QtVlm resource and found polars for a Clipper 70, which looks like it could handle November sailing starting at 45° North just fine.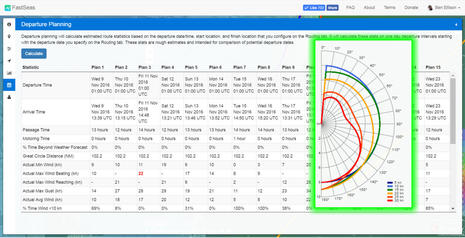 On a more practical note for boaters like me who cruise the coast in relatively slow power boats, I tried to build a polar diagram that reflected what Gizmo does and doesn't do well. FastSeas would not accept the idea that I can go straight into the wind, but 5° is close enough and the diagram also suggests how little I like running sideways in wind driven seas. It would be great if FastSeas boater/coder Jeremy Waters added a vessel performance section for motoring — some sailors would like it too — but even now the Departure Planning feature (also seen above) is useful for, say, finding good days to get down the coast of New Jersey.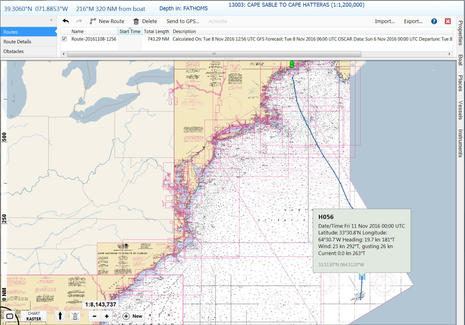 I also found that a FastSeas route exported as a GPX file imports quite nicely into Coastal Explorer. Hopefully, it works as well with other charting programs and also MFDs, because that seems the best way to turn a weather route into an action plan. Note how at least in CE the route includes performance predictions, and that on this passage to Bermuda I end up reaching in at nearly 20 knots!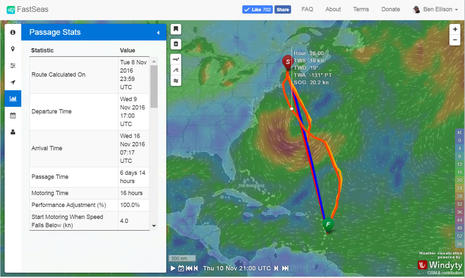 Yup, at some point last night, I realized that if I was fantasy sailing, it might as well be on a wild and crazy IMOCA 60. I couldn't find any polar data for the new foiling models that are now leading the singlehanded Vendee Globe fleet, but even a last generation IMOCA could apparently get me and a good crew from here to Martinique in less than a week.
I look forward to following the Vendee in the coming months and have already enjoyed Charlie Doane's visit to the start. There's only one full fledged American in the race, but Rich Wilson is a great guy on an interesting mission. Good luck, Rich. We'll try to keep the lights on for you.