Jeppesen & C-Map, "the game changes"?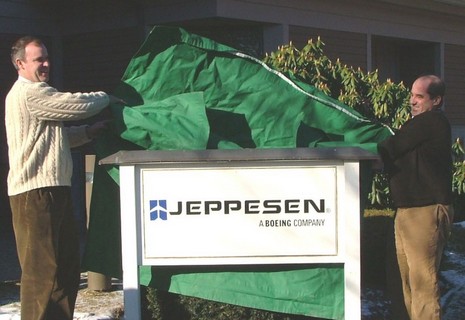 As noted earlier today, the deal went down. Above is the scene this morning at C-Map USA's Mashpee, Massachusetts, office as Operations Manager Chris Cox and General Manager Ken Cirillo unveil their new sign. Similar events took place at other C-Map offices around the world, and a press release went everywhere. The latter is a bit vague, but a Jeppesen spokesperson at the Denver headquarters gave me a little more color on what this acquisition may mean to marine electronics. The most specific item is that Jeppesen Marine's recreational division, i.e. Nobeltec, will be integrating C-Map cartography into its products, though it may take six months or more, and the fate of Passport Charts is "yet to be determined". Otherwise C-Map will be "business as usual"—i.e. same partners, sales outlets, and customer support facilities—at least during the six months it will take to integrate the company into Jeppesen. And the notion that C-Map's hardware manufacturing facilities were not part of this deal, posted here back in August, was also confirmed.
As for that distinctly non-marine logo, the spokesman said they are working on a new branding scheme, but it's hard to give up the plane after such longterm success serving that market. In fact, Jeppesen supplies 80–85% of commercial aviation operators with not just cartography, but weather, routing, and other essential data. At one point, the company printed two billion sheets of paper per year (!), though now, of course, this data has largely gone digital. Jeppesen is obviously an aviation powerhouse (and so was C-Map in the marine world), which is why the ad they've been running in some of the commercial marine magazines—now modified for C-Map's home page—has weight. It reads, "What happens when a company with more than 70 years of experience pioneering navigational and operational information management solutions for aviators enters the marine market?…The game changes." But, despite the hints, I guess we'll have to wait to see exactly how.