Lowrance Elite 5/7 cheap CHIRP, the sonar wars rage on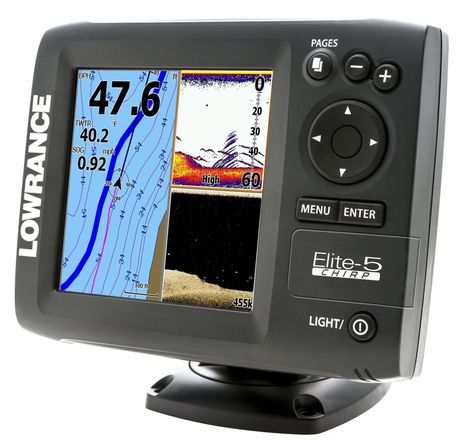 Lowrance just launched Elite-5 and -7 CHIRP fishfinders and plotter combos today, but they showed off working prototypes during the Navico writer's event I attended in January. What seemed to particularly excite the product managers was the Elite's new ability "to produce low, medium and high CHIRP sonar ranges and display two user-selected ranges simultaneously" using just an "affordable" HDI Skimmer transducer. Apparently they didn't realize that this tranducer could usefully CHIRP until they tried it, and now they think they have a edge in the sonar battle that's taking place both on the water and in law offices…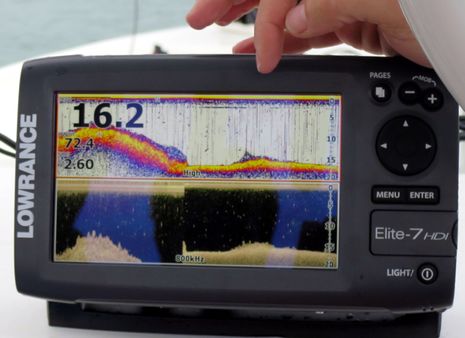 In December I hailed the Elite-4 HDI as a lot of fishfinder and plotter technology at a low cost, but of course a 7-inch screen can reveal a lot more information, especially when you can put a long scroll of CHIRP sonar right above the same track imaged with high-frequency DownScan. The Elite-7x CHIRP fishfinder — which will retail for $649 in April, with a 4-frequency transducer — also includes NMEA 2000, as will the Elite-7 fishfinder/plotter at $849 with quite a bundle of Navionics salt and freshwater cartography.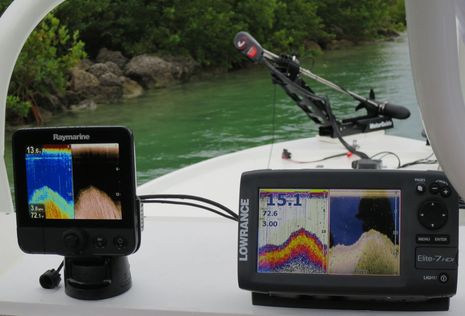 Raymarine was arguably the first to offer cheap CHIRP sonar when they introduced the 5.7-inch Dragonfly early last year, and Lowrance had one installed for comparison. Ray doesn't offer the same level of CHIRP sonar control but does purportedly apply CHIRP to what it calls DownVision. As noted in my entry about the writer demos, the DragonFly above did not seem as sharp as what I'd seen in Miami a year earlier.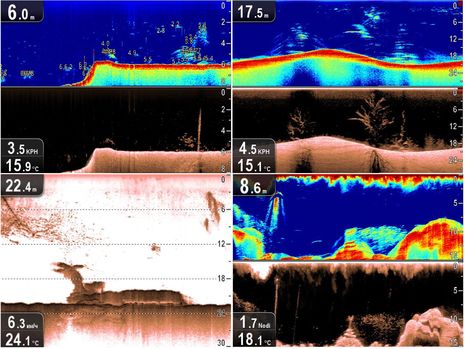 Raymarine is also cleverly running a Dragonfly Screen Capture Competition, and you can find out what's happening on winning screens like the ones above. Yes, that is a jet plane at lower left, and that's an underwater statue quite sharply imaged at lower right (and there are more Dragonfly screen captures here.)  I can't find a screenshot library at the Humminbird site anymore but a Google search definitely brings up lots of memorable images from their long history of sonar innovation.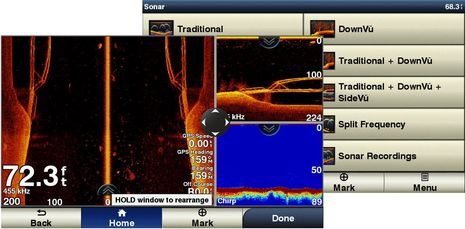 And along comes Garmin! Above are some screenshots from the simulator that came as part of a huge recent GPSMap 741sx software update. So now the 741 and other Garmin displays can show CHIRP-assisted DownVu and SideVu networked from the various new sonar products introduced last November. And note the nice multi-window split control that also came with the update. I think that Bill Bishop is intalling his first Garmin down/side sonar this week and hopefully he'll soon be sharing the results with Panbo readers.
In short, boaters now have a LOT of CHIRP/down/side sonar choices, even at the low end of marine electronics pricing. And I'm optimistic that the patent disputes going on behind the scenes will not throw a wrench in any company's developements. No one will talk about the details, even off the record, but here's what I think is going on. Humminbird's parent Johnson Outdoors has a side scan sonar imaging patent (perhaps two) that they once used to sue Navico regarding StructureScan. But Navico had a downscan imaging sonar patent (perhaps two) that Humminbird wanted to use and the two companies probably swapped rights, which may have strengthened both their claims. The settlement was not explained, but both now offer both types of scanning. Plus Navico then sued Raymarine over downscanning, which was just somehow settled last week. If my presumptions here are correct, Garmin may soon be sued by both Johnson Outdoors and Navico, though I suspect the parties already have agreements in mind or maybe already in place.
I don't like seeing money that could be used for more R&D or lower product prices going to patent lawyers — and some claims at least look ridiculous (like Briartek's) — but reasonable trades and/or fees shouldn't create major problems. And while Navico's Leif Ottosson told me that something like 20 million dollars may exit the marine electronics industry this year due to (non sonar) patent litigation, he is asking his fellow chief executives to at least talk to each other before filing suits. It's fascinating to look at these patents, screenshots, and demos trying to figure out who has the best sonar technology. Lets all hope that every company gets a crack at producing the best views of the structure and wild life in the waters around our boats.