Miami 2014, glass bridge everywhere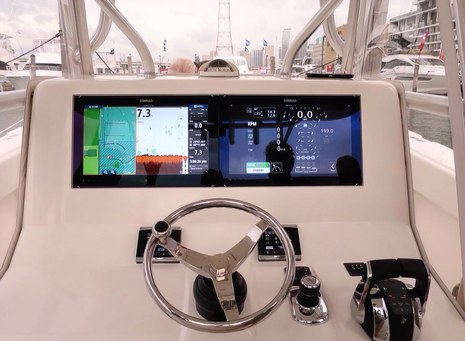 The Garmin and Volvo Penta Glass Cockpit won a lot of awards and shook up the competitors. I think it's why Raymarine rolled out its nifty-seeming ECI-100 so quickly, and I suspect it motivated Mercury Marine to put together the clean "glass dash" above. The Simrad NSO evo2 driving those two MO19-T monitors is not only doing the boat's CZone switching — even able to activate the four outboards — but its Mercury Vessel View app seemed a terrific interface to all those engines…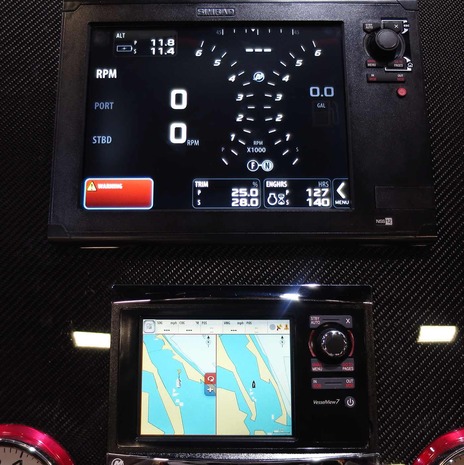 While we never got underway in the quad-powered center console, I began to buy Mercury's claim that they've gone way beyond virtual analog engine gauges with both its own VesselView displays and especially the just announced Navico integration. The idea is to put essential info on one screen and abet it with automatic pop-ups and/or user customized sub windows. During the NSO demo we experienced clear engine fault alarms, managed cruise control, and even saw a backup camera pop up when the motors were shifted into reverse.
You need at least a VesselView4 display on a boat to monitor/control two outboards and to serve as a bridge between SmartCraft and the NMEA 2000 data Navico uses. But a VesselView7 — which is actually based on Simrad NSS7 hardware design and built by Navico — also has an Ethernet connection and can serve as a full navigation display. It's unlikely that anyone would swap normal uses like I did on the Mercury show demo above, but consider how a single VesselView7 could provide both engine and nav screens on, say, a tuna tower.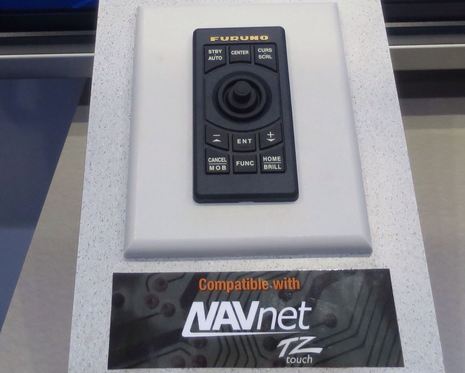 There are many aspects to the glass bridge concept and though the Furuno TZT arguably led the display part with its multi-touch screen under edge-to-edge black glass, they don't yet have a separate keypad for hard-to-reach screens or hard sea conditions. But it's coming soon — see above — and it looks quite compact and able. It features a combined rotary knob and cursor joystick, and its shallow backside only has a USB cable to hook up.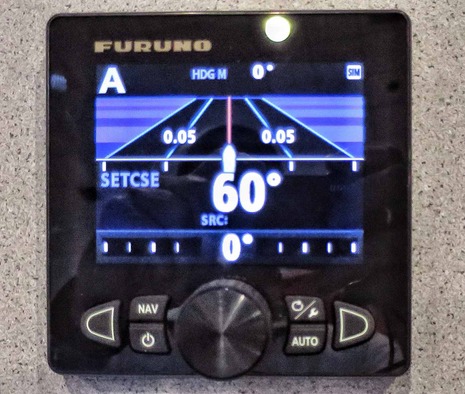 Also, coming fairly soon, is a glass-style color autopilot head for Furuno's line, and of course, the screen looks sharper than my show photo indicates. It seems obvious that similar color instrument displays will follow, but the Furuno reply on that hypothesis was just a grin.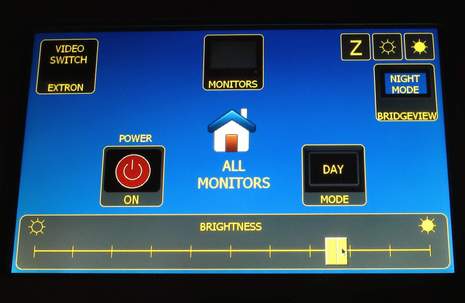 If you want a multi-screen glass bridge with a bright 7-inch touchscreen that controls them all, KEP has you covered. The company has also become the U.S. distributor for various heavy duty NSI trackballs and keyboards.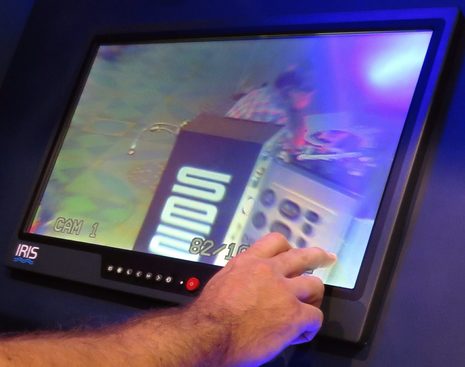 Iris Innovations was showing a new line of monitors in Miami. Glass bezel style versions will be coming soon, but these were already showing the interface style with touch panning of Iris Nightrunner nav cams and zoom controls hidden in the corners. I gather that small navigation computers with cue and slew camera integration are also part of what Iris is calling IceBridge.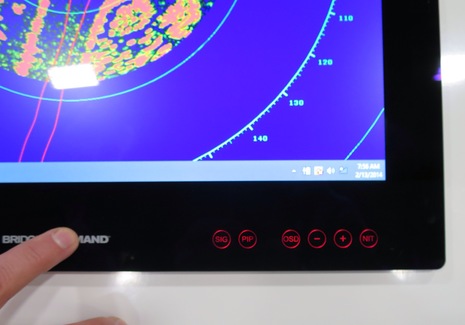 Green Marine (on Panbo in 2010) was showing off all glass BridgeCommand monitors with a nice glassy feature: The on button is invisible under the logo, and you don't see the flat red controls until you touch that button either. Unfortunately, a new color touch multi-monitor controller didn't make the show, and it has WiFi and remote apps, too.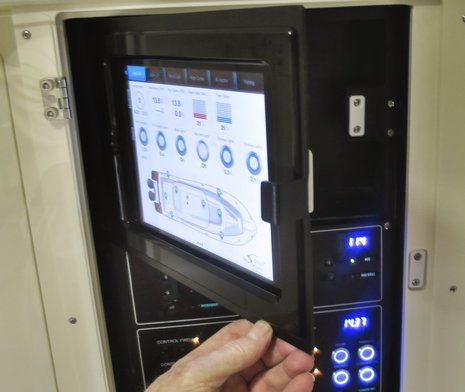 Smart phones and tablets are definitely part of the general glass bridge idea where boat systems are integrated together with multiple easy interfaces. The big press event announcing the partnership between Garmin and Mastervolt CZone also included Scout, the first boatbuilder to install the systems. Check out the clever holder that Scout designed for the iPad that comes with every boat. When the door-like mount is closed the charging iPad running the CZone app (or Garmin Helm app) it looks like it's part of the down below control center.
And while the helm of Navionics' founder Giuseppe Carnevali's sailing cat doesn't look glassy, I think the new Raymarine Plotter Sync — where fresh chart data, community edits, and routing moves easily from app to MFD, with tracks and sonar logs coming back to your cloud and beyond — is in the glass spirit. I look forward to trying it and writing about it soon.