Must see: Draken Harald Hårfagre, with Viking electronics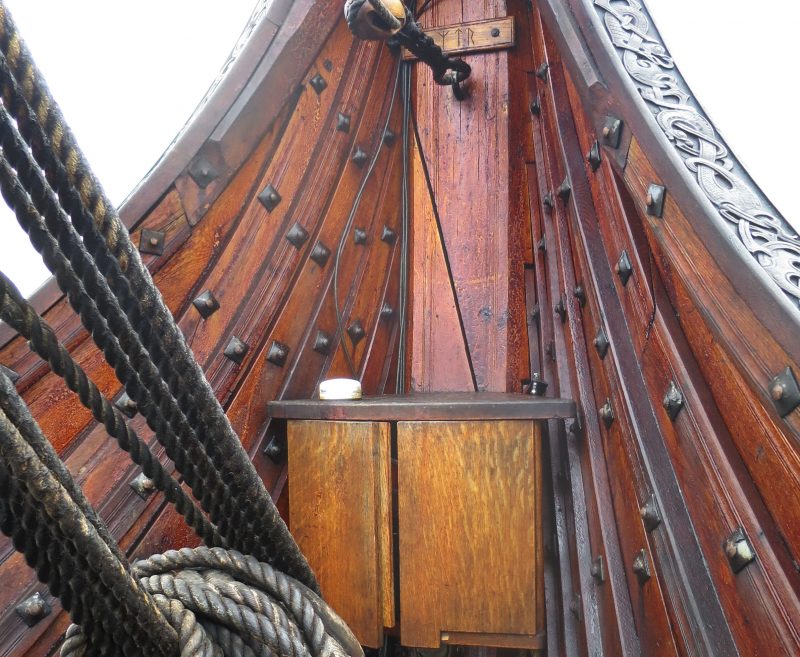 Aha! The tar-smeared GPS mushroom antenna stuck incongruously in the bow of the mighty 115-foot replica Viking ship Draken Harald Hårfagre was not a surprise. That's because live maritime historical research requires modern aids both by regulation and common sense. And, holy Leif Erikson, what a dim and dangerous history this vessel tested.
I didn't get a peek into that cabinet as I took the Draken tour with a steady stream of interested Mainers, but I'll bet there's a networked Simrad MFD giving the lookouts access to the 4G radar and maybe a forward depth sounder. Which seems pretty prudent on a high latitude transatlantic passage — lots of ice included — with the low main helm way aft and easily the most cumbersome sailing rig I've ever seen.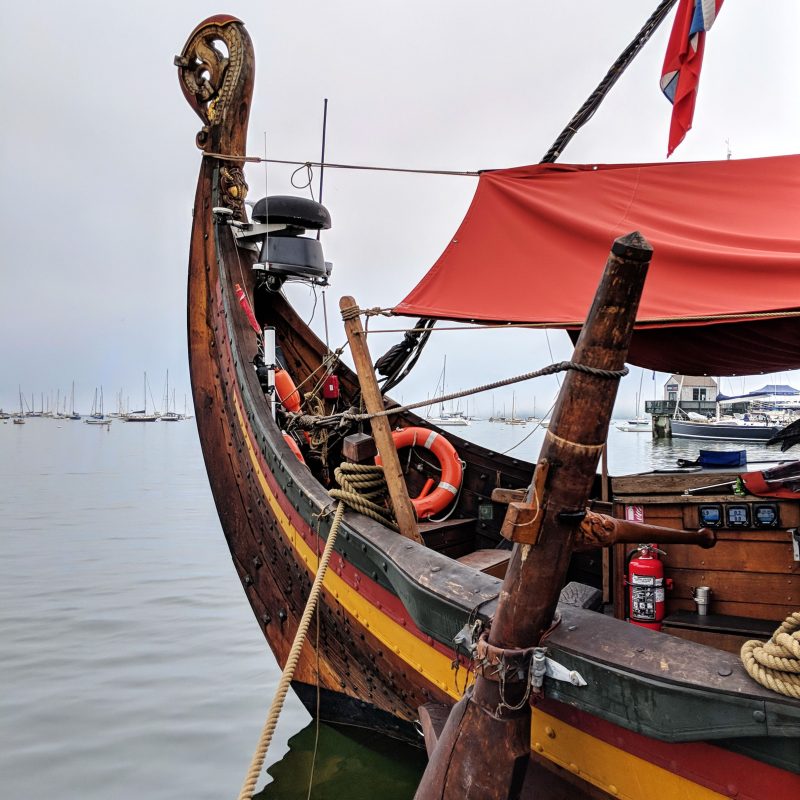 You can spend years trying to build a replica Norse expedition ship from the scant historical record, and years more testing and modifying her. But you can not replicate the 100 or more 11th century Vikings who apparently manhandled vessels like this at least as far as Newfoundland, even if the modern-day authorities allowed so many on board. I'm not sure we can even imagine those ancients' regard for life and limb, let alone the breadth and depth of their intuitions about dangers, weather and otherwise.
So of course  Draken has diesel engines and modern electronics, including the Iridium OpenPort satellite communications dome seen just below the draken's tail.  You can also spot Simrad instruments, VHF, and AIS plus cell and WiFi boosters and all sorts of safety beacons, ditch bags and so forth. Heck, after watching the new full length Draken documentary Expedition America – a Modern Viking Adventure with an SRO crowd that night, I'm not sure I'd sail offshore on this beast without a survival suit and PLB in arm's reach at all times.
I'm already sure that dissing Draken as some sort of lowly dockside attraction is misplaced skepticism, though sadly heard from some seasoned sailers. I even know a marine engineer convinced that Draken must have a conventional rudder and if he didn't see the documentary, he may still think so. In fact, that "steering oar" — the probable root of "starboard" by the way — is asymmetrically shaped side to side to account for its offset location and crew are regularly seen in rough seas steering with one hand (though I heard that she does turn one way much better the other).
So I highly encourage all marine history and adventure enthusiasts to check out Draken's tour down the East Coast to Virginia and then back to Mystic Seaport. Try to catch her underway — MarineTraffic AIS location here — take the tour, and watch the documentary.
In fact, it looks like dock facilities for many of the stopovers haven't been secured yet, so you might want to lobby your local harbormaster, yacht club, marine museum or similar. I don't know the financial details, but the turnout in little Rockland, Maine, was amazing — over 1,500 tours by 5pm on the first day — and everyone I met was totally pleased with the experience. I'll whet your appetite with some more photos and details.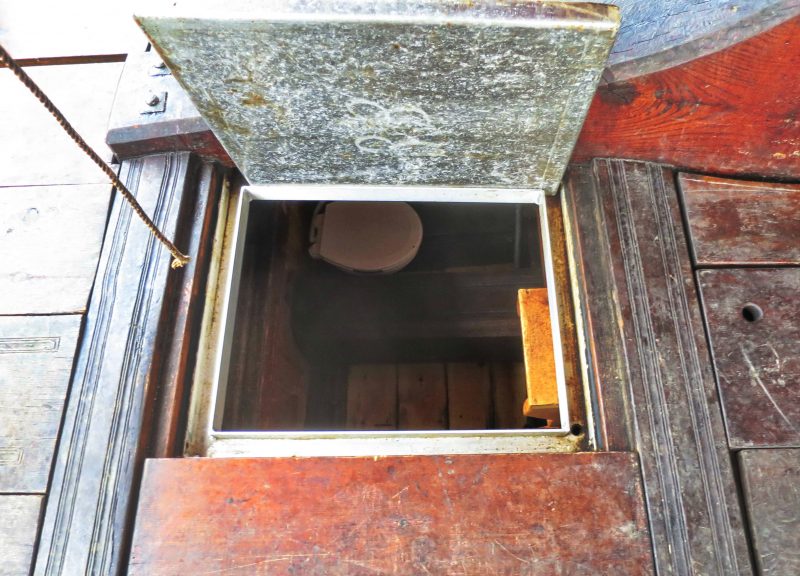 While Draken's hull and rig were built as close to the vague originals as possible, she does have a marine head that would probably puzzle actual Vikings. But it doesn't have standing headroom and it serves a regular crew of 34, usually half male, half female.
That space just forward of the mast also figured in a story we heard after the documentary. The crew was asked what happened when the ship was dismasted in 2014 and Captain Björn Ahlander described the scene as 3,000 pounds of yard and sail hit the deck while half the mast fell to port and the other half to starboard.
The crew knew the mast was being strained, which probably accounts for the lack of injuries, and they were also trained to immediately do a roll call. But that count came up one mate short because he was trapped in the head wondering what the heck had happened. He added that once he and the rest had made shouted contact, trapped in the head seemed like a good deal during the clean up.
I think it's fantastic for visitors that Draken's captain and several of the mates have been onboard for so long, and also telling about the quality of the operation.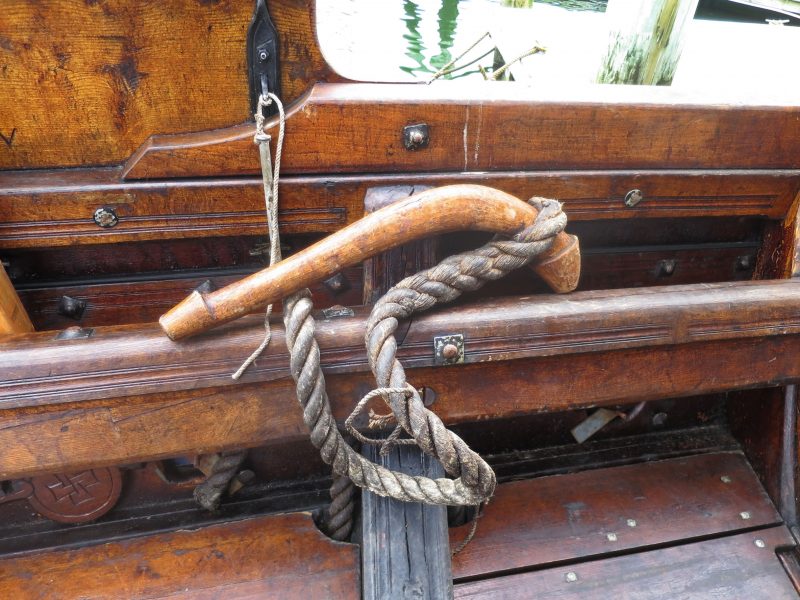 Pictured above is the Viking equivalent of a strop and shackle, able to hold down one the two short spars that extend over the forward rails to create fair leads for the clews of the huge square sail. I can't recall it's Norse name and can't print what the crew call it (the crossword puzzle hint: "stallion appendage").
At any rate, consider the forces involved in holding down the clew of a 260 square meter sail (that's 2,800 square feet), not to mention hauling up those 3,000 pounds of sail and yard with only a manual wooden windlass. But I missed the key craziness of this rig until I watched the film.
Notice in the photo below how the furled sail and yard are stowed fore and aft though of course they set completely forward of the mast and shrouds. So that ungainly mass is not "simply" hoisted aloft. Once it's mostly up, a big gang has to pull the aft end of the yard down far enough to dip it between mast and shrouds.
That's quite a dip causing some serious leverage, and in the film you'll regularly see multiple large men lifted off the deck. The number one rule for the maneuver is "don't let go" we were told, and that makes sense as a sudden change in dipping weight could catapult those who do hold on into the sea.
By the way, I never saw a horned Viking helmet on Draken, and didn't miss the cliche. This crew is already challenged with sailing a fiercely difficult historic experiment, no costumes needed.  I hope you get to experience her one way or another, and I also look forward to describing the thoroughly 21st-century Dashew FPB 78 Cochise I was riding on below.