NMEA 2000 opens up, in a Dutch attic!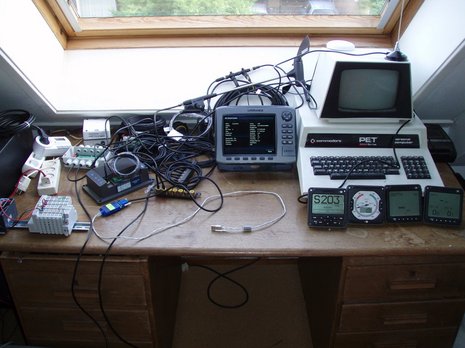 I love this photo. It may look messy, but not only is one man's fine N2K+++ yacht system being tested here, but the standard itself is getting explored, possibly to the benefit of many boaters. This is Kees Verruijt's attic somewhere in the Netherlands and, as explained on his new Yacht Electronics blog, that Commodore PET is the "PC" he first learned programming on back in 1979. The rest of the gear is going on Merrimac II, a Stadship 56 now under construction that Kees and his family have obviously put a lot of thought into. Kees wants to extend the usefullness of his NMEA 2000 data system, even to his iPhone, and he's had to go to some serious trouble to do so…

Since N2K so far lacks an easy SDK for small PC developers, or serious enthusiasts, Kees figured out a way to sniff out packets using a Lawicel CANUSB device and he's been painstakingly parsing out specific PGN fields in the raw data. And he's sharing his findings, and his NMEA 2000 packetlogger software, with other programmer/skippers who want better access to the data flowing around their vessel's backbone. Now NMEA might not like this, but I don't have much sympathy; such access — and more detail on PGNs — should have been available years ago, I think, and should be a heck of a lot easier today.
But, in fact, I'm told that the "N2K Intelligent Gateway" described to me in 2007 is finally nearing completion (i.e. ready for official product certification), with the new and more descriptive title Third Party Gateway. Actually, Kees just got a beta version of just such a Gateway (the NGT-1 from Actisense), reports that it's way easier to use than the CANUSB gadget, and has already modified packetlogger to suit. I've been trying an NGT-1 too, and am tentatively impressed. Accessing N2K data, and even putting legitimate data back on the backbone, is going to get much easier for everyone, and much more affordable for developers. Cool. In fact, I'm hoping that few boaters will ever need the use of Kee's contributions, but how about a big Panbo hand for his efforts!