Raymarine CAM200IP marine camera, and hello IC Realtime Marine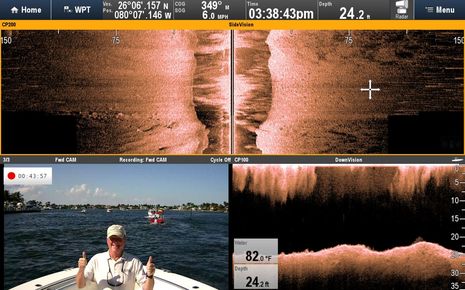 While I was just goofing around during the Raymarine demo cruise seen via screenshot above, in retrospect my thumbs are seriously up about both the new CP200 CHIRP SideVision sonar and the new CAM200IP marine camera. I've been on the water twice now with SideVision and it seems to have noticeably greater side looking range than the Navico, Garmin and Humminbird side imaging I've previously experienced; there are numerous factors at work here, though, and they'll have to wait for a future discussion. Today I'm writing about advanced boat cameras, particularly the CAM200, which could be an excellent addition to most any boat running Raymarine LightHouse II software…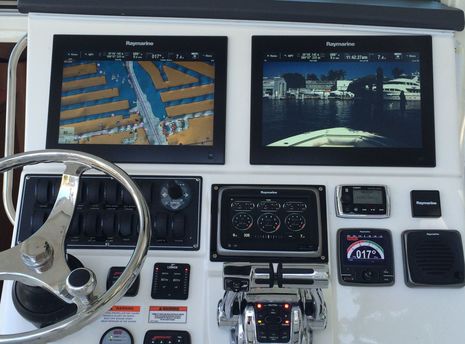 Here's the helm of the Boston Whaler demo boat (did you know Whaler is still doing that cut-in-half unsinkable thing, only at much larger scale?). First let me say that none of the photos or screenshots in this entry do real justice to how crisp and color-rich the CAM200 video looks on the Raymarine displays. The specifications say the image sensor is a 2 megapixel 1/2.8″ SONY Exmor CMOS and I think I saw some of the Exmor processing advantages described in this video. I definitely saw the big 53° horizontal by 33° vertical field of view and what seemed like high resolution on whichever display we tried (the max is 1920 x 1080 pixels). Yes, "whichever display we tried," because as an IP network camera, the 200 can be easily called up on any Ray display connected by Ethernet…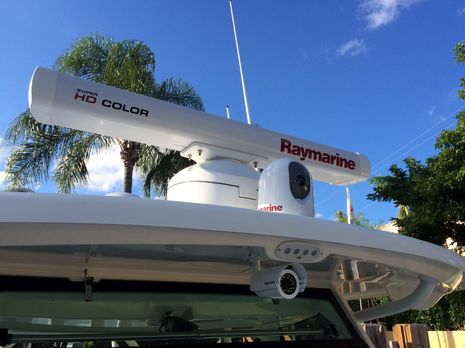 In fact, if you have a gS Series MFD it will only take a RayNet cable to completely wire the CAM200. That's because the gS has PoE (power over Ethernet), though the Y cable that you'd use to insert 12 volts if you only have a Ray a-, c- and e-Series is still trivial compared to what it takes to power a regular analog camera and split its output to multiple displays. The CAM200 is somewhat bulky — for instance it hangs about 4 inches from the overhead in the demo install above — but it does include 20 infrared LEDs that give it black and white low light vision purportedly out to 20 meters. Of course, that's nothing compared to the true thermal T200 camera above it, not to mention the open array HD radar. This boat has eyes!
But near range night vision can have value and that leads to my one gripe with the CAM200. For several years I've been using an analog CAM100 pointing aft from under Gizmo's extended cabin top, and there have been occasions like night docking when it would have been great to temporarily point it in another direction. However, the CAM100 swivel mount is not easily changed, and the CAM200 mount seems virtually the same. On the other hand, the CAM100 has stood up to lots of abuse without a hiccup and especially without any internal moisture affecting its sharp (for analog) image, and that's a good sign for the similarly cased 200.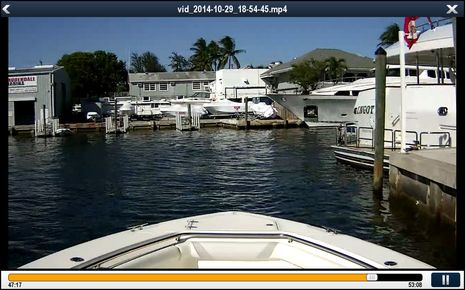 Actually, I understand that the CAM200 camera came out later than hoped for because Raymarine had difficulty getting it up to those strict environmental standards I saw tested in England. But perhaps, one positive result of that is how ready the Lighthouse software is to handle IP camera input. It's super simple to start/stop video recordings or take a snapshot and it's also easy to get at the standard format files and play them back. And I was fairly flabbergasted at how quickly I could scroll through the 53 minute video we made during the demo trip.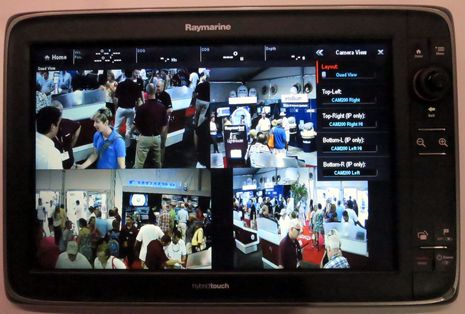 As is, Ray's Lighthouse II operating software will let you swipe from one camera source to another, but Version 12 — shown in Lauderdale and coming out soon — adds a "Quad View" mode that looks like what you see on many megayachts. As shown in the menu above, three of the video windows have to be IP cameras, but I'm convinced IP boat cameras will become the norm eventually. Consider, for instance, the easy networking and many bonus features you get with $700 CAM200 vs the $600 CAM100.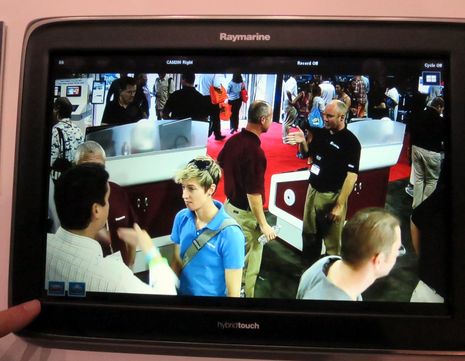 Tap on any window in Quad View and you'll get a full screen view from that particular camera source, but only an IP camera will include those Record and Snapshot buttons at lower left. That's because IP video integrates much more tightly with the operating system in an MFD, which is also why screenshots like the one at top will include an IP video image but usually leave a black hole where an analog camera image was somehow overlaid.
At any rate, instead of watching a busy Lauderdale Electronics Tent, imagine having one or more CAM200's monitoring a sportfishing cockpit, or your view as you cruise new territory, or even just the precious engines you rarely see in action. In all cases being able to see clearly and easily saved video or stills could be fun and/or practical. But what about IP-based pan/tilt/zoom (PTZ) cameras, which are widely available in the security and other markets? Well, the good news is that Lighthouse II can support the ONVIF (Open Network Video Interface Forum) standard, which at least loosely permits PZT control by, say, a marine touchscreen. So, it is reasonable to imagine a day when Raymarine will support its own or a partner's IP PZT marine camera with integration as total as with the FLIR M-Series I'm testing.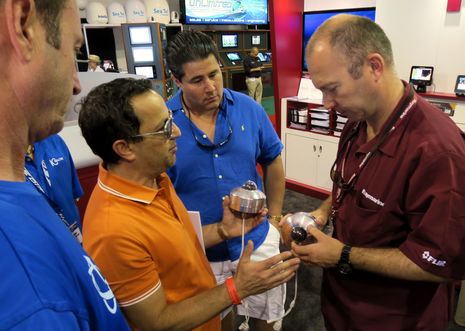 But wait, there's more. I lucked onto the scene above, in which a crew from IC Realtime Marine is pitching Raymarine product management director Chris Jones on their extraordinary 360 Degree IP dome camera, which offers solid state PTZ and more. What's in that stainless casing — best understood at the mother IC Realtime site — is a 185 degree fisheye lens, a 4000 x 3000 pixel image sensor, and a fast Linux microcomputer able to "dewarp" the fisheye view so it's "undistorted to the human eye." They showed us a live demo on a big center console, and it was quite impressive how you could pan around a half hemisphere view with virtually no lag (and no motors and gaskets to wear out). The best way to see what I mean is with these demo videos of the IC720, an even wilder system that's essentially an integration of two 360 cams.
While that IC360 demo install involved an IP-to-analog video converter, a control box and a trackball, both IC and Raymarine seemed to think it possible to integrate with Lighthouse II hardware in the same easy way as the CAM200. Wow. But the first step for Chris Jones was to take a sample back to the UK for torture in the testing lab, so let's make no presumptions about future possibilities. However, the IC360 was not the only solid-state PTZ IP camera I saw in Fort Lauderdale. While they're not online yet, Iris Innovations showed a trio of new Barracuda underwater cameras and if click bigger the brochure page below, you'll see that the top-of-the-line Barracuda-IP is quite similar to the IC360. Except that I don't think there's ever been an underwater PTZ cam before. It may be quite a while before you can easily and affordably run something like this from your multifunction display, but isn't it fun to imagine?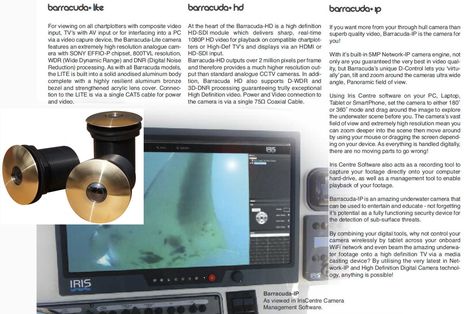 PS, 11/7: Raymarine has put up a short CAM200 video clip on YouTube and below is an unadulterated snapshot also taken in Lauderdale: