Raymarine Chart Store, the Lighthouse format go international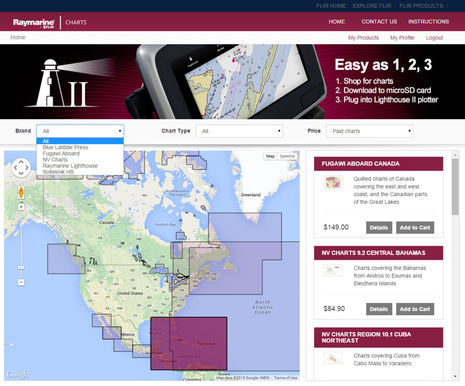 I heard in Miami that the online Raymarine Chart Store would soon open, but I had no idea how well stocked the virtual shelves would be. It was great when Ray enabled its own Lighthouse raster and vector chart format a year ago even though they only duplicated NOAA's entire free coverage of US coastal waters. Now there are more free charts available — for other nations that also give their data away, like Brazil and New Zealand — as well as access to an interesting array of commercial charts…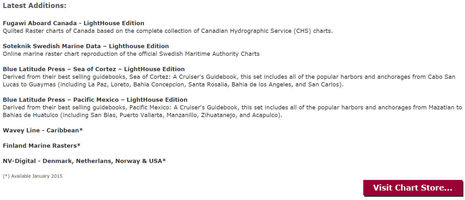 North American Raymarine users will especially notice more raster chart choices with Fugawi Aboard for Canada, Blue Latitude Press for western Mexico, and lots of NV Charts Caribbean coverage. However, official charts for Sweden and Finland are already available, and I gather that much more coverage is coming. And mind you, all this is in addition to the full Navionics support which has alway been built into the Raymarine a-, c-, e- and gS Series (Dragonfly, too), and which now includes SonarCharts and easy MFD chart updating via Navionics app (sonar log uploading, too), not to mention Platinum+ extras. And the full Jeppesen C-Map support that became a reality in February, which includes 4D Max+ with its own full raster layer and sat photo maps. I don't know if Navionics or C-Map will become available in the Chart Store as well as on preprogrammed SD cards, but overall, this is terrific news for those who like chart choices, and note that Raymarine pulled it all off in about one year!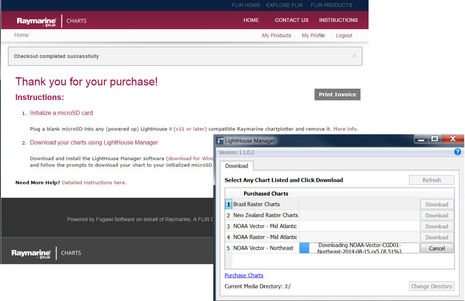 Note, though, that selling commercial charts online is more complicated than just giving away the Lighthouse version of uncopyrighted NOAA charts. I had to re-register myself to even download the free charts, and I was lucky that I had a microSD card that had already been initialized by being put into a Raymarine MFD running LightHouse v11 or later (since my test Ray plotters are 1,000 miles away). I also had to install a new LightHouse Manager utility program that does the actual work of downloading the charts to the SD card — it's available for Windows 7 or 8, or Mac OSX — and I was still never able to successfully download the Mid Atlantic Vector region seen in the list above. Everything else worked fine though, which seems pretty good for a brand new online Raymarine Chart Store. Then again, note the subtly-fonted credit at the bottom of the store pages that reads, "Powered by Fugawi Software on behalf of Raymarine…"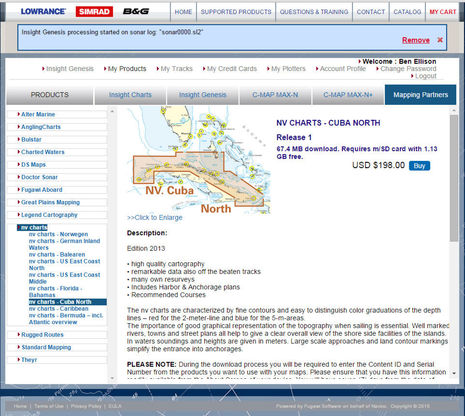 In fact, Fugawi seems to be the quiet Canadian hero behind a lot of chart stores. Note the same "Powered by…" credit at Navico's Insight Store (soon to be relaunched as the GoFree Shop) and also consider the X-Traverse online store that's been serving charts to various tablet and PC charting apps since at least 2010. Fugawi seems to have developed a serious talent for managing online chart distribution while dealing with numerous competing chart sources and plotter developers. It's interesting to see how they custom tailored the Navico and Raymarine stores, but there are also many distinct similarities, like the availability of those NV Charts for Cuba seen above. I've heard that they are the best available for that interesting island that may soon be open to U.S. cruisers (lots on the changing Cuba situation at Passagemaker).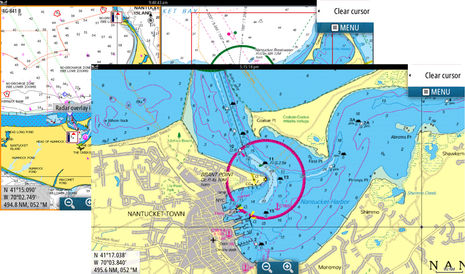 I haven't yet seen the new commercial LightHouse charts running on Raymarine screens, but I have had a little experience with Fugawi and NV raster charts on the Simrad NSS16 and 7 evo2 MFDs currently on Gizmo. In the background of the collage above you can see the NV Chart for Nantucket displaying side by side with the Navionics equivalent, and in the foreground you can see in greater detail NV's unique raster presentation (which is also still available in print and via app). The collage below shows Fugawi's copy of the regular NOAA raster chart for Nantucket and also its CHS raster for Lunenberg, Nova Scotia (a port I'd particularly like to visit as that's where the great Covey Island Boatworks finished out Gizmo).
I remember back in 2005 when the only Canadian raster chart choice was to rent the PC-only NDI version at considerable cost and hassle. And while MapMedia has for a while offered Canadian rasters that run on various TimeZero platforms like Furuno NavNet 3D, all of a sudden Raymarine has them in two forms — Fugawi and C-Map 4D Max+ — and so will Navico once the 2015 version of C-Map Max-N+ rolls out (it already has with Lowrance Gen2 V4, and the Release Notes there have the best detail on the N+). Meanwhile, Navico is first to make a lot of this chart goodness directly downloadable to an MFD over WiFi, but I sense that Furuno and Raymarine have similar intentions.
Overall, it's amazing how fast this MFD chart choice thing is developing, and while that's great, I hope that the Garmin users disgruntled about the Navionics SonarChart mess pay particular attention to how fast and surprising these changes have been. I have no idea what Garmin is up to regarding chart choices, but maybe a little patience is in order?