Sailing with an Airmar PB200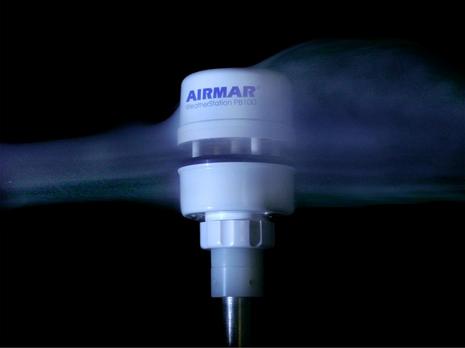 PB200 with VHF extension pole for mounting atop a masthead
I am writing to share my excitement about a new product from Airmar, tested aboard my 39 foot sailboat this past October-November. The Airmar PB200 is a compact masthead sensor that includes an ultrasonic (no moving parts) wind sensor, solid state compass, GPS receiver and more, along with a 3-axis accelerometer. It has an NMEA-0183 output that I found compatible with my Raymarine instrument suite. Airmar doesn't market this for use on a sailboat, but when I learned about the new version of this powerboat product, I got excited about the potential to make my autopilot much more useful when sailing short-handed. Thanks in part to Panbo, I got the opportunity to evaluate a beta version on my own sailboat…

The key output I was interested in using from the PB200 was the wind angle measurement, which I believed would be a tremendous improvement over a mechanical wind vane sensor. Ultrasonic wind measurement has no moving parts and eliminates errors induced by the inertia / weight of the mechanical sensors (as they rock on top a mast). Being digital in nature also eliminates the need for calibration.
Any wind measurement, however precise, at the top of a masthead is a measurement of the apparent wind we want to measure plus the pitch and roll motion of the boat (amplified substantially by 50 feet of mast) that we don't want to measure. The PB200 differentiates itself from past versions and competing mast head sensors by incorporating a 3-axis accelerometer and internal motion correction software able to measure and correct for the motion of the boat bouncing underneath it. The resulting wind angle measurement stayed constant as the boat heeled and rolled underneath the sensor, even when amplified by my 50 foot high mast!
For my testing, I used dual Raymarine ST60 wind instrument displays, one for the PB-200 and the other for the mechanical wind and vane sensor. The output of the PB-200 was used to feed my E-Series chartplotter and an S1G autopilot set in follow the wind mode.
When sailing upwind in stable winds under a PB200 enhanced autopilot, I found the autopilot was able to stay "in the groove" in the waves and wakes. During a period of 15 minutes that the AWA was closely observed, the PB200 showed variations of no more than 1 degree from my chosen AWA of 45 degrees as the autopilot aggressively followed the wind. Meanwhile, the mechanical driven display showed AWA variations as much as 12 degrees. Had those variations been fed to the autopilot, the sailboat would have zig-zagged a bit, the sail trim would have spent less time near optimal sheeting and the boat would have covered considerably less distance in the same time.
When sailing downwind with an asymmetric spinnaker, the autopilot also performed extremely well. While the PB200 showed AWA variations of 3 degrees as my boats autopilot responded well to staying 130 degrees off the wind, the mechanically driven display showed variations of as much as 35 degrees, especially as each 1-2 foot following wave caught up to us. Had that mechanical wind angle measurement been fed into my autopilot instead, it would have zig-zagged the boat unmercifully. With the performance enabled by the PB200, I can now fly my spinnaker for hours with the autopilot. In addition, as a result of having an ultrasonic boat speed, I also get an accurate true wind angle and maybe this can help me race against other sailors who can determine the apparent and even true wind direction with their eyes closed.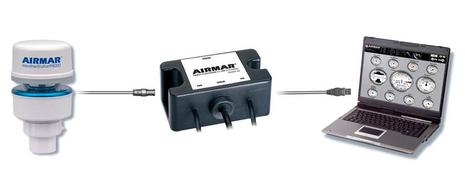 PB200 in tested configuration with PC software via USB cable connection, and NMEA-0183 connection to my Raymarine chartplotter. The interface takes as input speed over water, and provides sensor information back to my e-series that distributes apparent wind, true wind, and more over my seatalk network to the autopilot and ST-60 wind display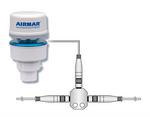 The Airmar PB200 is NMEA-2000 compatible as well