Simrad NX, the only True Malfunction is the N2K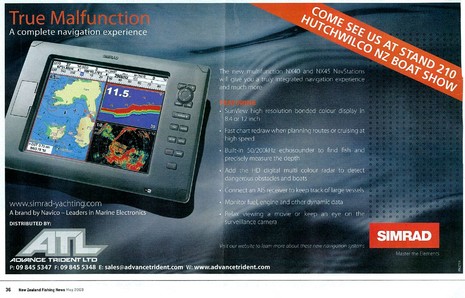 At least one Navico competitor is having fun e-mailing around this scan of a major ad blooper that ran in a New Zealand marine publication. Of course the intended headline was "True Multifunction" not "True Malfunction" and no doubt some one is very embarrassed about the mistake. In fact, "multifunction"—as in multifunction display, or MFD—is not a term that has slipped easily into boating vernacular. The forwarded email that carried this image was jokingly titled "Truth in Advertising" but therein lies an unintended truth. Aside from the blooper, this ad better represents the actual product than some of Simrad's other marketing.
What I noticed about the ad, full image here, is that it doesn't mention SimNet/NMEA 2000. And that's good! When I first saw the NX series last fall, I liked the idea of the good old Navman 8120/Northstar M series with N2K added. But I've got one in the lab now and don't consider it a true SimNet/NMEA 2000 device. What Simrad has done is to bundle the unit with an AT40 N2K/0183 converter—which seems quite like the AT10 I've been testing—and a SimNet GPS. The latter works fine that way, but when I hooked the NX to the test network, only some basic PGN data like wind and depth got through, as seen in the screen shot below (Water Speed, RPM, Air Temp, and Baro pressure PGNs were available).
In other words, while the NX superseded the Simrad CX series, it doesn't have its NMEA 2000 abilities, which helped first excite me about the Standard three long years ago. And while the NX, like its predecessors, probably does good fuel management as discussed recently, I'll bet it won't with an N2K fuel flow PGN (yet untested). That's why I think Simrad should qualify or downplay its NX SimNet claims, and why I like the ad. I may be a NMEA 2000 freak, but for many users it's a small, possibly irrelevant, aspect to this MFD, which is quite able without it.