Simrad RS35 & Lowrance Link-8: DSC VHF + AISrx + N2K = YES!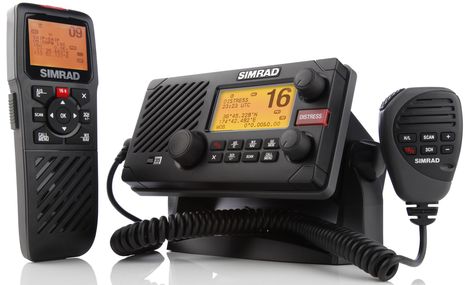 It would be interesting if the new Simrad RS35 VHF and its optional HS35 wireless mic could actually work channels 9 and 16 simultaneously, but I think that the product image above is just a Photoshop mistake. However, this radio and its Lowrance Link-8 sibling bring together a unique feature set that's much more valuable, I think. These radios include a two-channel AIS receiver, like the very successful Standard Horizon Matrix AIS line, but they add a NMEA 2000 interface and that should add up to all sorts of plug'n'play goodness…
Consider the many boats out there that have an MFD navigation system with NMEA 2000 but no AIS and also a regular fixed VHF that's probably not wired via NMEA 0183 to a GPS. (At least in the U.S. "probably" is the correct term according to this USCG warning.) If the boat owner replaces that radio with one of these (the same antenna and power connection should work fine) and then plugs its N2K port into the nav network, all of the following should or could be true:
The Simrad RS35 or Lowrance Link-8 VHF will get GPS info from the nav network and therefore can place an automated DSC distress call (once the boat's MMSI number is entered). Other DSC features like direct calling and position polling should also work well, and the VHF can be an alternate display of position, SOG, and COG info. Plus these VHFs include a MOB function.
The radio will display and alarm AIS targets, but better yet, I think, all that AIS target data should also be available for display on whatever MFD or nav PC is on the N2K system. AIS over NMEA 2000 had some early issues but I think they are mostly history now.
The boat will now be ready to use the new personal AIS safety beacons like the Kannad R10. I don't know if the RS35 and Link-8 are programmed to pay real attention to the beacon messages yet (as discussed here), but I do know from other DSC radios that devices like this with relatively big speakers and amps can really get your attention if they want to! Of course the beacon messages will also go out on the N2K network.
DSC call data should also go out on the N2K network, which should lead to a variety of standard and proprietary features. I'm not positive where the line between the two is — DSC over N2K has been rare — but I think that any well-programmed N2K chart display could plot the position and MMSI of a distress or direct call. These Navico radios also have something called Buddy Tracking which can automatically poll a friend's DSC VHF (if he or she enables auto polling responses) and I imagine that Navico MFDs will be able to put that polling on your chart screen.
Finally, the radios themselves should be able to place direct DSC calls to AIS targets and that feature can be neatly integrated over N2K with a plotter, as Garmin has demonstrated for years!
I used "should" on that last line because Navico doesn't mention direct AIS target calls in the specs for the RS35 and Link-8, but I'll be surprised if it's missing. And how about the overall possibilities? Yes, you can get most all these capabilities using a
Standard Horizon GX2150
— the update to
the 2100 that innovated VHF/AISrx in 2009
— or even using a standalone AIS receiver. But you're apt to enter a NMEA 0183 hell of skinny wires, different baud rates, and other incompatibilities that will make an RS35 at $399 retail, or a Link-8 at $299, look like a good deal…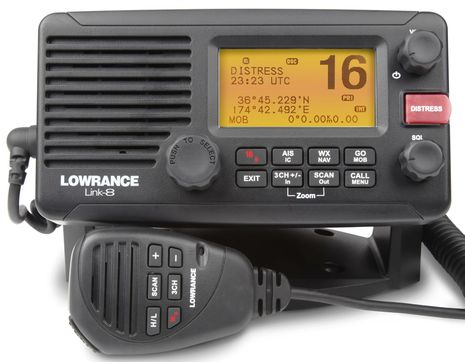 Of course the actual radio performance of the RS35 and Link-8 are important, as is the user interface. I notice that they don't have the soft keys that I find quite useful on both the Garmin VHF200 and the SH GX2150 currently installed on Gizmo, but I'll certainly reserve judgement. Maybe Navico makes operations easy just with hard keys and knobs. And the dual HS35 wireless mics — which come with inductive charging cradles and are purportedly capable of 100m range — certainly are interesting. Kees Verruijt reports that they are big, as his METS photos below indicate, but that may be OK, especially if the menu fonts are easier to read than those on Garmin's wired and wireless remote mics. (I like and use the Garmin GHS 10 a lot but also wish I could turn it off or mute it from the main radio; I wonder if Simrad thought of that?)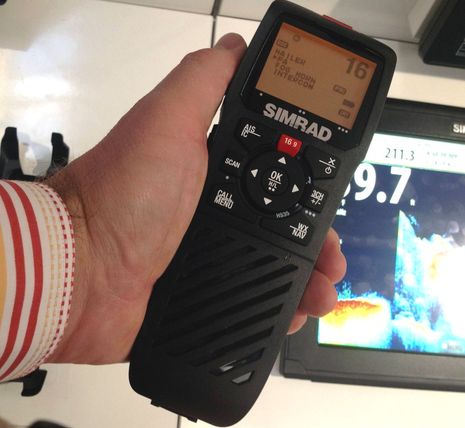 Kees also got a shot of the Link-8 in AIS mode, which I think is also possible on the wireless remote mics that can go with the RS35. No targets are shown but this looks similar to what the SH Matrix AIS and its wired Ram Mic 3 can do…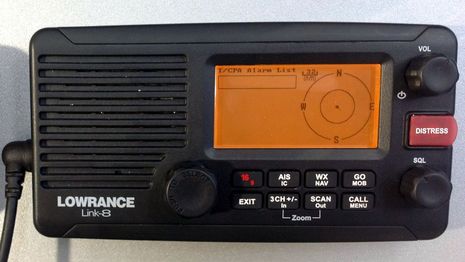 And finally here's a Kees shot of the whole new Simrad VHF family, including the more petite RS12. It's a more standard Class D DSC VHF except that it too has a NMEA 2000 data port, which means that a lot of those plug'n'play features listed above still apply. I don't know why there aren't more N2K radios available already, but I'm certainly glad to see Navico offer several new choices.