Three-strand or plait anchor rode? And which windlass?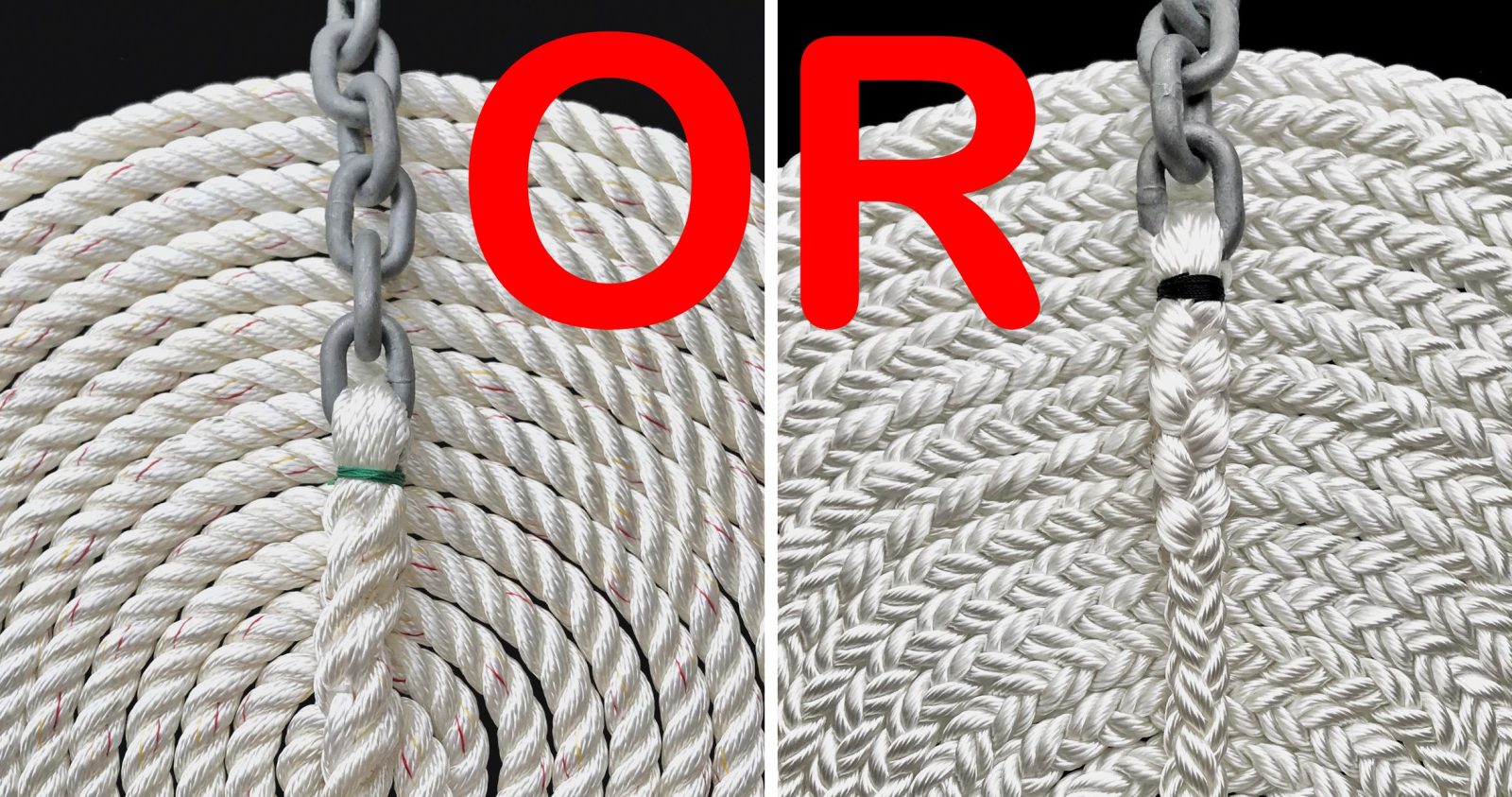 Gizmo needs a new anchor rode and windlass, and in my experience replacing boat gear is a lot more satisfying if it's also an improvement. That's how I got interested in the somewhat new plaited 8-strand rodes that seem to offer multiple advantages over the 3-strand nylon line I've used all of my boating life. But, wait, does plait have its own problems, as suggested by my research? Are some windlass gypsy designs more compatible with than others? Let's discuss.
But first, please consider the back story, as it motivated me both to search out a new anchoring system and to treat it better than what you see below.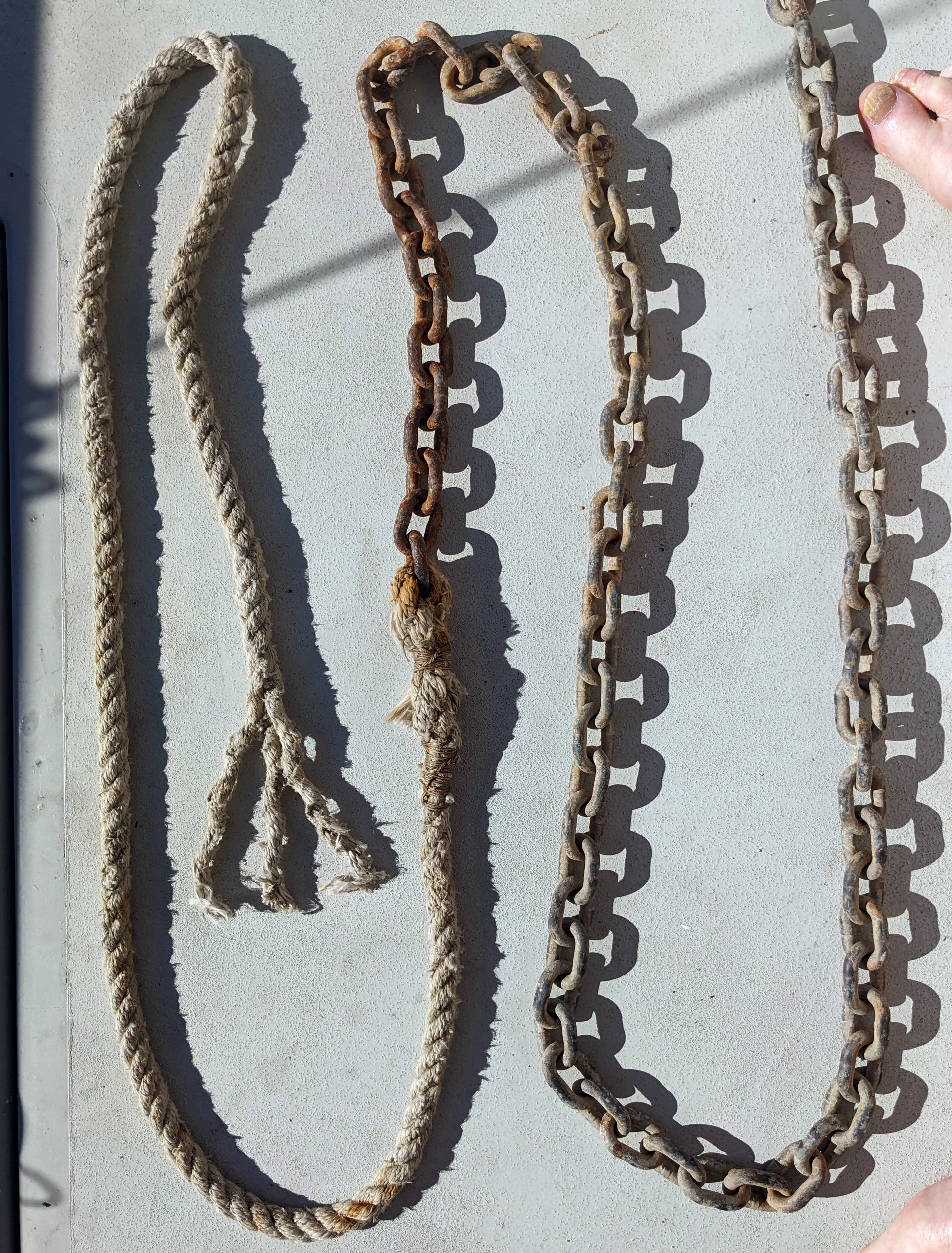 So picture a lovely Maine island hideaway on a bluebird early July afternoon and we've almost anchored Gizmo for the first time in nearly two years. As usual, I've been able to position the boat just so from my perch on the flybridge, and also have windlass controls at the lower helm and bow for further adjustments.
Moreover, the rare Danforth Deepset plow anchor about to hit bottom has serious sentimental value — a gift from the designer, no less — and is also very good at its job. Now imagine the mood shift when the remaining chain and a few feet of 3-strand rode rapidly disappeared over the bow roller. Expletive deleted!
I did manage to mark the lost anchor's approximate location on Gizmo's TimeZero plotter system, and to get the boat settled on a small spare anchor (with the cabin-top-mounted Fortress FX-55 in reserve). But all the while I was kicking myself about how brutally I'd managed the windlass when the rode seemed to jam under the deck.
Working the Up/Down buttons on the flybridge in quick succession, I'd figured that the presumed kink in the 3-strand would work itself out as it was jerked around in Gizmo's relatively tall rode locker, a technique that had worked fine in the past. But if I'd taken the time to visit the forward cabin and look into that locker, I could have undone the hockled old rode that had actually clove hitched itself around the windlass motor.
Frankly, I had also not realized that the 22-year-old SL Sprint 1000 windlass had enough moxie to tear the 9/16-inch 3-strand apart. And only after the fact did I learn that some windlass manufacturers recommend regularly treating 3-strand rodes with fabric softener to minimize such embarrassments.
Unavoidable conclusion? This was some pretty dang dumb seamanship for a guy who's been anchoring all sorts of boats for over fifty years.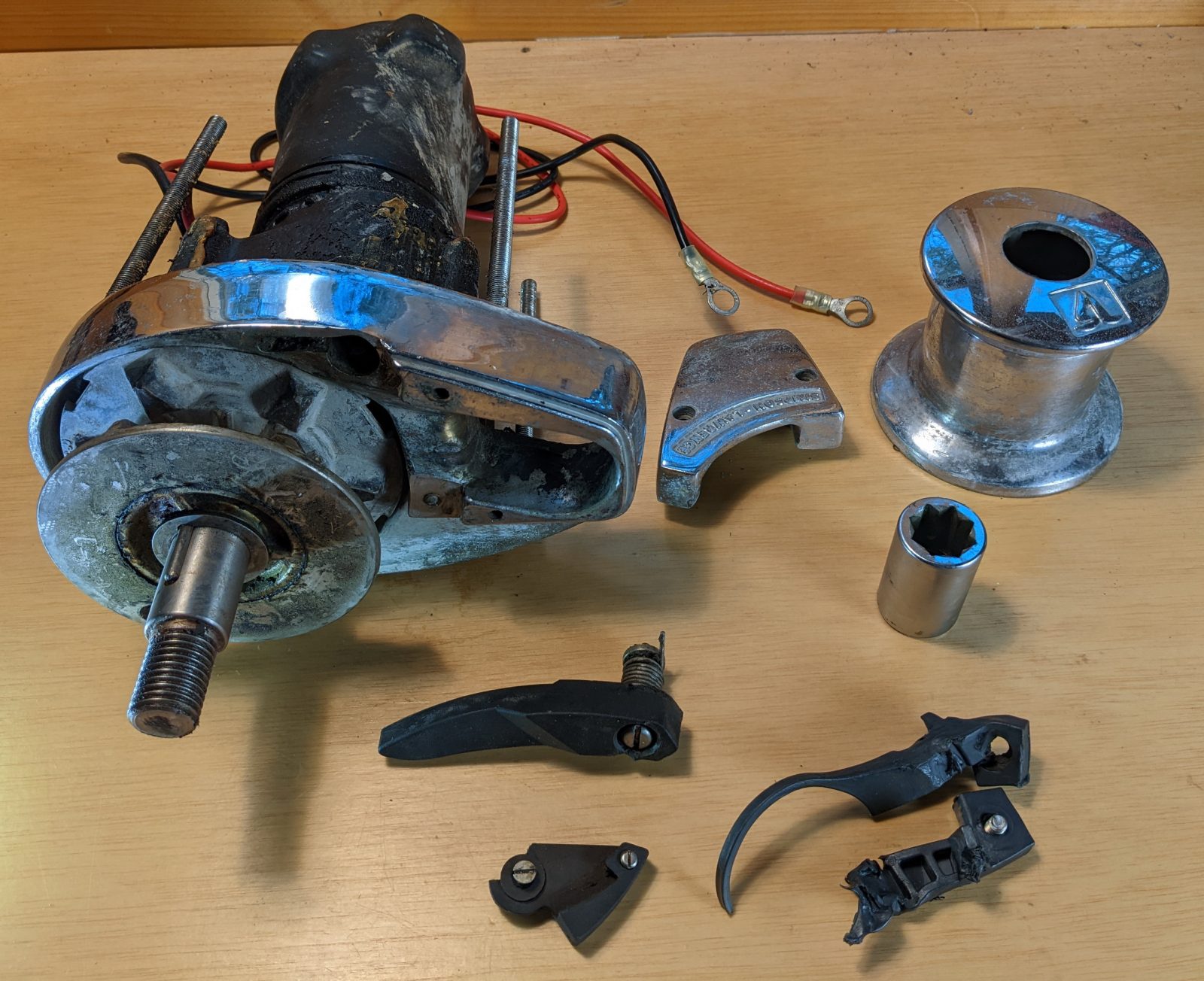 My bullish windlass management broke more than the 3-strand anchor rode. The violence also mangled that plastic part in the right foreground above, which is known as a chain splitter or fleming. Note too how the machine screw that fastens it to the windlass body sheered off. Expletive deleted!
Repairing this old windlass would be the greener and thriftier way to go, and that's quite possible even though it's been out of production for years. In fact, I replaced the motor in 2014 thanks to P2 Marine's inventory of SL 1000 parts, and I've heard good things about specialist SL Spares in the UK.
But with my own advancing age comes more and more concern about boat system reliability. Plus I suspect that more modern windlass designs work a bit better, especially with the "new fangled" but attractive plaited rodes.
Why 8-strand plait rode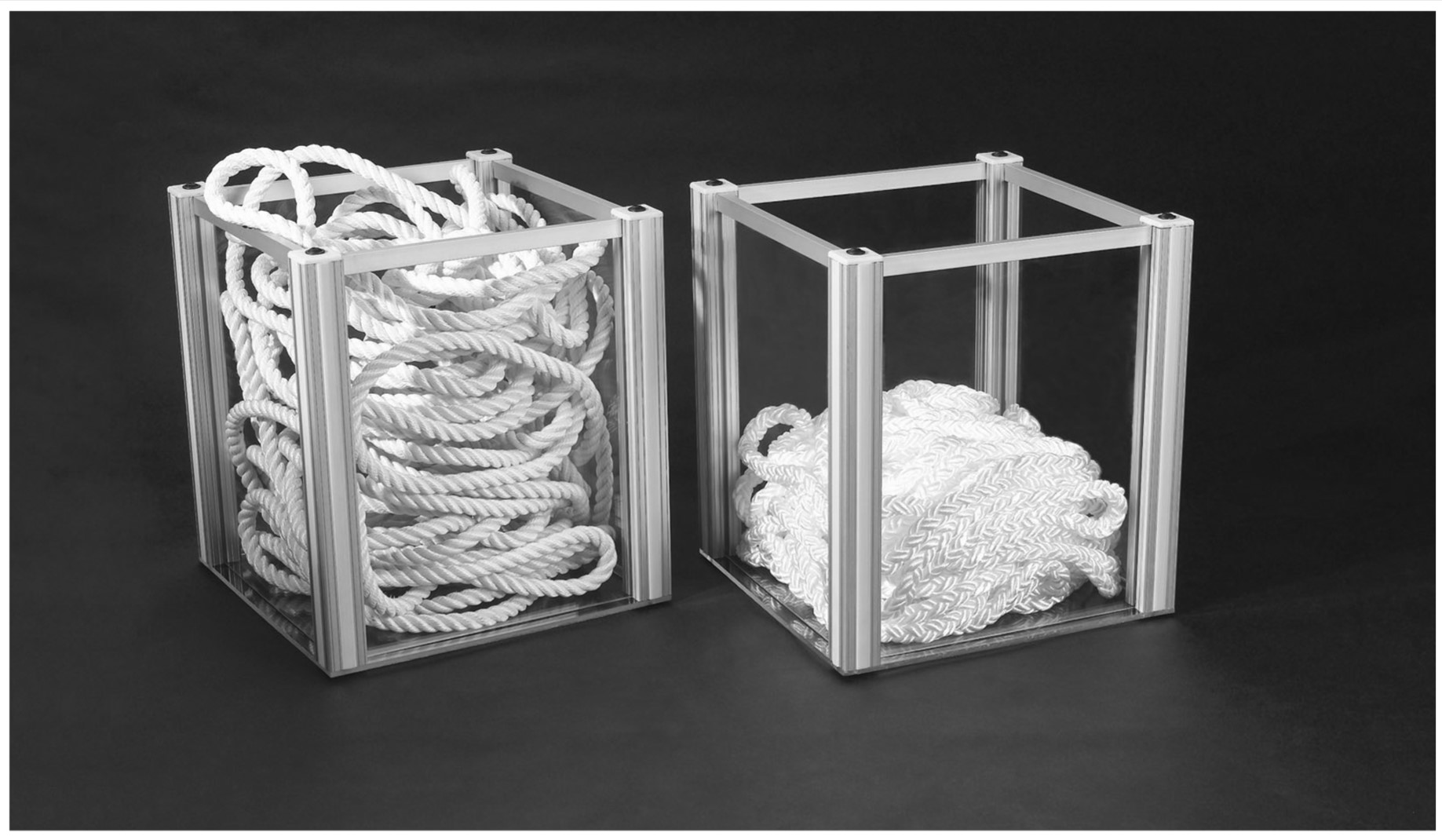 One obvious benefit of limp 8-strand plaited line is that it piles up much more compactly than 3-strand. So deep anchoring fishermen can fit a lot more rode in their locker. And for the same reason, plait is less likely to jam under the deck pipe of a windlass — let alone take a wrap around its motor — and that appeals to me big time.
Plait is different in other ways, though not always positive. In their 3-strand vs 8-plait YouTube, for instance, the anchor rode experts at Dark Horse Marine say that they almost never recommend plait for use with an older windlass because their chain wheels — also called gypsies — tend to abrade the softer line and/or let it slip.
Then again, plaited rode is very good at what is technically known as "horizontal energy absorption."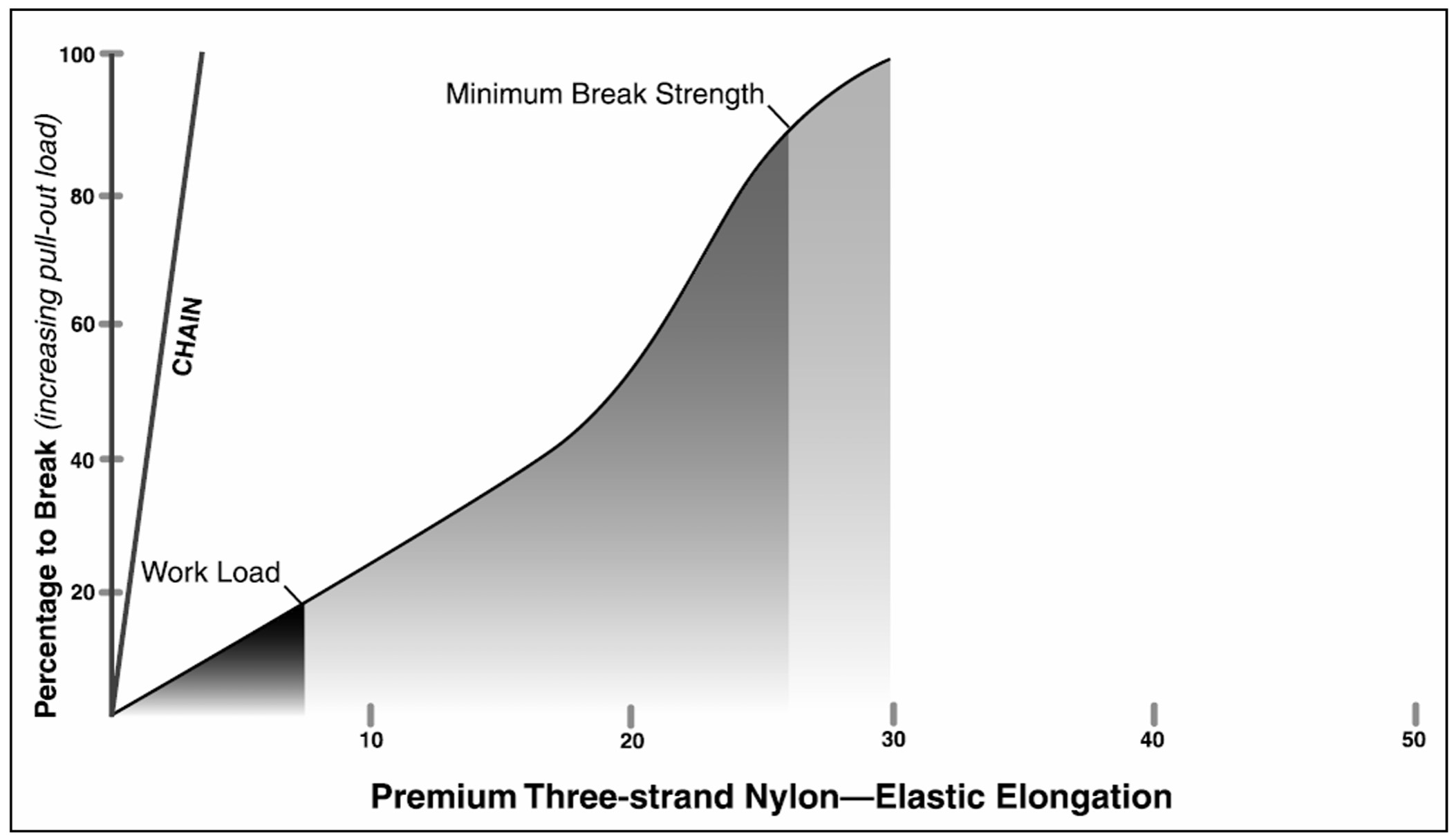 While all the major rope manufacturers claim that their nylon plait is more elastic than comparable 3-strand, Yale Cordage — whose 8-strand plait is branded Brait — produced the Anchoring Technology (PDF) white paper containing the illustrations above. The key conclusion applicable to most nylon plait: While more expensive Brait only has about 10% greater breaking strength than same-size 3-strand, it can absorb 69% more horizontal energy.
Now is a good moment to address readers who are happily using all chain rodes with a nylon snubber. Yes, sometimes I'm jealous. But Gizmo would not like that extra weight way forward, and I've long valued the quiet and simplicity of a combination nylon and chain rode. Plus, with the increased elasticity of a plaited rode, I may be able to use less scope and still sleep well on the hook (with Vesper Cortex anchor watch continuing to be a big help).
But the improvement planning got a little sticky when I began searching for a new windlass.
Why Maxwell windlass
My first call went to Imtra, a company with product knowledge and customer support I deeply respect. Heck, just check out their 52-page Anchoring Systems catalog for a sense of how thorough they are. But then note that plaited anchor rodes aren't even listed for sale, a fact I did not realize until an affable customer service person told me that Imtra highly recommends 3-strand rodes for reliability and durability. Yikes.
I took that recommendation seriously, but now think it's mainly based on the particular windlass brands Imtra distributes, with perhaps a dash of Yankee conservatism on top.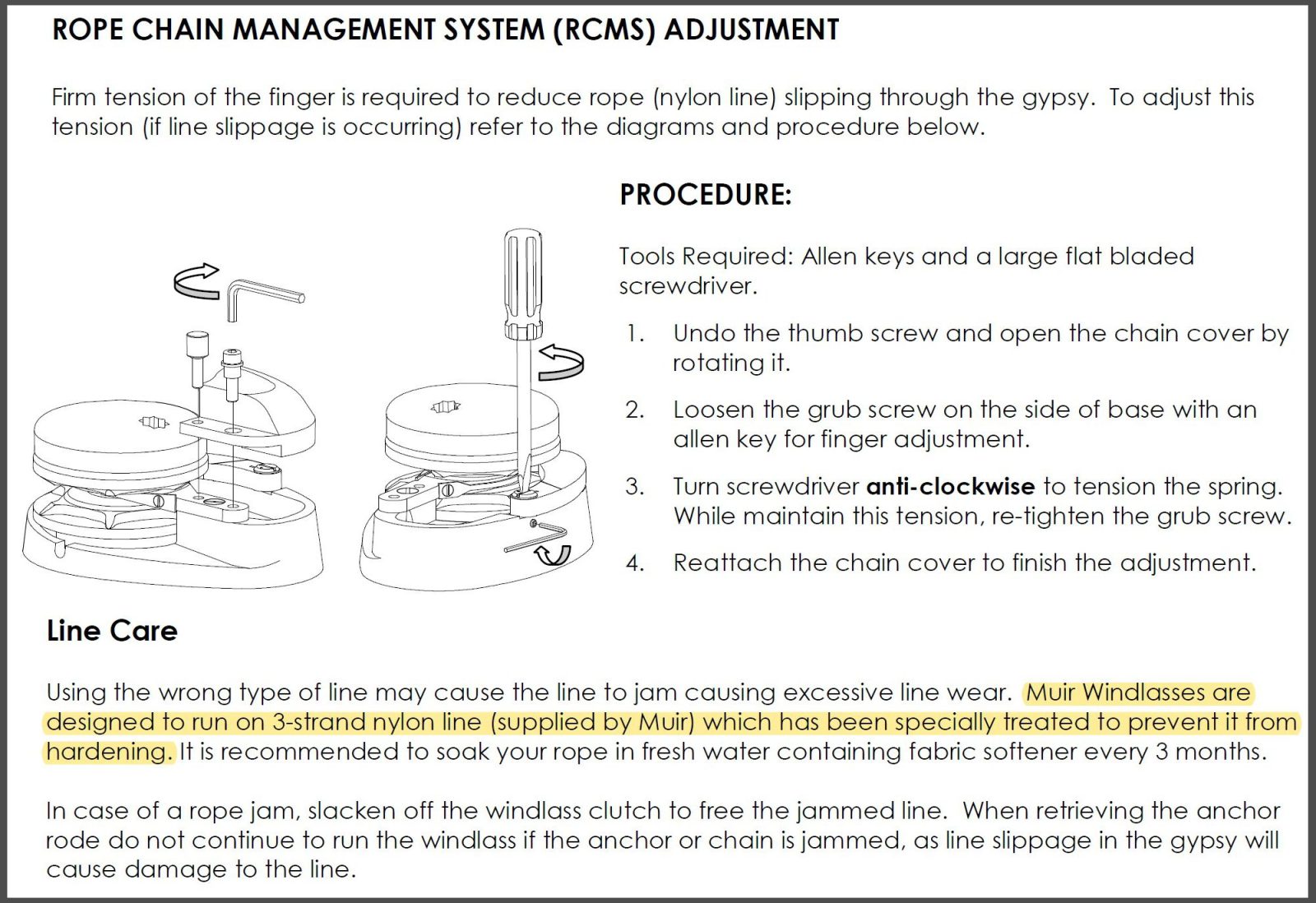 For example, the Muir Storm 1250 was especially appealing to me because parts like the fleming and line tensioning finger are stainless instead of plastic. But the manual section above strongly corresponds to Imtra's 3-strand recommendation. And when I called Ana, the knowledgable "Knotty Professor" at Dark Horse Marine, she named Imtra's other windlass brand Lofren along with Muir and Quick as designs that don't always work well with plait according to some of their customers.
According to Anna, Lewmar and Maxwell make windlasses that seem to work particularly well with plait, and when I contacted the latter's customer service, it was pleasing to hear that while a Maxwell windlass "can use 3-strand, we suggest that customers use the 8-strand as it is so much better."
In fact, Maxwell's own plait/chain rodes pair Yale Cordage Brait with Peerless Acco G43 chain — which sounds great — and they claim that while roughly cast gypsies can catch on 8-strand plait the Maxwell chain wheel is highly polished and also "provides better grip using our patented Wave rope handling" (shown below).
I think I'm sold.

Actually, as the spreadsheet above suggests, I got a little obsessed with this system upgrade. And while I'm feeling comfortable with where the project is headed, I didn't research every option and certainly welcome suggestions.
I've got a little time to make the final windlass decision too, as the first task is to solidly fill the hole in Gizmo's teak bowsprit and cored foredeck once occupied by the SL windlass so I can properly mount the new one. But when the boat relaunches next spring, I'm hoping for an anchoring system that works better than ever.
PS: Max's Deepset Plow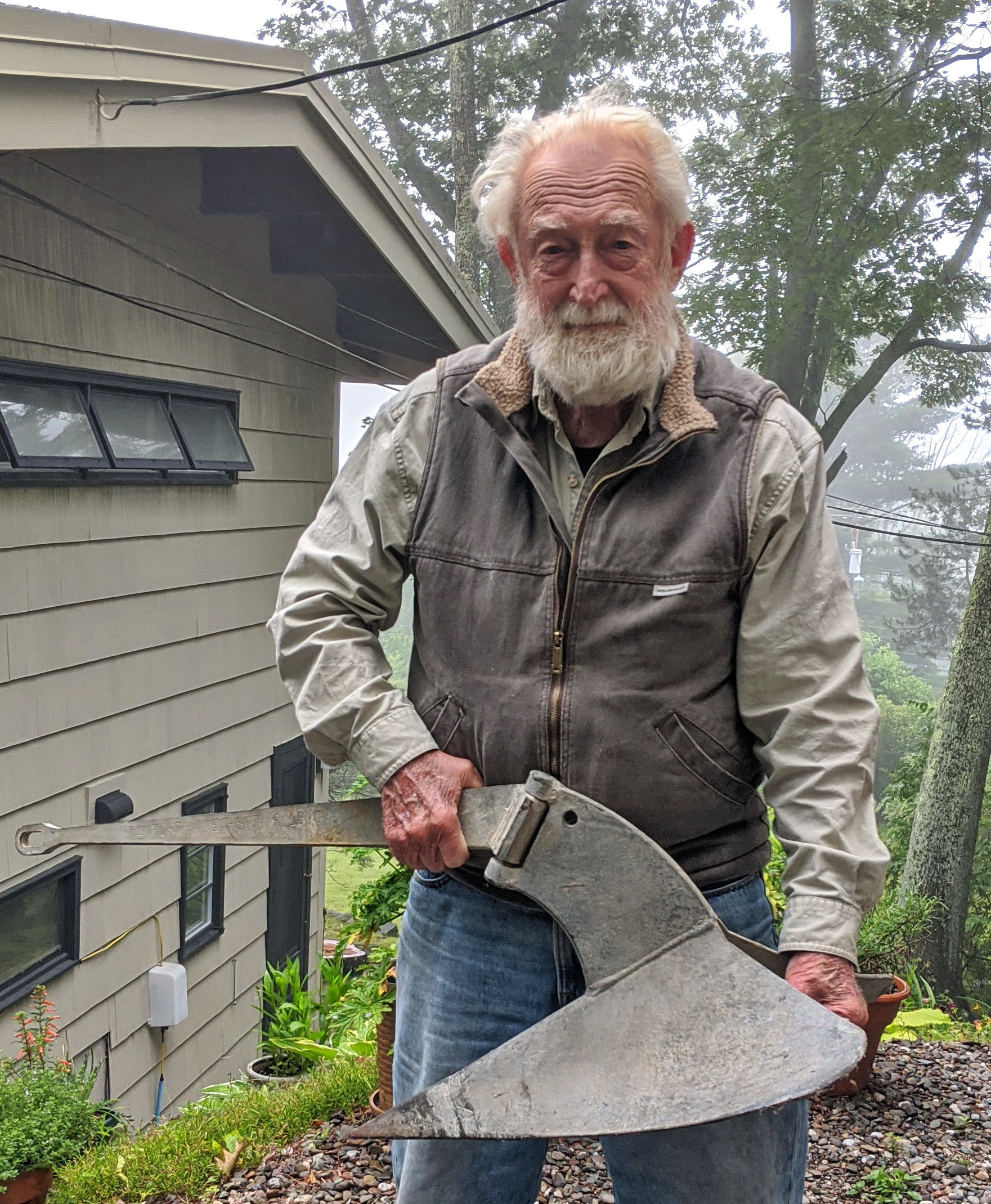 Remember the anchor with "serious sentimental value" mentioned early in this entry? I was honored when my old friend Max Scholz gifted it to me in the spring of 2020, though helping Rule Industries with its design is only one of Max's minor accomplishments and I'll admit to never even having heard of the model.
But that summer the 33-pound Deepset Plow P-1800 worked quite well, nicely replacing the heavier Kingston plow that had been Gizmo's satisfactory working anchor since I purchased her in 2009. I also found the patent Max drafted, and think that you too may enjoy the legalese involved in describing how a particular design can "facilitate passage of said anchor through a bottom surface to burrow into said bottom" and so forth.
An even better online discovery was late 80's marketing about Rule's anchor testing and the Danforth Challenge. It turned out our Danforth Deepset Plow P-1800 is so named because it tested at 1,800 pounds of holding power while a 60-pound CQR had only 600 "under equivalent conditions and average bottom consistency."
Moreover, Max participated in that testing and says it was quite fair. And while the CQR design is much belittled these days, the Danforth Challenge (described upper right) offered a significant award to any company that could prove that their plow anchor design had only half the holding power. And that challenge was never accepted, though Rule soon discontinued the design for business reasons unknown.
I realize that several good anchor designs have come along since, and that skippers tend to feel strongly about the one that works well for them. But if you ever see a Deepset Plow at a yard sale — which is how Max found the one we almost lost — I believe it deserves your serious consideration.
PS Jan 10, 2023: The Maxwell RC-10 bench tested well and I'm at least halfway through the install, which is to say that the old windlass hole is solidly filled and the new holes drilled. I'm documenting the whole process and am optimistic that the new system will work great.