Turn Your Raymarine Element HV Sonar/GPS Display into the Ultimate Ice Fishing Machine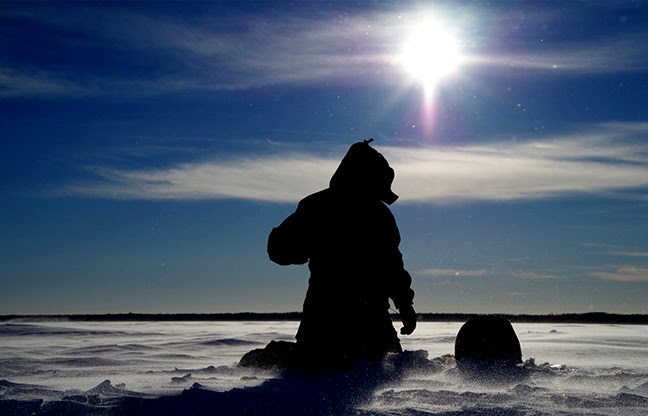 LightHouse Sport operating system update unlocks powerful new ice fishing features; Element Ice Fishing Kit turns it into a portable, all-in-one package
The ice may have some Northern anglers locked out of their favorite waters, but not the sect who embrace and flock to that ice by foot, ATV or snow machine. Fishing never ends for these die-hards. And for those who have discovered Raymarine's powerful Element HV series of CHIRP Sonar/GPS displays on open waters, being a "smarter" angler doesn't need to end once the ice sets in.
Thanks to Raymarine's latest free LightHouse Sport operating system software update (v3.10.10), Raymarine Element HV owners have access to customized profiles and settings designed to help ice anglers find more success and have more fun. And once their software is updated, the Raymarine Element Ice Fishing Kit provides everything necessary to start tapping into Element's powerful features on the ice – or anywhere else that requires a fully portable, all-in-one sonar/GPS solution.
Powerful Ice Fishing Features
LightHouse Sport v3.10.10 unlocks a custom ice fishing user interface that provides quick access to essential ice fishing screens, including Radial (flasher), A-Scope, Trail (map) & Radial, and Trail & A-Scope. Of course, the high-frequency CHIRP sonar view is also available.
The radial (flasher) sonar view – a favorite of ice anglers as well as many open-water anglers fishing vertical presentations – gives anglers a real-time view of the entire water column, showing the bottom, the precise depth of the angler's lure or bait, and the exact depth of fish as they cross the sonar beam, allowing anglers to adjust their lure depth and presentation to coax specific fish into biting.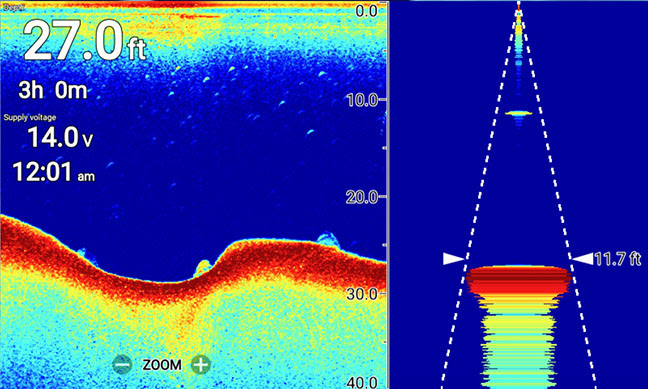 A-Scope shows the same essential, real-time information in a different way, displaying the depth/location of sonar targets (fish and lure), as well as the exact width of the transducer beam at the bottom and its relative width throughout the entire water column. The A-Scope view is particularly helpful in determining if a fish is directly beneath the hole, or off to one side.
Trail (map) views allow the angler to see their precise location in reference to depth contours, structure, cover, waypoints or other detailed features afforded by their installed mapping card. It also shows their trail, or movements between locations.
Element Ice Fishing Kit
With a waterproof bag and rugged base designed specifically for the 7" Raymarine Element HV Sonar/GPS display, this portable kit is built to withstand harsh winter conditions. Full-sized cargo pockets provide ample room for tackle, and the integrated rod holders make it easy for ice anglers to travel with all their gear and stay organized. The Element Ice Fishing Kit comes with a rechargeable 12v/7Ah battery, charger, and a high-frequency CHIRP CPT-S ice fishing transducer with float. It comes pre-drilled and ready to turn any 7" Element HV into the ultimate, all-in-one, portable ice fishing package.
Element Ice Fishing Kit Features
Kit includes waterproof bag, 12v/7Ah battery with international charger, base, CPT-S ice transducer with float and clips
High-frequency CHIRP CPT-S ice transducer targets bait and fish down to 900 feet
Rugged, waterproof bag with an easy-stay-open door for easy screen viewing
Predrilled for mounting a 7" Raymarine Element HV (Element HV, not included)
Extra storage for various size tackle boxes and integrated rod holders to carry all your gear
MSRP: $199.99
If you already own a powerful Element HV Sonar/GPS display, now, you can own the ice, too. Learn more at http://www.raymarine.com/element-series/kit/ice-fishing-kit.html.
Update to the latest version of the LightHouse Sport operating system here, and unlock ice fishing features on your Element Sonar/GPS display.