Verizon Droid Incredible, indeed it is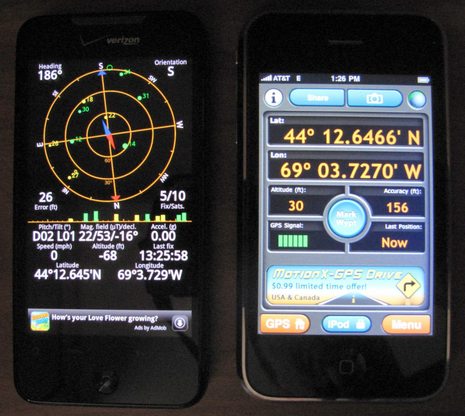 While it's been disappointing to learn that carrying around two smart phones does not make a guy extra smart, I am incredibly happy about owning that Verizon Droid Incredible at left. It's not a phone I'd recommend to everyone — and Android marine apps certainly aren't much yet — but given what I want from it, and where I live, the Incredible makes that iPhone 3GS seem feeble and limited. I feel like I just got out of Apple/AT&T jail, and I'm shaking my head because I liked it in there! Let's begin with the built-in GPS and motion sensors…

I took that photo in Gizmo's forward cabin, right where I would want a good anchor alarm app to run well, and I'm confident that if there was an Android anchor alarm, it would work great on the Incredible. Not only does it run circles around the iPhone in terms of performance — fast position acquisition, accuracy, and the ability to hold a fix in adverse conditions — but the creator of the free app GPS Status obviously had a lot more access to sensor detail than Apple gives to its developers. (MotionX-GPS, mentioned here recently regarding iPad charting, tells more about iPhone GPS than any other app I've seen, but that's not much.) And it would take a video to show how quick and accurate the Incredible's compass and accelerometers are. The results when paired with Google Map's street view mode — turn/tilt the phone and the photos move accordingly — are simply phenomenal (actually there are videos).
I'm not going to go on and on about how good the Incredible's hardware and software is, though I could! Reviewers at
Engadget and PCMag.com have already done a fine job of breaking down the details. And I will admit that it's quite unfair to compare a brand new phone to the one-year-old 3GS, given how red hot smart phone competition is. I'm sure the much anticipated iPhone 4G/HD, along with the 4.0 OS, will take care of numerous shortcomings. But Apple and Google are on different paths, and right now I'm liking Android chaos over iSimplicity. Yes, Task Killer has become one of my essential apps (to conserve the battery), and, yes, I did crack my wife up when she called as I was trying a bluetooth headset with Google street navigation and an podcast player simultaneously. (It was working perfectly, the podcast fading out when robotic voice directions came up, and it might have cut both out to answer the call except that somehow another audio app had opened itself…she found me dazed and confused.)
At any rate, a very big deal for me is that Verizon 3G beats the hell out of the AT&T Edge service available around here, and actually seems much faster on the Incredible than any iPhone 3G I've experienced while traveling. I can't tell the difference between it and the DSL WiFi I can also tap at Panbo HQ. And tethering the Incredible with a laptop via USB took me all of ten minutes, without "jail breaking" (or "rooting" as it's called in Android world). I used EasyTether, but there are choices, and I was even able to download the needed PC software to the phone and then over to the laptop — so I could set this up a PC without another form of Internet access — because Android lets you do stuff like that. And check out the laptop speed I got while tethered to Verizon 3G, which corresponds to what I've been seeing on the phone. This means that a $30/month data plan is going to let us be online in style while cruising the Maine coast this season, and that's gold. I do hope that marine apps developers get cooking on Anroid, but I already love this phone.