Zeus 1, the most innovative electronics at Miami was a propulsion system!?!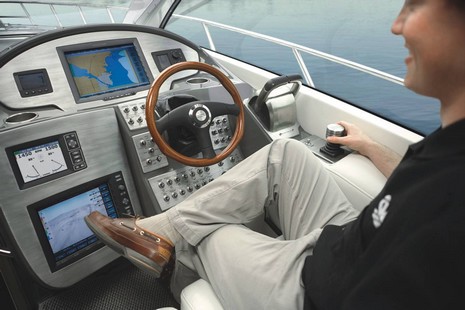 Above is a 42' Maxum that Brunswick, specifically the Cummins MerCruiser division, was using as a special demo boat at the Miami Boat Show. Obviously (bigger here ) it's loaded with Northstar's new 8000i multifunction displays (and, yes, that lower one seemed a bit odd as you could kick it if you were being 'casual' like this model). Now I'd love to test the 8000i on the water (especially once the finished system ships in June), but this demo was much more about that fat joystick, and the engines, drives, and electronics it's attached to, all called Project Zeus. I got to experience it myself and, by golly, it's a very big deal indeed. The drives are similar to the IPS system that Volvo introduced last year, except that the props face aft (which I, from the bays of rocks and lobster traps, strongly favor).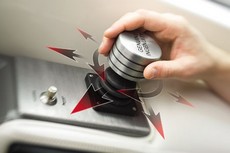 I won't go into Zeus's claims of efficiency, low noise, etc., though you might want to check out the press release. What I want to tell you about is how I watched a guy joystick this boat's bow within a few feet of a day marker and then do a 360 around the mark with the bow always within those few feet. I also saw how you could push the "hold station" button on the Navman pilot and boat would sit exactly in place despite wind and current, and without thrusters. This is really revolutionary stuff, and important, I think, to the future of boating and marine electronics. More tomorrow.