Alltek engineering, "exactly like!"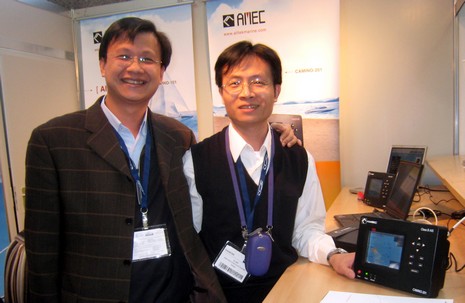 That's Charlie Hsu, sales & marketing guy for Alltek Marine Electronics Corp. (AMEC), along with the company's chief engineer. They were at METS looking for companies interested in distributing their Class B AIS, mentioned here last April. When showing me the unit, Hsu pointed out some yellow colored targets and explained that they were "buddy" boats.
"Oh, you mean like the Simrad AI50's buddy feature?" said I.
"Exactly like that!," replied Hsu, laughing.
Then he showed me a new MOB product Alltek is working on, seen below (with the AIS display used to plot MOBs).
Of course I said "Oh, you mean like Raymarine's LifeTag system?"
"Exactly like!" answered a proud Mr. Hsu.

Actually there are differences between AMEC brand products and the devices they emulate. The box, for instance, has Bluetooth built in, which is used to broadcast AIS data, and is also used by the MOB tags. But I found it refreshing how frank Charlie Hsu is about copying good ideas from other companies. Why not? (Patents not withstanding, of course, but I don't think obvious ideas should be patentable.) Sometimes I think Western companies get hung up on making things new and different, just for the sake of different. Sometimes emulating a good feature from a competitor is the best way to go.