IBEX13 #1: Garmin/VP Glass Cockpit vs Raymarine ECI-100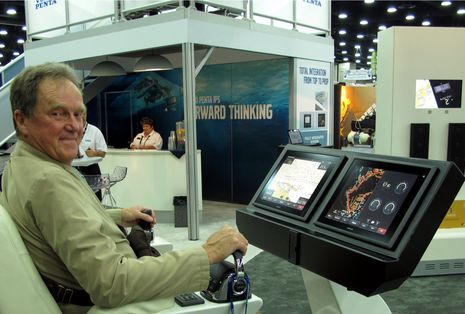 I just spent five full days at IBEX 2013 — as press guy, Innovation Awards judge, and NMEA seminar presenter — and I'm heading home with LOTS to write about. I'll start with the deep integration Garmin and Volvo Penta put into the handsome Glass Cockpit system I was checking out above, and how smartly Raymarine has responded to this market-share threat. In my view it's a happy story about how competition and technology are making boating better…
Speaking of competition, the VP/Garmin Glass Cockpit and Raymarine's Evolution Autopilot both won IBEX Innovation Awards in the Electronics category, the only instance where the judges felt that there were two clear winners (full Award list at Soundings Trade with judge bios here).  We didn't all feel that way at the beginning of the product review process, however; some judges' first impression of the Glass Cockpit was that it simply adds engine gauge information to the underlying Garmin 8000 MFD screens, much as many multifunction displays do using NMEA 2000 data. But eventually, I think, we were all impressed by how deeply innovative the integration is…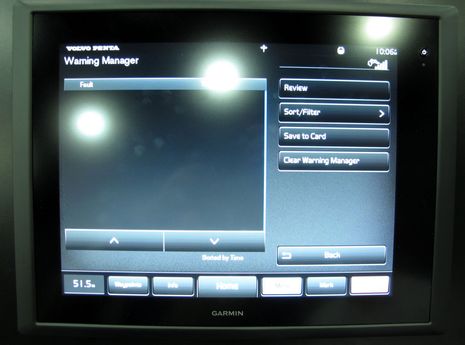 For one thing, Volvo Penta is using the special CANbus/N2K engine ports Garmin puts on the rear of the 8000's (Panbo booty shot and more here), which means that the data communications link is extra secure and also redundant (if the boat has more than one 8000 MFD). And while it's a bad photo of a simulator screen that doesn't have any data on it, the image above does suggest how the Glass Cockpit collects and displays engine warnings (which are expressed in plain language, we were told).  
   When I fooled with the simulator yesterday I saw how a 'Services' button could take a user to a Volvo Penta dealer list with the nearest on top and the GC ready to create at least the over-water portion of a route to that or any dealer. I'll bet a lot of boat builders and boaters love seeing features like that, especially as VP will also be responsible for a navigation system.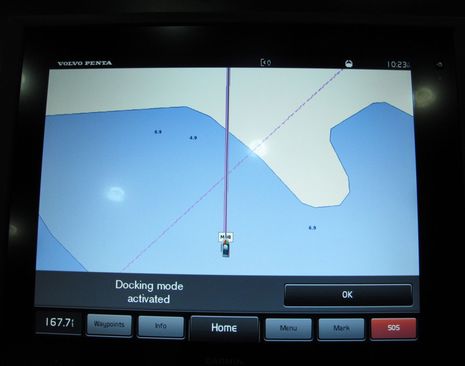 Another notable feature is how selecting the Docking mode on the VP joystick not only triggered the screen confirmation seen above, but also made both screens snap into Docking SmartMode. I already admire Garmin SmartMode — whereby a user can customize and name a screen or multi-screen setup for easy later use — and think it's great that VP extended the feature to its control hardware.  I was also able to confirm that SmartMode setups are pretty specific. I "edited" the Docking screens on the Glass Cockpit simulator so that the chart screen was zoomed way in (like you'd want if you actually were at a dock) and when I returned to that mode later with the joystick, the zoom level came back. Good stuff! Volvo Penta GC info here.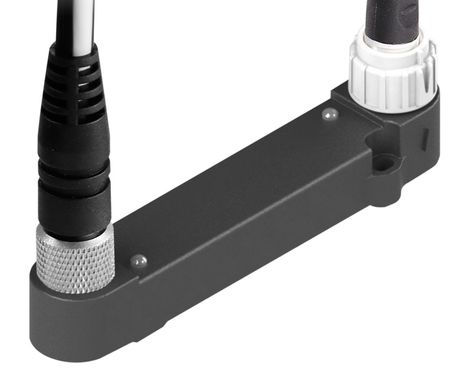 Meanwhile, Raymarine came to the boatbuilders' show ready to announce the ECI-100 Universal Engine and Control Interface, another way to integrate MFDs and autopilots with Volvo Penta (and other) engines. It's certainly not as sexy or deeply integrated as the VP/Garmin Glass Cockpit, but the little ECI-100 looks to be a bargain with multiple capabilities. When Ray writes, "Compare and contrast this single interface approach with other systems that need an expensive specialized proprietary engine gateway for each engine plus another dedicated gateway for autopilot integration…" they are apparently talking about Volvo Penta, but even a Maretron J2K100 J1939 to N2K gateway is more expensive.
   I have no idea if the ECI-100 translates J1939 engine data as well as the Maretron gateway can, but Raymarine also included opto isolation, a fuel flow accumulator, and the ability to pass autopilot commands to some steerable propulsion systems like the Volvo Penta IPS. The latter two features may only work with Raymarine MFDs, but I suspect that ECI may still have use in other systems, and I like the way Ray notes that ECI "connects to any NMEA2000 network backbone." Plus, I understand that  they will be producing adapter cables that connect non standard engine cables to N2K. ECI-100 details here.
  Congratulations to all three companies discussed here. Game on!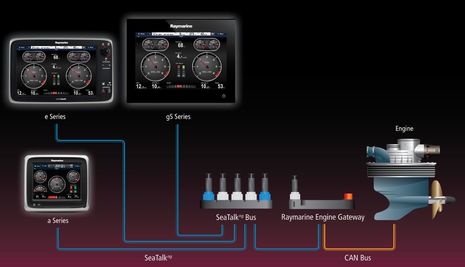 PS: IBEX being IBEX you could also see ½" black acrylic dash surrounds CNC routed by Teak Isle (retail outlet Boat Outfitters) to precisely flat mount Garmin and/or Volvo Penta 8000 screens, custom engraving obviously possible: