Volvo Penta (Garmin) Glass Cockpit, just the beginning?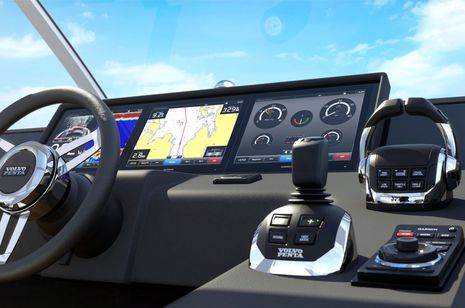 When I wrote about seeing the new Garmin 8000 Glass Helm series in Miami, several knowledgeable readers commented about how it (and the GMI 20 I'm testing) would be used as part of a complete Volvo Penta engine/helm package. They were right.  Garmin announced the VP Glass Cockpit yesterday and it's already up in detail at Volvo Penta. The main features seem to be great nav screen integration with joystick, trim, and autopilot controls plus a single vendor for all, but is this also what we're going to see from all the glass bridge/helm/cockpit systems, and will it "trickle down"?
I don't know the answer to that question. On the one hand Garmin announced a special relationship with VP two years ago. On the other hand, since then we've seen the emergence of Furuno NavNet TZTouch and Raymarine gS Series systems with similar high-end glass style and integration capabilities, and I'd bet a box of donuts that Simrad has something beyond NSO systems and monitors in the oven. Might Volvo create glass bridges with other electronics companies or Garmin with, say, Catapillar? Can all the engine and electronics manufacturers get to better compatability without it being a big deal?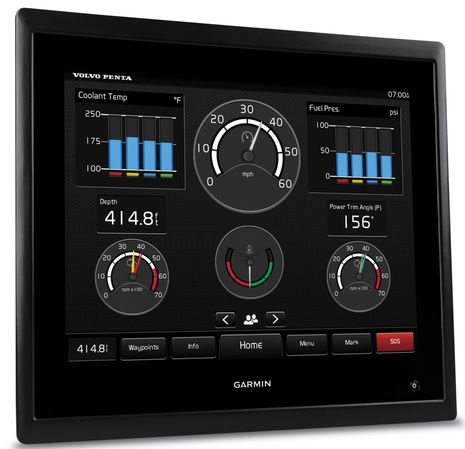 Afterall, one key to tight integration between your propulsion and nav systems is simply passing the monitoring data over NMEA 2000 to nav screens that can display it better than dedicated gauges. That's been theoretically possible for about a decade, but remains quite rare for what seems like many possible reasons. The standard N2K messages may not support every engine and trim data field yet, few engine manufacturers have enabled N2K output — maybe because they wanted to sell their own screens or maybe because they feared problems, or some combination of both — and hence there hasn't much reason for MFD developers to put much energy into their engine screens.
   So Volvo Penta is using big, beautiful Garmin 8000 screens instead of their own guages — and you can see how informative and responsive they are in this excellent Randy Vance video — but will there be downside to this? Will the Glass Cockpit be even more expensive than the Glass Helm? Will Garmin updates and accessories get to Volvo Penta customers as quickly?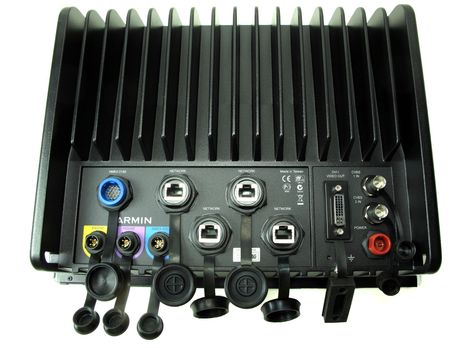 I was pondering these questions as I unpacked a Garmin 8212 in the lab yesterday, and was pleasantly surprised to find that the triple CANbus/N2K ports I spotted on the black box models are also on the MFDs. It seems very likely that the Volvo Penta engine and trim systems plug into that yellow Engine port and are thus separate from the boat's regular navigation NMEA 2000 network. I'm not convinced that's necessary — especially since the Garmin portion of the Glass Cockpit does not seem to actually control shift and throttle (also theoretically possible with N2K) — but I can picture how it's more reliable to have just two developement teams working on a sub-network even if they're using a multi-manufacturer standard. (And isn't it fun to imagine what Garmin has in mind for that "House" port?)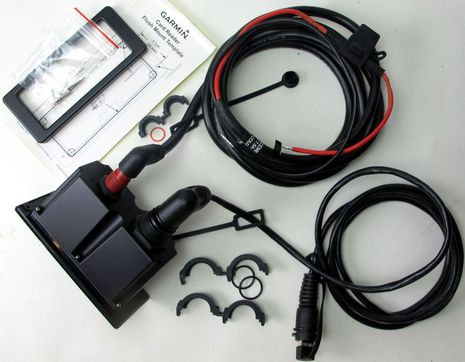 The 8000 series certainly seems built to heavy-duty engine-like standards. In fact, I was amazed to find that the separate card reader has a 7.5 amp power cable until I realized that they are simply using the same power cable for it, the 8212, and also the GRID keypad. Note the blade fuse, cable/plug color coding, right angle connectors and snap-on outer rings that I first spotted on the 7000 Series. When I visited binnacle and pod manufacturer Edson Marine in May, company president Will Keene told me that he wished electronics companies would make cables with a narrow connector on one end and a right angle connector on the other. Garmin seems close but I wonder if Raymarine's new RayNet Ethernet cabling isn't even easier to run with no extra parts to worry about.
   The way the Ray gS Series card reader gets power and data via a single waterproof USB cable — discussed here on Tuesday (it's glass bridge week!) — also seems like an easier install, but then again I want to loadly applaud the working side of the 8000 reader seen below. Garmin is using full size SD cards, which means they can be clearly labeled and they are less likely to blow overboard than the micro variety. Plus a micro SD card can always be put in a full size SD slot, with an adaptor, but not vice versa. Garmin also numbered the card slots, which will be useful when a user makes decisions like which one to save routes and tracks to, and they even indicated the correct card orientation. Anyone else have an MFD that could use these nicities?
   Excuse the sidetrack, but even the biggest systems are at least in part a conglomeration of details that can make your boating simpler, or not. Anyone excited about the Volvo Penta Glass Cockpit, and/or the prospect of such propulsion control integration coming to other and maybe smaller screens?