LXNav SmartShunt, WiFi and NMEA 2000 battery monitoring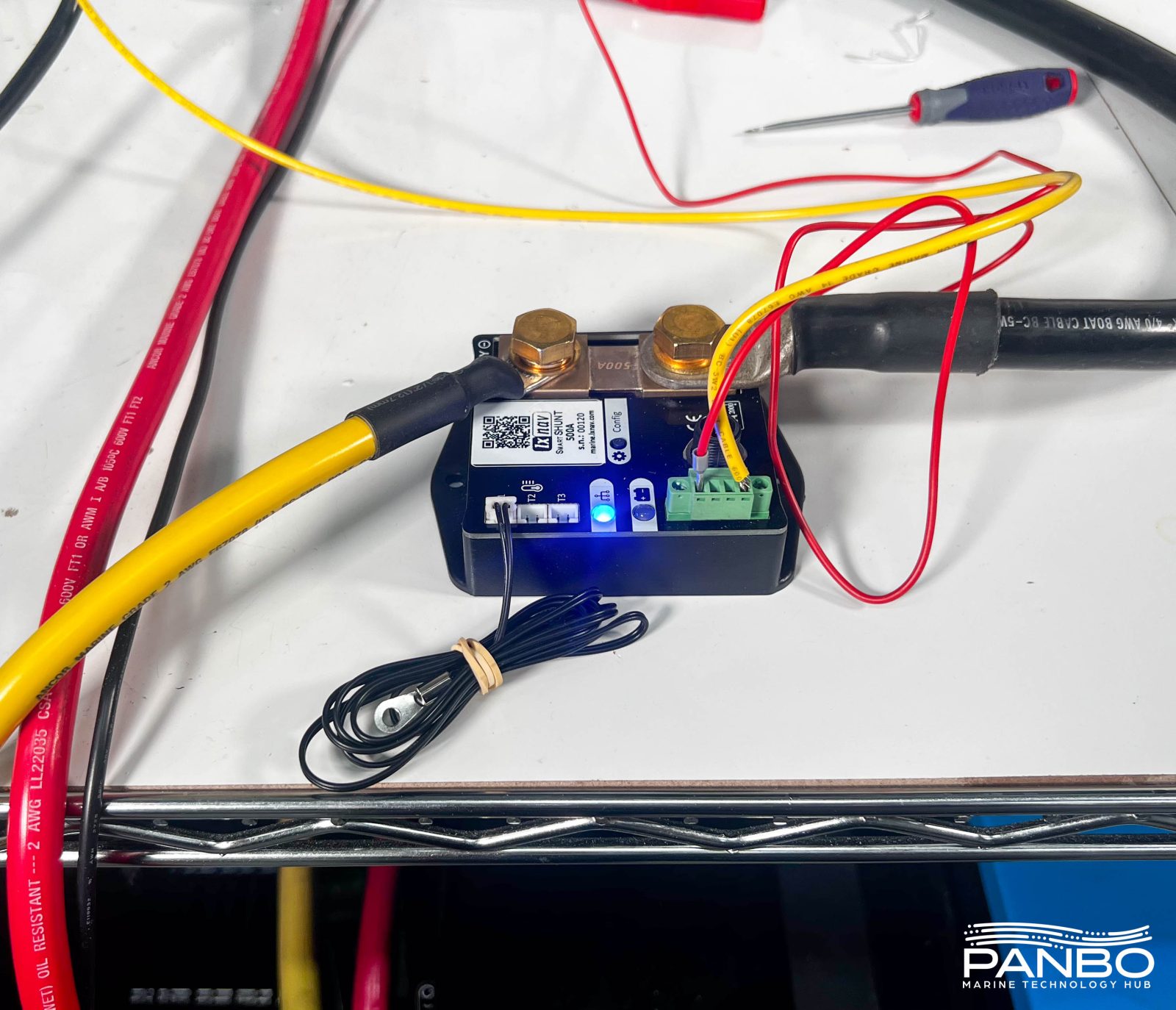 As a regular reader of Panbo, long before I became involved, my favorite articles were the ones that introduced me to a new product or company. As the editor of Panbo, little excites me more than hearing from a new company and getting to introduce a product to my readers. Perhaps, for many readers, this review will serve as an introduction to LXNav and their SmartShunt WiFi and NMEA 2000-connected battery monitoring shunt. Join me for a review of the SmartShunt and a look at the rest of LXNav's marine-focused offerings.
LXNav, a Slovenian company founded in 2010, began producing products for gliders and ultralight aircraft. More recently, they've introduced marine products and now offer an interesting catalog of marine sensors, instruments, and multifunction devices. It's worth mentioning, LXNav isn't the first innovative company out of Slovenia covered on Panbo. That distinction belongs to Simarine. Like Simarine, LXNav's products display an impressive level of physical and user interface polish.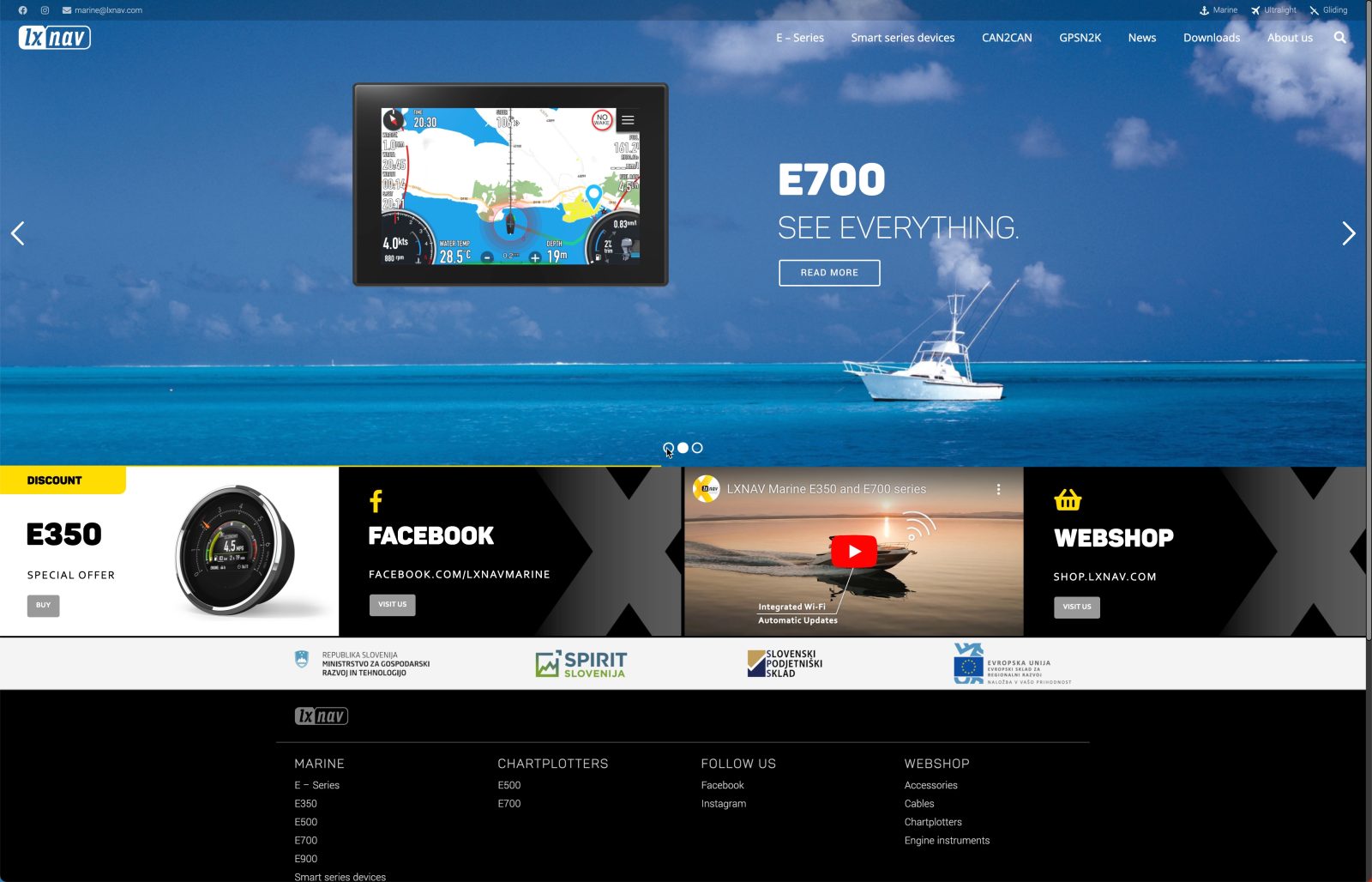 LXNav's marine products are divided into four categories: Smart Series devices, E-Series displays, CAN2CAN J1939 converter, and their GPSN2K NMEA 2000 GNSS receiver. The Smart series includes their SmartEMU engine monitoring unit, SmartFLC fluid level converter, SmartShunt battery monitor, SmartGPS vessel tracking, and SmartSENSE environmental sensor. All of the Smart products include a WiFi interface for configuration and monitoring of the devices, as well as an NMEA 2000 interface.
SmartShunts are available in 100, 300, 500, and 1,000 amp capacities. The first three sizes all retail for 250 € excluding VAT and the 1,000 amp version retails for 330 € excluding VAT. It doesn't appear there are currently any U.S. distributors.
Making the connections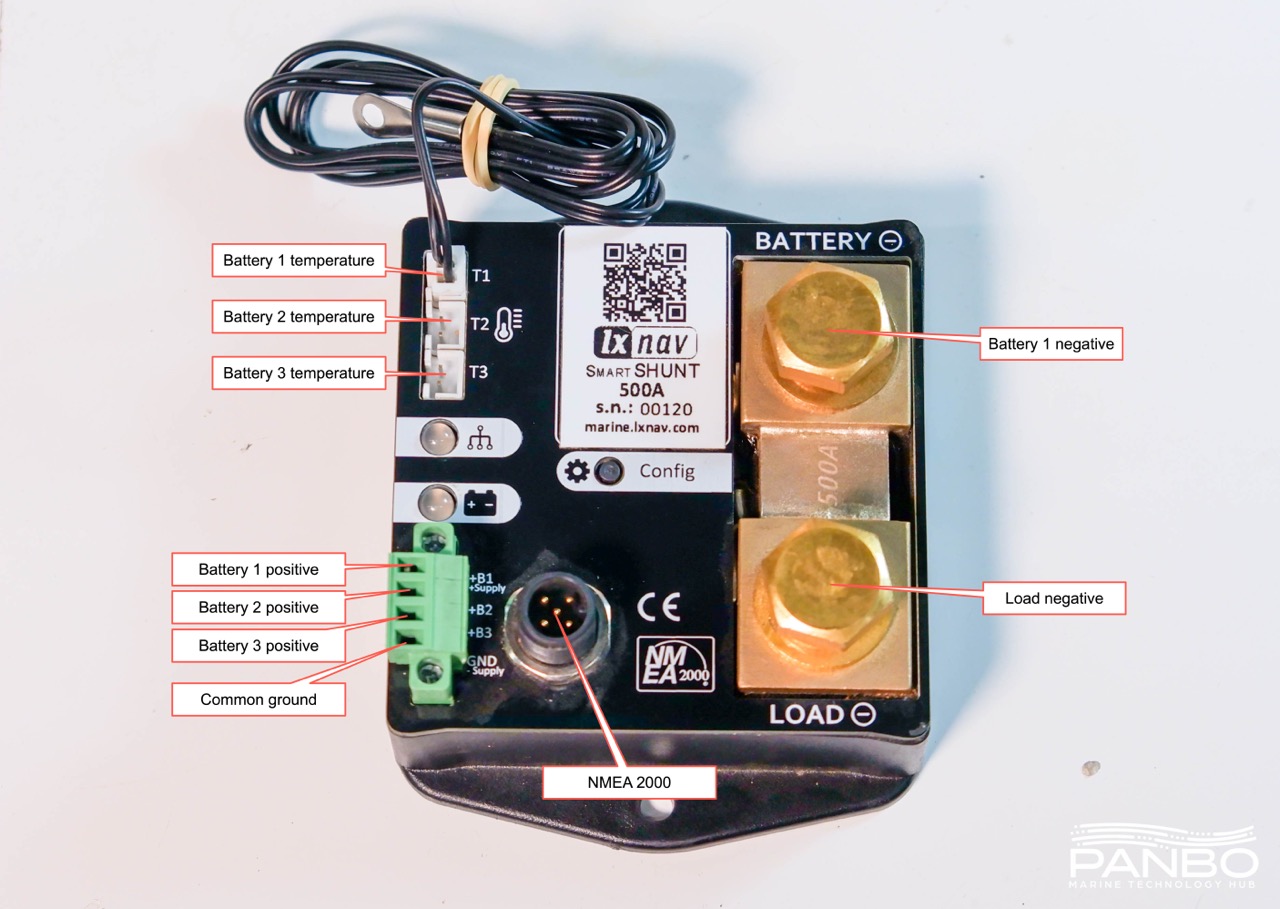 The SmartShunt is relatively straightforward to wire up and connect. It follows the same wiring pattern as most shunt-based battery monitors. The battery negative will flow through the shunt. It must connect immediately after the negative terminal of the battery or battery bank. That means all loads will flow through the shunt and it will be able to measure all power in and out of the battery.
The shunt can measure the current, voltage, and temperature of the first battery. Additionally, it can measure voltage and temperature for up to two additional batteries. One slight divergence from most shunts is the need to connect ground separately from the connection to the large terminals of the shunt itself. In my case, I simply ran a small, short jumper from the green screw terminal on the bottom left to the load terminal on the bottom right.
Configuration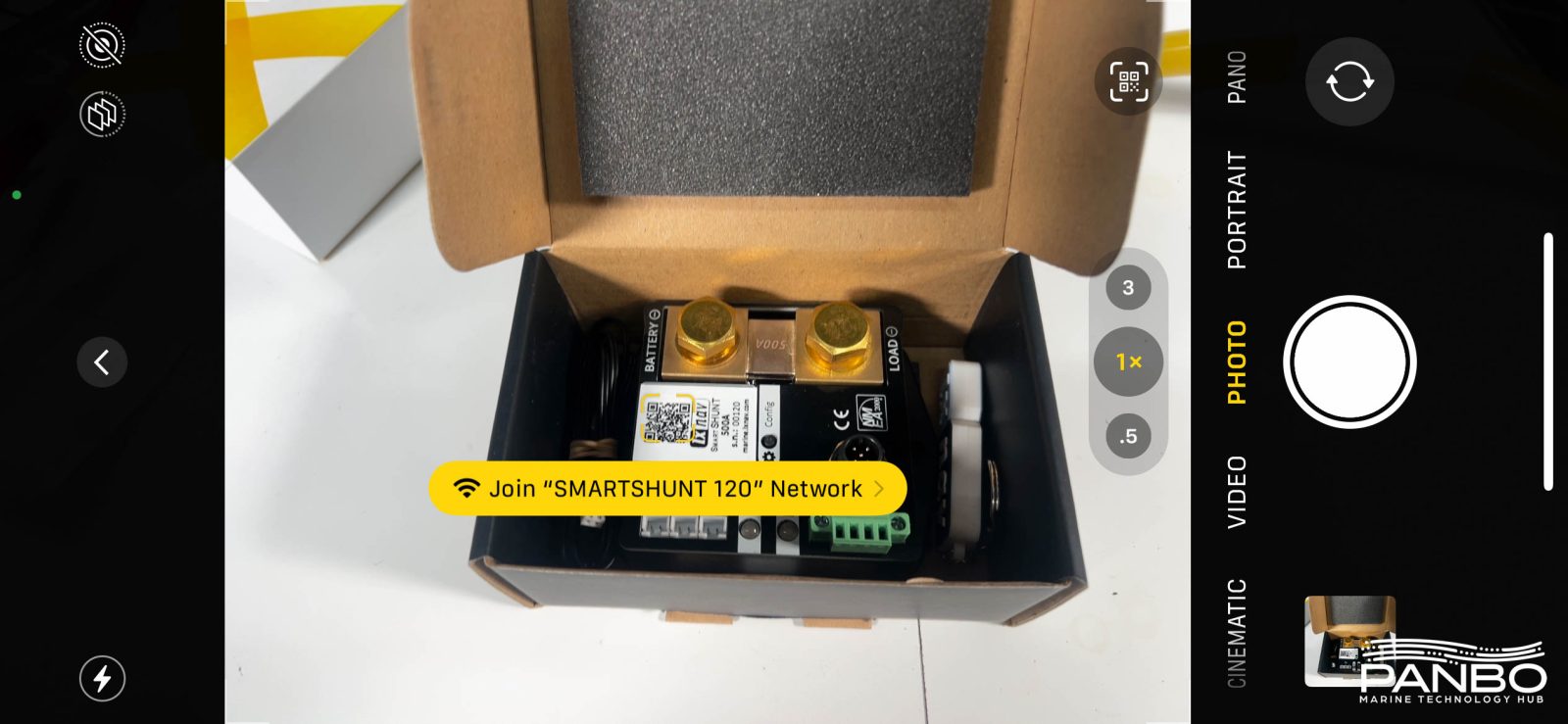 Device configuration happens via a web browser after establishing a WiFi connection. Scanning the QR code on the front of the shunt provides a smart device with all the information needed to complete the connection. Once connected, you're greeted with a status screen showing the current battery state of charge (SOC), voltage, current, and other information. But, before any of that information is particularly accurate, you will need to configure the shunt.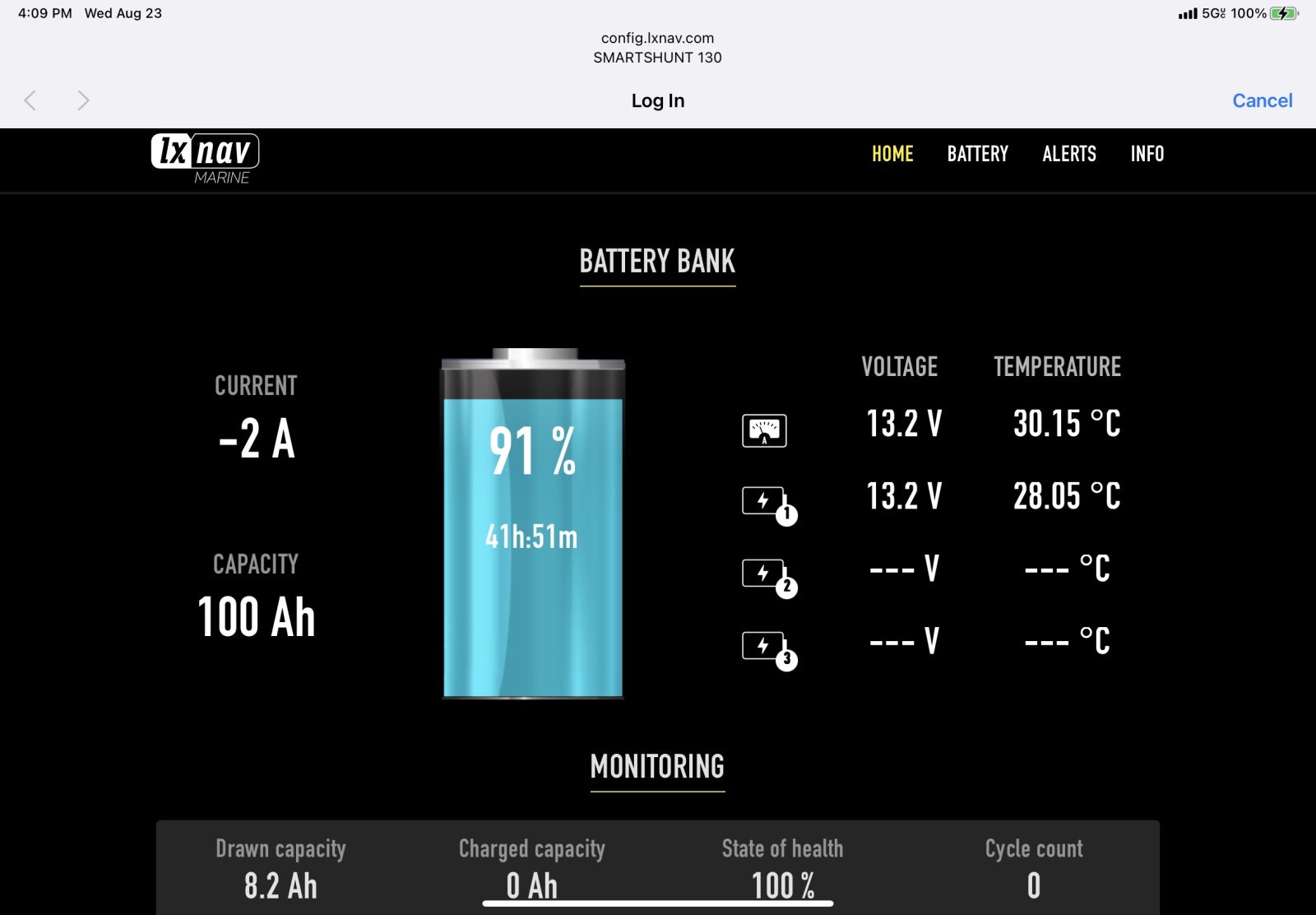 When my iOS devices first connected to the SmartShunt, they all loaded the Log In dialog. Indicating iOS thinks you're connected to a captive portal, like at a hotel that requires agreeing to terms for internet use. I don't typically see this with similar devices, but I'm also not sure what triggers it. Regardless, to bypass it I had to press cancel in the top left and select "Use Without Internet" to configure the device. Just closing the dialog would cause the iPad or iPhone to connect to another network. Additionally, I don't believe there is an option to connect the SmartShunt as a client to an existing WiFi network.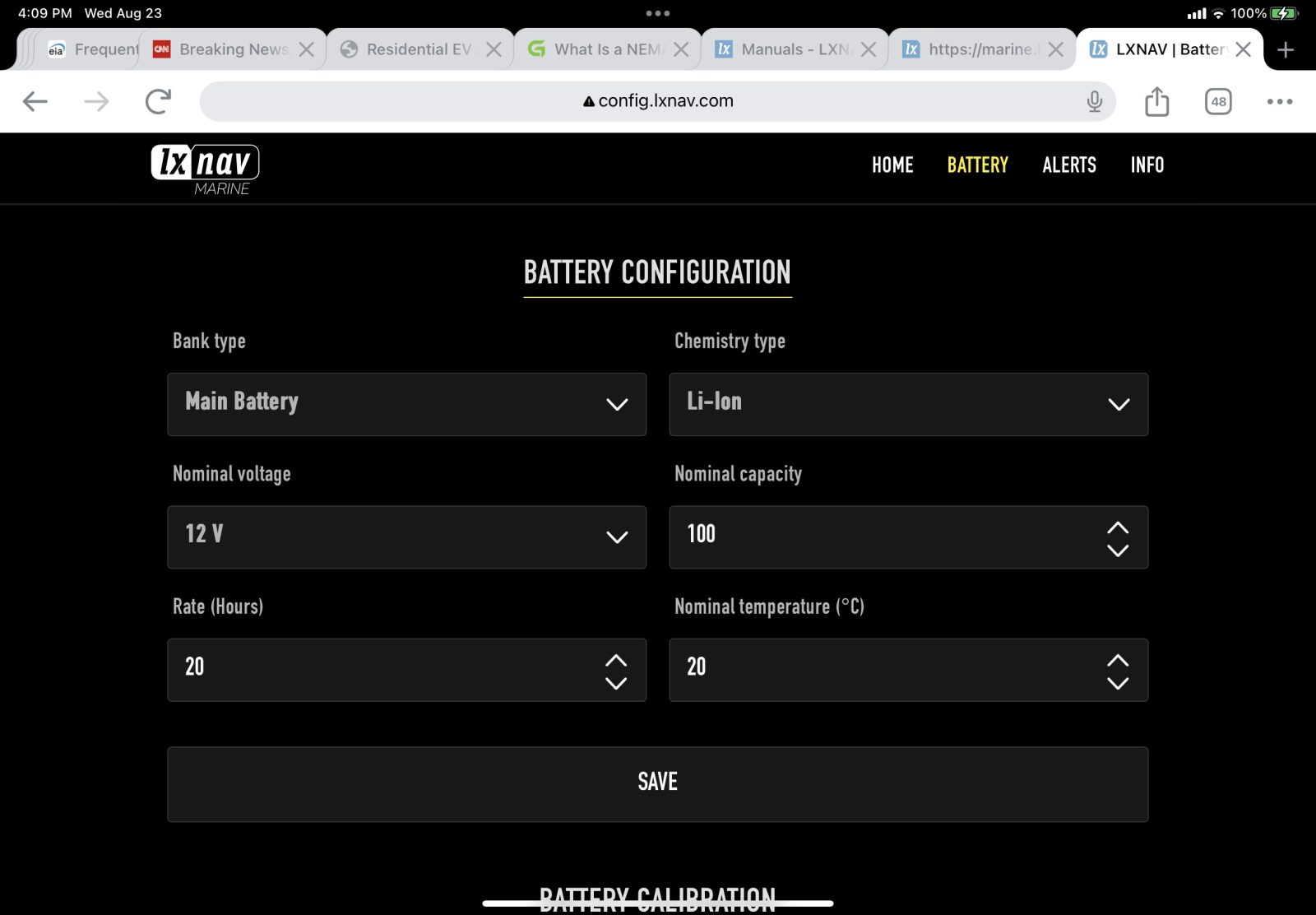 If you've configured a coulomb counting battery monitor, like a Victron BMV or SmartShunt, then the configuration details of the LXNav monitor should look familiar. You will need to specify the standard information like battery type, chemistry, voltage, and capacity. Additionally, the user interface makes setting more advanced settings including the Peukert exponent, charge efficiency, runtime averaging period, and full charge detection parameters easy. I found it took just a few minutes to fully configure the monitor.
Battery monitoring two ways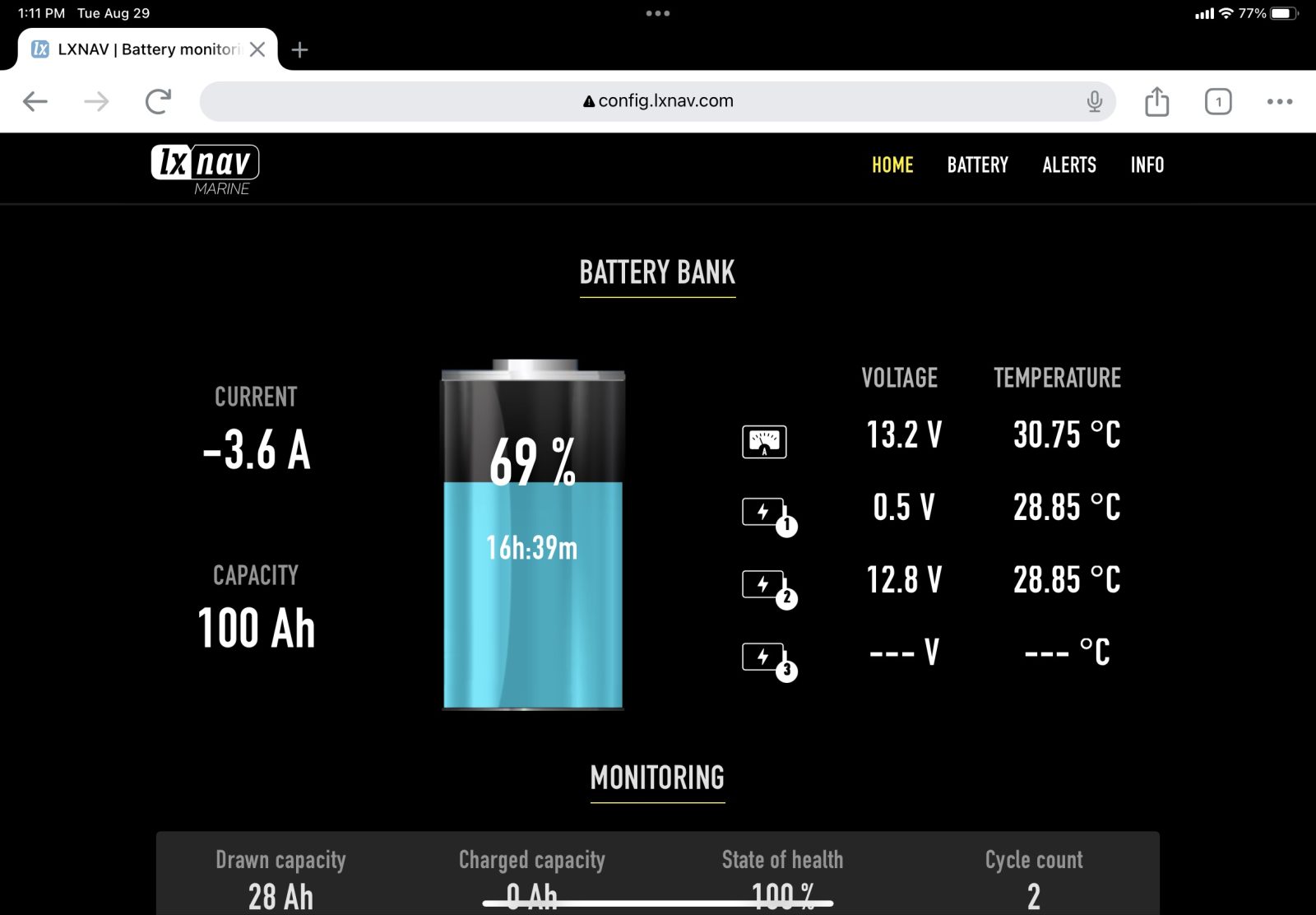 LXNav's SmartShunt offers two options for monitoring your batteries: via a WiFi-connected device or via an NMEA 2000-connected device. That WiFi device can be a phone, tablet, or computer. NMEA 2000 display options include a chart plotter, gauge display, or computer connected to the NMEA 2000 network.
WiFi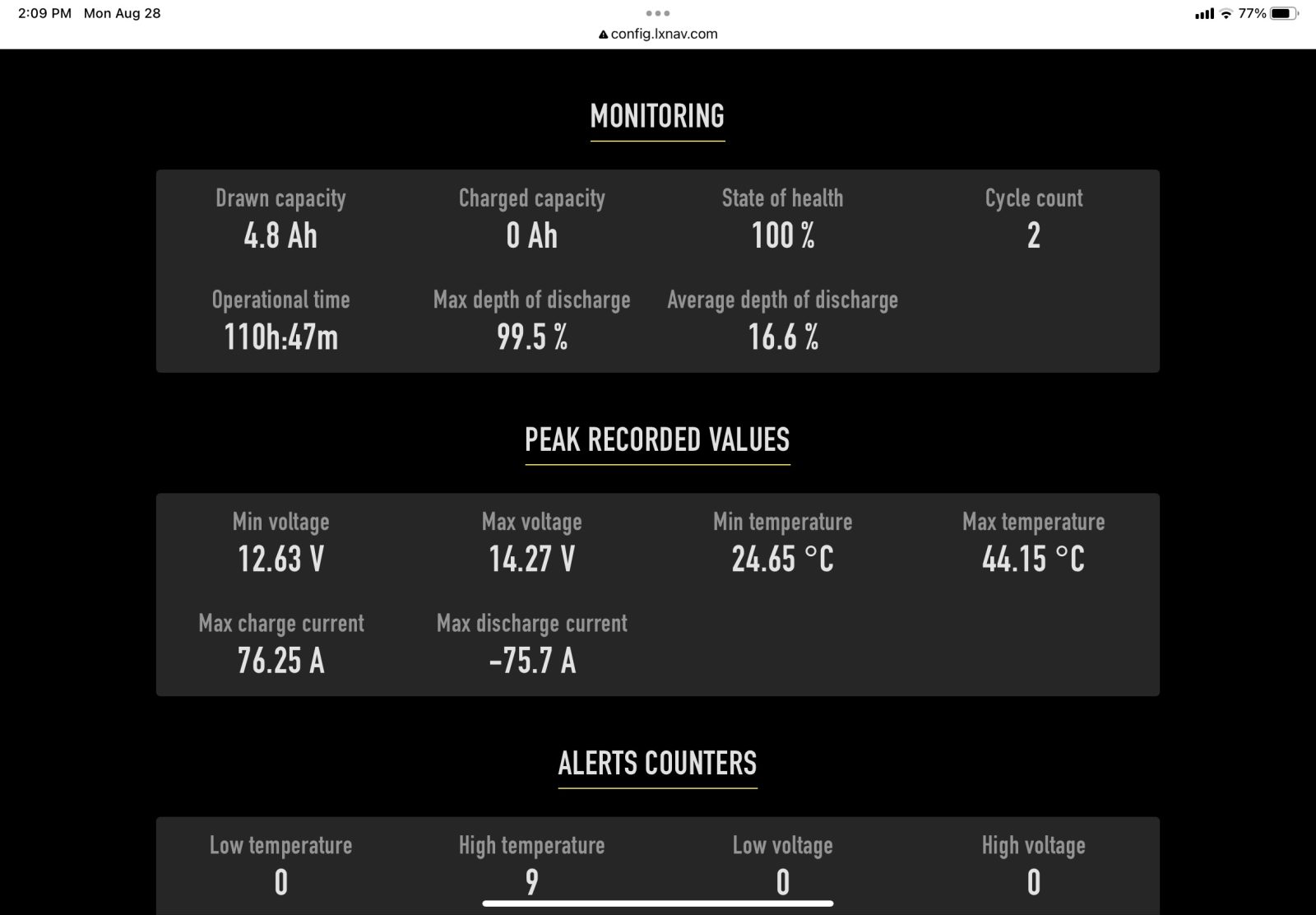 I really like LXNav's user interface for the SmartShunt. I find it simple, easy to understand at a glance, and visually pleasing. The web interface displays significantly more information than is output via NMEA 2000. I'm a self-diagnosed data junky, so I always like to see a lot of data recorded on devices like these. I'm happy to see counters for all alerts, peak values, and historical values. But, I do wish there was a total amp hour, kilowatt hour, or other measure to go with the cycle counter.
I've tried very hard to determine if it's possible to connect the SmartShunt to an existing WiFi network as a client device. So far, after a careful review of the manual and all the settings on the device itself, I haven't found a way to connect it. That makes for a bit of a hassle disconnecting from an existing WiFi network and connecting to the SmartShunt's to check its stats.
NMEA 2000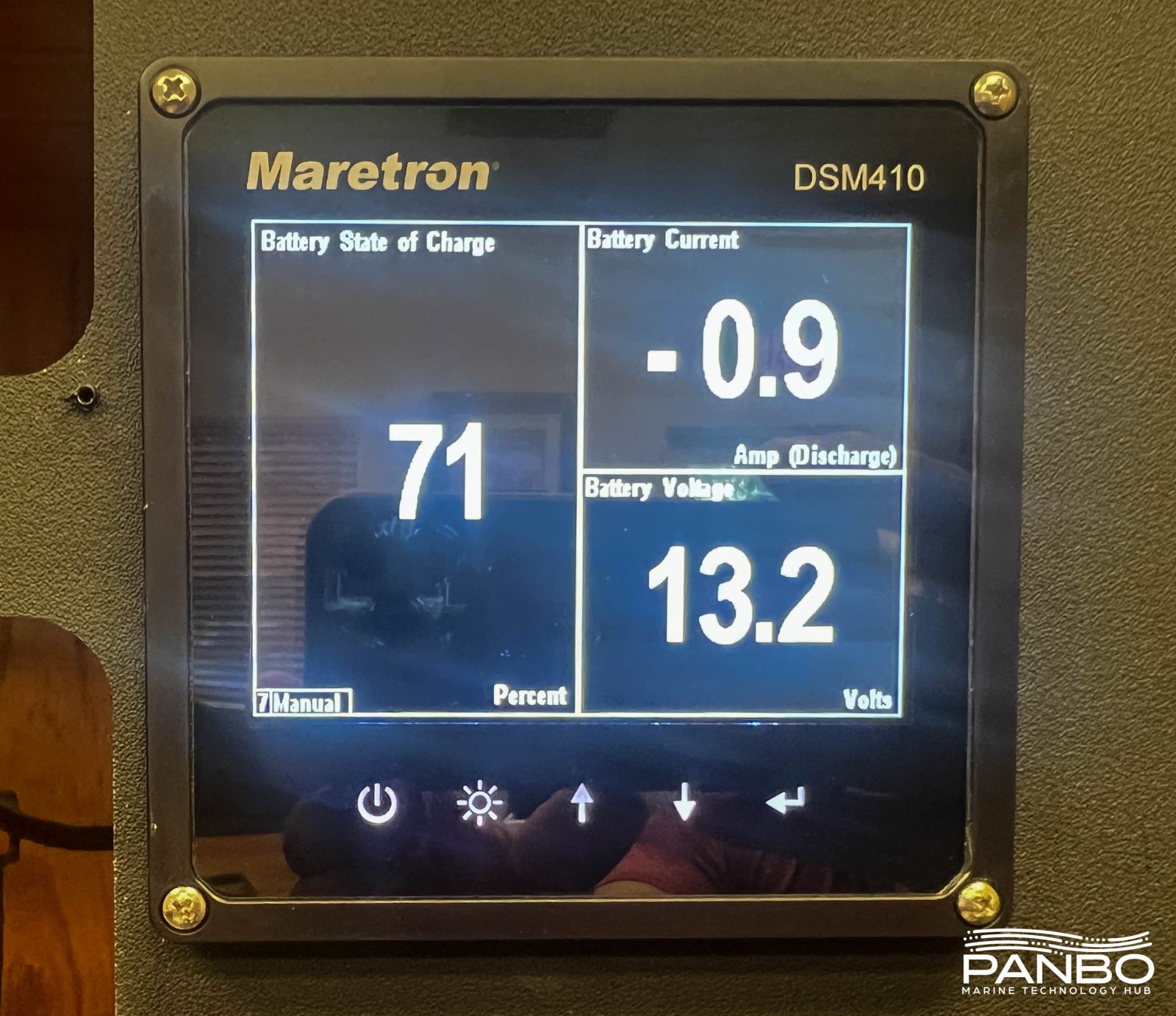 For at a glance monitoring of your batteries, I think NMEA 2000 is the ticket. A small gauge display, like the Maretron DSM410 shown above, or an MFD can quickly tell you what you need to know about your battery bank. Additionally, any PC based system like N2KView, SignalK Server, or others can display the data. Plus, something like SignalK Server would give the boater access to historical data on their batteries.
The shunt supports voltage and temperature readings for up to three batteries and current for one battery. Its NMEA 2000 output includes the available data on all three batteries.
Final thoughts
The LXNav SmartShunt is a nice piece of monitoring gear that does very well standing on its own. If I were recommending a monitor for a boat that didn't have existing, connected equipment, like from Victron or Mastervolt, I think the SmartShunt is a compelling option. Additionally, I think there's an opportunity to get the SmartShunt connected to a boat's WiFi network and provide some basic off boat monitoring. But, the 1-2 punch of WiFi and NMEA 2000 connectivity is pretty attractive.