Navico: new GPS/Heading sensor & VHF/GPS handheld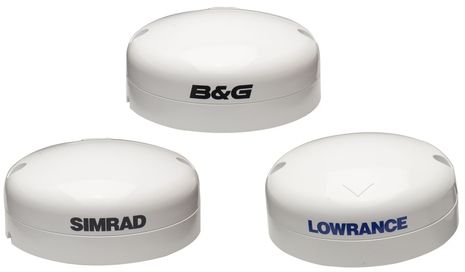 Whether it's called a Simrad GS25 or a B&G ZG100 or a Lowrance Point-1, it is not just another NMEA 2000 high-precision, high-refresh-rate GPS/Glonass sensor. Also integrated in is an "e-Compass/Gyro…heading sensor…that ensures access to stable and smooth vessel orientation" and "when used with a compatible" Navico display "greatly enhances navigational information by providing accurate course over ground (COG) data at any speed and enabling radar overlay on charts." I've quoted the press releases heavily because I'm not yet sure that the sensor actually outputs Heading data, but the releases do say that whichever brand you buy, this souped-up overlay-enabling GPS is just $199 retail, and that sounds good. {Correction: it IS a compass, read on…}
I stand corrected and happily so. A few hours after I first posted this I got the following further info about Navico's GPS/Compass: "The new GPS's output the following NMEA 2000 PGN's (approval pending): 127250 Compass Heading (Vessel Heading), 127251 Rate of Turn and 127257 Attitude. This is accomplished via an internal Ultra compact high performance e-compass, 3D accelerometer and 3D magnetometer module."
So, wow, I believe this sensor will not only enable radar overlay but also a heading line, ground wind calculations, and MARPA targeting (Corrected again; not MARPA and won't support an autopilot}. I think I over analyzed the press release because I can't recall another device or set of devices that offer so much for such a reasonable a cost. Am I missing something? But that's not all.
Navico also has a new VHF/GPS handheld that's coming out as the Simrad HH36 and the Lowrance Link-2. It's a full Class D DSC radio — which distinguishes it from the Lowrance LHR-80 it resembles — and it also claims the "the largest backlit LCD screen of any GPS-equipped VHF handheld radio on the market" and "enhanced usability with easy-to-use soft keys." These VHFs can do go-to waypoint navigation and apparently can even display a crude plotter screen. But what I particularly like about VHF/GPS/DSC handhelds is how they can be used by tenders or individual crew members for safety or to direct ring the mother ship, and how with the right system they can even be plotted on the mother ship. I gather that Navico enhances normal DSC plotting with its "Get Buddy" automated send-position feature, which I'd like to try. As best I can tell the two radios are the same but the Lowrance will retail at $199 and the Simrad at $249 when they ship in April.
But that's still not all. Navico kindly let Panbo break these two products ahead of tomorrow's press releases, but they have at least three other announcements of interest. And this afternoon I'll be out on Biscayne Bay with Garmin (tune in tomorrow for their big news) and tonight with Raymarine and FLIR (don't have the releases yet, but I gather that they are multiple). It's shaping up to be a very interesting Miami Boat Show and I'd be especially busy anyway as my new/old colleagues at AIM Marine Group will be there en masse. I'll at least put up the Garmin entry but may have to go into "all input mode" until I get back to South Carolina on Sunday.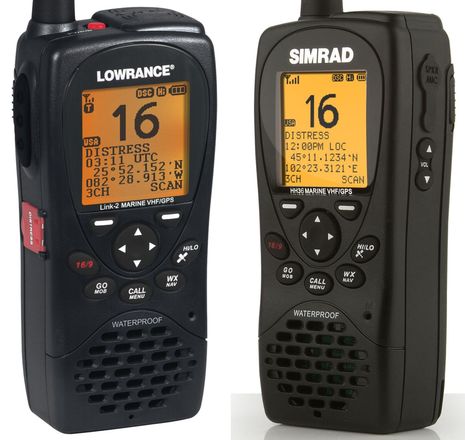 Oh wait, one more Navico thing; guess what the screen below means: