Northstar 8000i, the architecture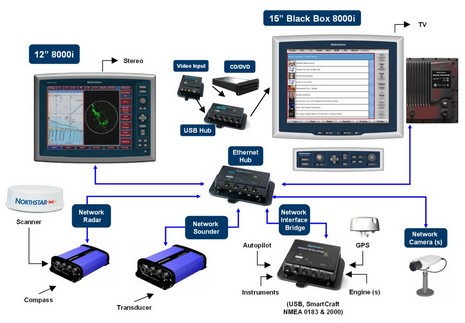 The 8000i has a lot of sizzle, and some interesting new charts, but let's start coverage with a system overview (bigger here):
* The sunlight viewable multifunction displays are Windows PCs; the 12" is self contained while the 15" is broken into monitor, processor, and keyboard modules. (Both units are also touch screen, but more on that later).
* This is a 'masterless' network, meaning that sounder, radar, cameras, and even the various sensor networks go directly to an Ethernet hub. If one PC is shut down, or craps out, it should not affect what the others can do. Several manufacturers have network black box sounders, and a couple have Ethernet radars, but this is the first time I've seen network cameras or a Network Interface Bridge (USB, SmartCraft, and NMEA 0183, with—hooray!—NMEA 2000 coming in the fall).
* The only exception to this 'masterless' design is that only one processor can be an entertainment server, burning CDs and DVDs with the built in 'jukebox' software. But then any display can play from the music and movie library at will, audio going to a nearby stereo and video either playing right on the 8000i screen or on a TV.
* All the parts shown, and the necessary cabling, are supposedly waterproof and marine tough.
Yes, it's expensive—the 12" retails at $7,000–-but the 8000i looks like a smartly designed system, with a lot of redundancy, power, flexibility, and pizazz built in. More details to come.