Raymarine A-Series, reloaded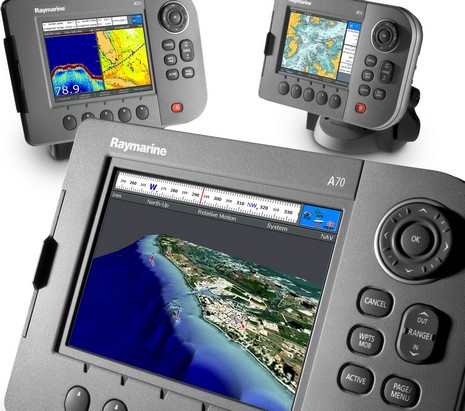 Amongst ICAST's abundant rods and lures—even a big, lively bowl of live worms—I came across this interesting development: Raymarine previewing an impressively redesigned A-Series, previously unannounced and currently invisible on line. There will be five new models, whose names correspond to screen sizes, sort of. When the series truly debuts in October, we'll see a 5″ A50d, a 5.7″ A57d, and a 6.4″ A70d (hey, the C70 is actually 6.4″ too), all with HD fishfinders built in (unlike the superseded models), plus A50 and A70 plotter-only versions.
The screens in the product photo above, much bigger here
, may be Photo-Shopped in, but the preview units looked nearly as high res and bright—a big step up from the A60 in particular—and the screens suggest many of the new features that carry across all models. Like: AIS tracking, support for Navionics Platinum charts and lake maps (with either regular Navionics coastal or inland cartography built in), many of the enhancements—like compass bar and fishfinder presets—seen in the latest C-/E-/G- software, and optional Sirius Weather and Audio. The latter will come from the existing SR50 receiver, delivered—I was surprised to learn—via SeaTalkNG, aka NMEA 2000. Yes, all these little plotters and plotter/fishfinders have a NMEA 2000 interface, able to understand "compatible engine instruments and trim tabs" according to the ICAST brochure. I'm hoping they understand lots more N2K PGNs, as I picture these units not only on at the helms of center consoles and the like but also sail boats.
All the new A-Series also have a built-in "high sensitivity" GPS and the truly cool base seen below. It swivels, it tilts, it comes apart quickly with caps for everything, and it manages all three cables to this dual function A70d model. Which are, I think, SeaTalkNG, transducer, and power, though maybe regular SeaTalk and/or NMEA 0183 are in the power cable (no mention in the brochure, so are they history?). Bases count, but prices count more, and, sorry, I don't know those yet. Nonetheless, the new A-Series sure looks competitive.