Simrad, B&G, and Lowrance Link app working well with off-the-shelf WiFi router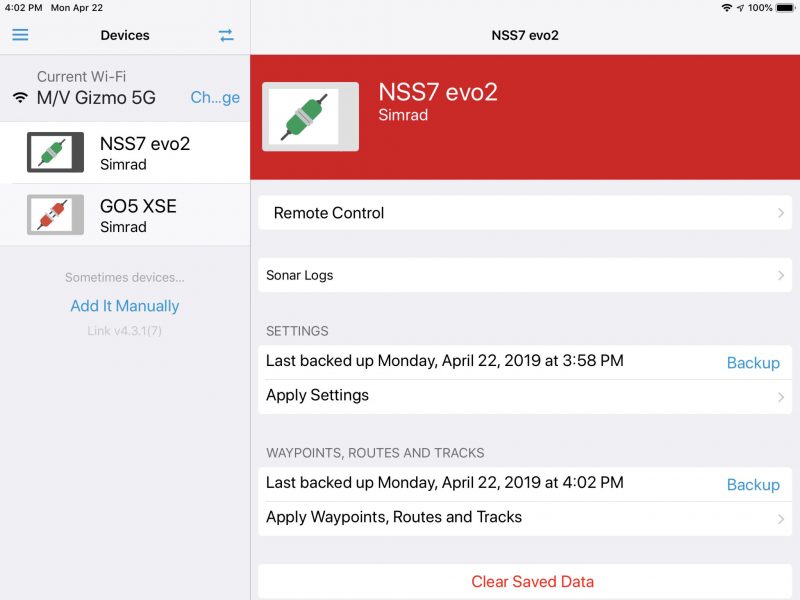 This was a nice surprise. It used to be tricky to connect a Navico MFD Ethernet network with a consumer-style boat router — and it remains impossible with some MFD models I'm pretty sure. But that's exactly what's happening on Gizmo right now, even with older Simrad NSS evo2 MFDs, and the benefits are multifold. I'm also pleased with the latest version of the Navico Link app, which is seen running fine over the boat router above and which is also compatible with many B&G and Lowrance displays.
While the Netgear N600 WiFi router currently installed on Gizmo is nothing special, it does a lot of work. One of those gray Ethernet cables goes to the still-testing KVH LTE-1 cellular system, so all devices connected to the router are online most of the time. They range from my phone and iPad to the boat's FloatHub monitoring system, which all connect to the router via WiFi. And so does Gizmo's Vesper XB8000, which can thus provide AIS, GPS and other boat data to various iPad nav apps even when the router is not online.
Also cabled to the boat router is the Victron Venus power monitoring system I installed this winter and that's why I used that Navico Ethernet adapter cable to join the router to Gizmo's existing Simrad ethernet network — currently including an NSS16 evo2, NSS7 evo2, Halo24 radar, and a Navico hub, with the two displays also sharing the different sonar processing each is doing. I wasn't at all confident that the combined network would work, but then the beta Victron MFD integration app popped up on the NSS evo2 Home screens.
I also noticed that NSS MFDs used the boat router's Internet connection to automatically check for software updates and when I tried the Link app, it just worked, as seen in the top screen.
For years I used these NSS evo2 displays with a GoFree WiFi1 module and had to switch between Access Point mode to use the Link app or the Client mode to connect over WiFi to the boat router or my cell phone to get the system online for updates. With this new (and less expensive) method I'm getting the benefits of both modes at once, though I can not find any Simrad documentation that suggests it should.
Maybe that's because this setup does not work with every off-the-shelf router and/or with every Navico Ethernet network, and so technical support understandably wants to avoid trouble-shooting non-Navico gear. In fact, I've heard of such router problems and that using the radar sometimes triggered the symptoms.
At any rate, I was pleased to see the Halo24 radar running fine and without causing any apparent problems on the Simrad network or with the other activities happening on the boat router, but I caution others not expect 100% success until they actually see it on their own boat system. (Also note how these two screenshots illustrate how Link lets you enable an NSS-like keypad with a small loss in MFD screen size.)
On the other hand, it was nice to see how well Link handled my Android phone when it did not automatically make the Simrad NSS7 connection on Gizmo's router. It explained where to find the IP address on the NSS and then let me enter it into the same app page. So I was able to connect fairly easily, and also do utility chores like backing up my routes, but when I tried Remote Control the app realized how relatively small my phone screen is and I can't argue with its conclusion (though I think it should mirror the screen without offering control).
Also impressive was being offered an interesting 18.3 software update that just came out on April 23 even though NSS evo3 MFDs have pretty much eclipsed the older models. And what you see on the righthand screen really tickled me. Pretty soon I'll be returning most of the Simrad system I've been long testing and last fall I purchased a GO5 XSE to serve as one interface to Gizmo's Simrad autopilot. So it was great that the Link app let me back up all the routes, waypoints, and tracks I've collected on the NSS system and "apply" them to the little GO5.
Running Link on a 9.7-inch iPad screen is also a nice alternative to the fine finger skills needed to run the 5-inch touch screen, and another reason that the otherwise surprisingly powerful GO5 XSE is a remarkable value (especially as Navico continues to include a U.S. C-Map Pro card). You'll likely hear more about the GO5 once I've had some underway time with it.