Globalstar, new satellites & a "gap report"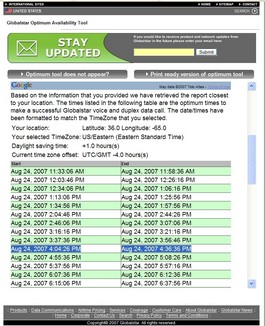 As suggested yesterday, boaters who already have Globalstar phones—or are trying to decide between its lower rates and faster data versus Iridium's greater reliability and range—want to know when Globalstar will fix the amplifier problems that have plagued duplex service over the last year or so. One bit of news is that Globalstar is now offering an online Optimum Availability Report. I can't report first hand on its accuracy, but a bigger look at the screen above suggests that, at least around Bermuda, the non-optimal times are somewhat lengthy and thus this list might be really helpful. (A Panbo reader who is struggling with a new 1700 in the Bahamas, and who we'll hear more from, calls it the "Gap Report" and notes that it's frustratingly difficult to access with his…satellite phone!) But what about those four new satellites that went up in May? Globalstar recently told me this:
The first of these satellites went into operation earlier this summer. The second is expected to be operational within the next two weeks with the final two expected to go into service by the end of October. In the early part of the fourth quarter, Globalstar is also anticipating the launch of four more satellites. These satellites will become operational as soon as they have been "drifted" into their correct orbital position and that is expected to take a number of weeks to complete.
Sounds good, so to speak, but the company spokesman also noted that, "Until the transition to our second-generation constellation (which is expected to begin in 2009), Globalstar two-way voice and duplex data satellite services will not be operating at optimal or peak efficiency." On a cheerier note, it's worth repeating that Globalstar's simplex data service is working just fine, and it includes the interesting new SPOT "satellite messenger", which Doug Ritter recently discussed in superb detail.