Yamaha Command Link, NMEA 2000 or not?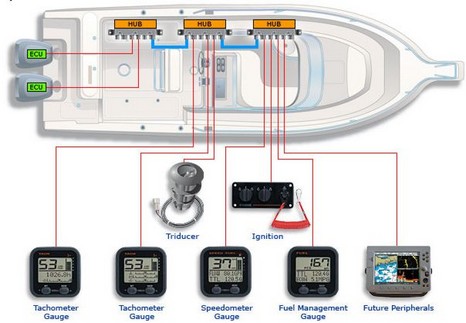 Yesterday commenter JC asked how to connect his new Yamaha F250 to a Garmin 5212. The answer is a little less definite than I thought. I certainly remember Yamaha talking about how their coming CANbus engine system, Command Link, would be NMEA 2000 compatible—can even find a company reference as recent as last year—but check out the official Command Link Web pages, and see if you can find a single mention of NMEA 2000! Strange.
---
But Jim at Continuous Wave
confirms my recollections
, and NMEA itself shows that Yamaha's Command Link gauges are indeed
N2K certified
. Then there's that Raymarine "Future Peripheral" in the diagram above, and, finally, the fact that Maretron sells a Command Link to N2K patch cable (though it's only listed on their
price list PDF
, and for some reason costs a whopping $125). My guess: Yamaha hasn't yet certified its engine ECU and is hence being very careful with its claims. (The desire to sell expensive accessories, like that triducer, would be a skeptical alternative explanation.) At any rate, if I were JC I'd try the patch cable (maybe first checking that Maretron will take it back if the engine doesn't actually talk to the Garmin). If you do, JC, please report back here about how it works.
PS, some valuable, if also depressing (and anonymous) feedback:
Yamaha engines will work on NMEA2000-compatible products; I've done it – more than once. And you don't need to spend that much money. If you have a Command Link system on the boat (engines 115 hp and greater with mfg date since May 06, last I knew), you can buy one of the Yamaha inter-connect cables that goes from hub to hub (< $20 or something similar). Cut it in half or cut connector off one end. The five wires are even color coded appropriately to NMEA2000 standards. This can be wired into whatever connector your equipment needs.

Yamaha is having the same concerns as everyone else connecting to NMEA2000 network… what am I liable for by being "compatible" with this standard. As I have experienced, when someone new comes on the bus (or even someone not new like Maretron where they had a number out of range in one of their software versions), it may or may not knock over your display/engine/etc. – whether you believe your unit to be "robust" or not. I am not confident you will see Yamaha officially certify and claim wide compatibility… I've grown to believe that maybe Mercury are right and not wrong on the whole open standard issue…